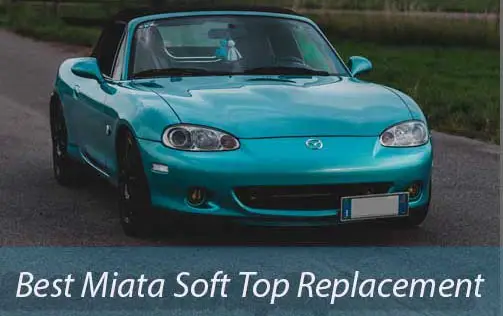 Mazda Miata has been one of the most popular convertibles from the late 90s to this era. The beauty of these cars, along with their functionality offered the perfect combination for the people.
Using a soft top for such convertibles make the experience even better because of its versatility and convenience. You can install it or remove it anytime with equal ease. But what if you need to replace the original top? Do you know what you want in this new top or what to look for?
Let us help you by walking you through the most popular choices for the best Miata soft top replacement!
Miata Soft Top Buying Guide
1. Top Material
The soft top replacements for Miata cars usually come in two materials named Cabrio vinyl and Stayfast canvas.
The first one is the material which the original soft tops of such vehicles are made with. So you can choose it for the authentic appearance and its shiny exterior. Cabrio vinyl is also good at protecting your car from adverse weather conditions because of its enhanced strength. Unfortunately, it is prone to mildew growth.
on the other hand, Stayfast canvas is basically a specialized fabric made for convertible tops. It cannot provide much protection for the car in a rough environment and is a little harder to clean. However, if it is built with bonded polyester threads, it will deliver impressive strength and frictionless movement.
2. Windows
The windows of convertible soft tops are usually made of either glass or plastic. Both may seem weak options for using in a vehicle but they actually are capable of keeping the ride safe for you and other passengers.
DOT is short for the Department of Transportation in the USA. This federal institution is dedicated to checking the competence of car lightings, Miata soft top parts or other accessories.
Having a DOT approval will mean that the windows of your replacement top are actually capable of dealing with a rough environment.
3. Color
Among all the soft tops available for convertibles like Miata, the most common colors are black and tan.
The first color is often the first choice for many but tan can be a good choice for people who prefer a unique look. You can go with either one according to the appearance you prefer for your vehicle.
4. Fitting
Your new soft top should definitely fit the convertible perfectly. Otherwise, it will not prove to be beneficial and become useless very soon.
That is why you should look for replacements with precision cutting where the accuracy is taken care of by a computer. This will get the top devoid of human error and thus generate perfect precision.
Top 5 Best Miata Soft Top Replacement Reviews
1. Sierra Auto Tops Convertible Soft Top Replacement Mazda Miata MX5 2006-2015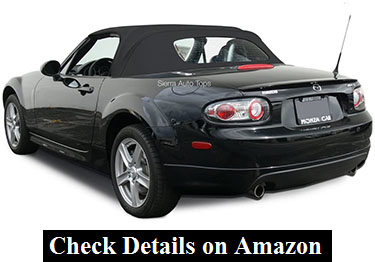 The Sierra series of soft tops for automobiles is provided by Auto Tops Direct – a brand delivering premium convertible accessories directly to customers. This particular model meant for Mazda Miata is one of their most popular items since it comes with a handful of captivating features.
First of all, the main material of a soft-top – the fabric brings in both aesthetic value and comfort for the vehicle owner.
The black Stayfast cloth originally made by Haartz is one of the most dependable options in the world for convertibles. Since it is meant for rigorous applications, you don't need to worry too much about its tolerance level.
Moreover, this 2007 Mazda Miata soft top replacement is stitched with the finest polyester threads of the same color. These threads are specifically made in order to enhance tensile strength and reduce friction. As a result, it can make the car better prepared for rough days!
The cuts are precise since they have been made with a piece of automated equipment guided by the computer. To make the soft top even stronger and more long-lasting, the seams on it have been healed with heat.
Heated glass windows are included in it so that your car can withstand tough challenges of nature like a gallant warrior!
Highlighted Features :
Retainer attachments made of plastic with aligned pre-drilled holes
Computer guided, automated equipment used for precision cutting
Stitched using bonded threads of polyester for enhanced strength
Comes with a heated window made of glass to combat severe weather
The seams are heat-sealed, making them stronger and more durable

---
2. Mazda Miata Convertible Top with Plastic Window Black Cabrio 1989-2005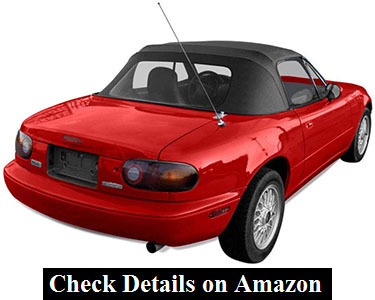 If you like retro things and have been obsessed with older models of Mazda Miata, this soft top replacement may be just the one for you!
Autoberry has built it for the beautiful Miata cars launched between 1989 to 2005. This brand specializes in convertible tops along with some other convertible essentials like seat covers.
Similar to the first product on our list, this soft top also is made with the Haartz Stayfast canvas. Alternatively, you can also get it in the original Miata top material of Cabrio vinyl.
Going for the Stayfast cloth can give your vehicle an elegant appearance but can also lead to lint buildup. on the other hand, vinyl will look shinier but they are vulnerable to cracking and peeling in bad weather.
However, you don't have to worry about all that while investing in this soft top replacement. It is built in a way so that the top is protected at all times from the damaging UV rays. The material and design also keep it away from common buildup issues like mold and mildew. As a result, its durability increases a lot.
The window of this stop is manufactured using high-quality 40-gauge plastic that has been approved by DOT. It all comes fully assembled and ready to be installed! You can get this top in black and tan shades.
Highlighted Features :
Protected against UV ray damage, mold and mildew
Built with Cabrio vinyl or Haartz Stayfast canvas
Window is made of 40-gauge plastic approved by DOT
Arrives as fully assembled and ready to be installed
Available in black and tan color variations

---
3. Sierra Auto Tops Convertible Soft Top Replacement 1990-2005 Mazda Miata MX5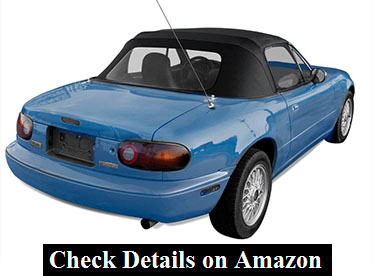 Another popular product of Sierra Auto Tops is this convertible soft top meant for Mazda Miata MX5 cars launched between 1990 and 2005. It shares many of the highlighting features with the previous Sierra top we discussed. One major difference however is its material.
This soft top is made of 38 oz. Cabrio vinyl provides higher protection than cloth. It also looks a lot shinier and has a texture similar to grainy plastic. Since the original soft tops of Mazda Miata are built with the same material, this replacement will look more authentic on your convertible.
The cuts here are very accurate due to the precision cutting of automated computer-guided equipment. In order to maintain authenticity and to increase strength, it comes stitched with matching colors. Bonded polyester threads of the finest texture are used for this purpose.
After completing its installation, you will notice the top shining brightly due to its press polish plastic of OEM quality. The sewn-in plastic windows are heat-sealed through a process that welds the material together di-electrically.
All these factors, in addition to the DOT approval, are a testament to the impressive strength and durability of these Miata soft top replacements.
Highlighted Features :
Factory style vinyl cut with automated precision
Premium Cabrio grain vinyl material for authenticity
Durable plastic window is heat-sealed and DOT rated
Looks shiny because of the OEM quality press polish
Stitched using bonded polyester threads for strength

---
4. AutoBerry Mazda Miata Convertible Top 1990-2005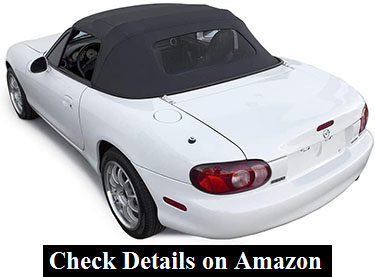 Similar to the Sierra top we just discussed, this one from AutoBerry is another good choice for Mazda Miata convertibles from 1990 to 2005. If you don't want the replacement top to look any different from the original one, this can be a suitable option for your vehicle.
It is made with the material of Cabrio grain vinyl just like the factory edition. This material is well-known for its resistance to the negative effects of adverse weather. As a result, you can travel with your friends and family members while not worrying about their safety under this top.
For perfect fitting and easy installation, it is cut with precision using an automated piece of equipment. a computer program guides its moves and therefore it can achieve the perfect pattern for your new top! Besides, the top comes with glass windows approved by DOT and equipped with defroster wiring.
Like all of its competitors, this soft top is available in the usual black color. However, if you have been looking for a unique look or more versatility in your car, you can also get the top in the tan shade.
No matter what color you choose, the top will be stitched with the finest bonded polyester threads of the same color.
Highlighted Features :
Made in Cabrio grain vinyl like the factory edition
Cut by computer-guided equipment for precision
Prepared with strongly bonded polyester threads
Glass window has DOT approval and defroster wiring
Available in two shades of black and tan

---
5. Sierra Auto Tops Convertible Soft Top Replacement Mazda Miata MX5 1990-2005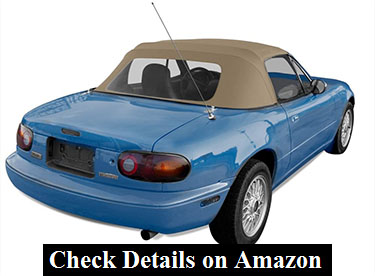 The last but not the least option we have for the best Miata soft top replacement options is this one made for the 1990-2005 MX5 models. It is provided by the brand Sierra Auto Tops and comes in a cool light tan color. Because of this comparatively uncommon shade, you can draw more eyes on the road with your convertible!
This top is made of 38 oz. Cabrio vinyl of premium quality. Since the original Miata soft top is also made from this material, using this replacement will boost the authenticity of your vehicle! They both will score the same in terms of weight and grain amount.
It comes with clear plastic windows so that you can see through them without any trouble. At the same time, they add more shine to your convertible with their 40-gauge press polish.
The top is pretty strong due to its structure of bonded polyester threads. The strength is enhanced even further with the heat-sealed seams and reinforced double stitch.
Besides, it is one of the most affordable soft tops you can get for Miata. Compared to other similar items in the market, this one comes at a much lower price point without compromising the quality or durability.
Highlighted Features :
Built from premium quality 38 oz. Cabrio vinyl
Clear window made of 40-gauge press polish plastic
Heat-sealed seams have double stitch for more strength
Durable and flexible soft top comes in light tan
Available at a more affordable price point than many

---
​Miata Soft Top Replacement Cost
The Mazda Miata soft top replacement cost mainly depends on its material and that of the window. If both of these are of high quality and built with utmost accuracy, their cost will definitely go high.
Such high-end options for the best Miata soft top replacement usually include a glass window with a precision cut. Since this kind of Miata soft top window replacement requires more attention and sophistication during the manufacturing process, they add a bit to the overall cost.
Additionally, if the material of the top itself comes with premium features, the price will go up as well. For instance, the Stayfast canvas of Haartz may be cloth but it is instilled with advanced features like bonded polyester threads and heat-sealed seams.
Any other exceptional feature will definitely cause you to raise the top budget. Usually, these prices are set between less than a couple hundred bucks to around a thousand! Besides, there will also be the cost of installation (around 200$-1000$) if you want to hire professionals.
Frequently Asked Questions (FAQ)
How Hard Is It To Replace Miata Soft Top?
Answer: If you already have some experience in working with automobiles, replacing the soft top of a Miata convertible should not be too hard. However, it can take a lot of your time! For someone with average expertise in this area, it should take about eight hours to complete the job.
How Long Does Miata Soft Top Last?
Answer : The soft tops of Miata can last from 5 to 7 years on average. However, proper maintenance is crucial for this longevity. In order to ensure the durability of this top, you will need to get rid of the dirt particles accumulating on it with a brush and then cleaning it all up with a synthetic neutral detergent.
How Do You Adjust a Soft Top on a Miata?
Answer : First of all, you will need to find the hexagonal screw meant for adjustment on the latch of this top. It should have a locking clip in it that is placed to prevent the top from losing its current position. Release this plastic clip using your fingernails and turn the screw for the desired adjustment.
How Do You Remove The Soft Top on a Miata?
Answer : In order to remove the soft top on a Miata, you should first remove the driver's seat. Then get rid of the carpet buttons in the back and the metal rail which runs the top's length. Now it should be quite easy for you to slowly pull the current top away.
Is Using Soft Tops Okay In Winter?
Answer : Yes, it is okay to use soft tops in winter. However, it is wise to go for glass windows in this season since the plastic can get cold and shattered. You should also get a breathable cover that can resist water. Make sure the top has no hole, tear, or similar damage in it which can cause the snow to enter the car.
Final Words
The soft top itself can notably enhance the appeal of any convertible. Especially for a popular vehicle choice like Miata, it brings in versatility, convenience, and more.
You can definitely put your own spin on it by choosing a replacement that suits your individual requirements and aesthetic preferences the most.
The top options on the market come in OEM quality and you won't find much difference with the original product.
We hope you can find the best Miata soft top replacement for yourself from our list and enjoy an exciting ride on the newly modified car!