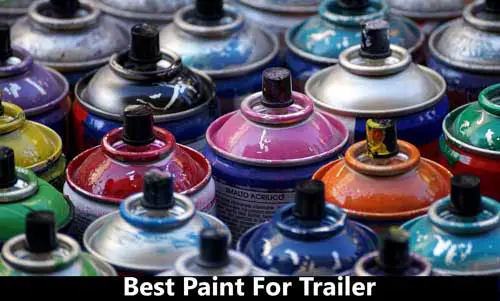 From hauling goods and other materials to having campers set on them, trailers serve many functions.
These may be powered, semi-powered, or not powered at all. Hence, they are connected to a power-driven vehicle to make them mobile.
We use trailers on salt flats, farms, and on the roads as well. There are a few types of them and these differ based on their design, construction, and functions. For example, a gooseneck trailer type is attached either to the in-bed of the truck or by a fifth wheel that's mounted on a chassis.
Similarly, other types like house trailers, semi-trailer, utility trailers, or tent trailers have specific functions and designed as per the requirements. As these trailers come to various uses, you should take good care of them so they last long.
One secret of making a trailer durable is by painting them right. And for that, you need to know which is the best trailer paint to keep them rust-free. Such knowledge will help you make a good decision so that you can enjoy the maximum benefits.
This article will tell you more about the trailer paints and the dos and don'ts. So read on to discover more!
Things To Consider Before Buying Trailer Paint
Color Match
For you to match your trailer to your truck or wagon, especially so in the case of John Deere products like mowers, tractors, and other farm equipment, make sure the paint you choose matches these. Otherwise, they will look a little out of sync.
Cure Time
Before you buy trailer paint, another point to consider is the time it takes to dry completely or cure time. This is important to know because you might want to complete any paint job quickly. Or you may have enough time on your hands.
While some paints take a few hours to dry to the touch, others take more or less time. However, the cure time is more than just a few hours. It can be a few days before the paint has adhered to the surface properly. Otherwise, the bonding will not be strong and your paint won't last long.
So, depending on your projected finish time, you should pick the trailer paint that suits your needs.
Type of Finish
You could have a matte, semi-gloss, or gloss finish with the paint you choose for your trailer. According to your personal preference and the surroundings where you will operate your trailer, choose the type of finish that's ideal for you.
Low-Gloss Versus High-Gloss
Many people who regularly go out fishing or hunting choose a low-sheen finish for their boat trailer. That's because it helps to camouflage the boat in the natural surroundings.
With a high-gloss finish, the surface will reflect natural or artificial light and your hunt will not be attracted to such a blatant trap.
Bonding With The Surface
This one directly influences the durability of the paint. It also helps against environmental threats like rust and corrosion. Make sure the paint creates a permanent bond with the trailer frame or trailer itself.
If the paint is merely a coat and doesn't attach properly to the surface, it'll chip off after a few days of use.
Rust And UV Protection
What are the main enemies of trailer paints? It's time and weather.
While most of us won't mind a trailer paint getting weary after long use, we certainly don't want environmental factors to make it happen quicker.
Check if the dye comes with non-porous properly. They work exceptionally well to keep moisture and dust out of the original surface. Some coats even come with special properties that delay effects like rust and corrosion on the surface.
VOC Compliance And Environmental Sustainability
Earlier, paints used to be made of toxic materials.
These materials were harmful for both human and the environment. People kept a blind eye from these hazards for a long time.
Now that the government and people are more conscious, manufacturers are emphasizing on producing environment friendly paints.
Good paint brands are free from lead. They are also VOC compliant​, which means the components, be it harmful or not, don't vaporize in room temperature.
However, you should always use protective gloves, masks and eyewear when applying paint. Make sure you're washing yourself thoroughly after the job.
Top 10 Best Trailer Paint For Any Trailer
1. POR-15 45004 Gloss Black Rust Preventive Paint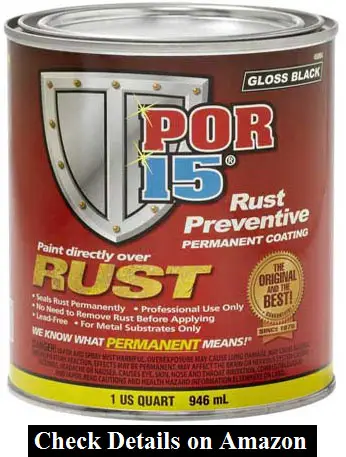 All it takes is 3 steps to keep your trailer free from rust!
First, clean the metal surface with a degreaser to get rid of all oil-based residue. Next, with a metal prep, get the metal surface well-prepared to receive the paint. Finally, put on a coat of this product for the ultimate results. If you want, you can finish off with a topcoat.
With the rust sealed in permanently, your trailer is forever free to have and to hold. Its professional grade makes it a preferred product for all industrial users.
The non-porous nature of the paint means that it protects the metal surface from moisture, salt, chemicals, and other substances that can cause corrosion. All these substances lead to rust and therefore, the paint does a great job in stopping the source of rust to take root.
The lead-free product is safe for use at both industrial and DIY project levels. Developed to give you the optimum results even when the toughest rust conditions confront your trailer, you will have complete satisfaction with this product.
The product will not only keep your trailer rust-free, but it will also keep away the adverse effects of oil, acids, alkalis, and fuels. Hence, your trailer has zero chances of getting affected by any type of condition.
This product is so tough that it can withstand a whopping 2,000 hours of salt sprays. Besides, any hammering on it won't leave any marks. It works by itself so that it levels itself out.
Highlighted Features :
 Lead-free for safe use.
Withstands 2,000 hours of salt spray test.
Repels oils, fuels, acids, and alkalis.
Non-porous for permanency.
It doesn't get affected by hammering.
Levels itself out without any tool.

---
2. Rust-Oleum, Black, 207006 Marine Topside Paint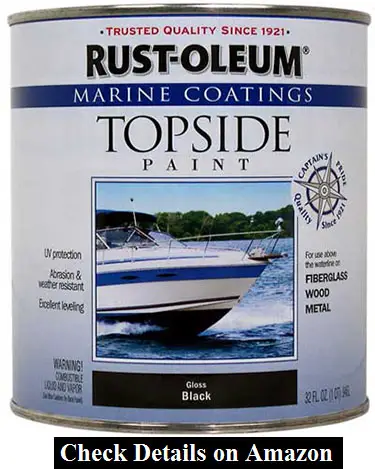 Is your trailer doing the round on waters instead of the terra firma? Then you need a boat trailer paint that's specially designed for marine use.
This is a breakthrough paint product that not only protects the metal parts of the boat trailer, but also the bits made from wood and fiberglass. It's very easy to apply as its base is made from oil that spreads smoothly on the surface. Apply this paint on parts that remain above the waterline.
Besides, it is self-leveling and hence, saves you from the hassle of manually ensuring the paint is spread uniformly. Just one quart of the paint comfortably covers an area of 100 square feet.
Its quick-dry formula gets the surface all drip within just a couple of hours so that you don't have to wait for an eternity. However, it's not recommended to apply two or more coats on the same day.
The UV protection property of this paint ensures the trailer preserves its mint condition for years ahead. Coupled with that, the coating is so durable that it will resist all forms of corrosion and rust, keeping the trailer as good as new.
Resistant to harsh weather conditions, this is the best boat trailer paint you can find. Besides the functional aspect of the product, it will also keep your trailer looking polished and neat. Thanks to its silky smooth finish and the perfect gloss that is preserved even after years of use.
Highlighted Features :
The oil-based formula for easy application.
Self-leveling feature for uniformity.
A quick-dry formula that dries the pain within 2 hours.
Suitable for parts that remain above the waterline.
UV protection, superior gloss, and smooth finish.

---
3. POR-15 45904 Top Coat Chassis Black Paint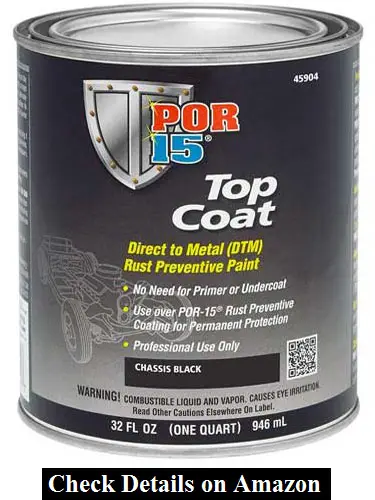 Want to skip the primer part and get straight down to business? Here's the perfect solution in the form of direct-to-metal or DTM paint!
This protective paint can be applied straight on to prepped metal surfaces. There's no need to apply a primer or undercoat. It's great for surfaces and substrates that are vulnerable to rust and decay. Apply without worries even on surfaces that were previously painted.
The application is smooth and easy as long as you have cleaned the surface of dust, rust, oil, and other loose elements. On previously painted surfaces, lightly sand off before you apply. Do not shake the paint but give it a gentle stir before and during use.
For the ideal results, apply two thin coats of protective paint. Each coat takes half an hour to one hour to dry. For the second coat application, wait for 2 to 72 hours.
With its excellent color retention and superior sheen, this product helps to keep your trailer in top shape for years. Even under circumstances that are harsh and extreme.
The strong moisture-resistant property of this paint makes it the ideal top coat painting solution to preserve your trailer from rust. The adhesive property of the product is enviable, especially when you put it over a protective coating. Together, these make a permanent barrier against rust.
This paint is available in colors that comply strictly with the rules laid down by the Occupational Safety and Health Administration.
Highlighted Features:
Direct-to-metal property saves prepping time and hassle.
Excellent color retention and gloss that's durable.
Superior adhesive property and moisture-resistance to keep away rust.
Safety ensured by OSHA compliance.
It takes a maximum of one hour to dry.

---
4. Rust-Oleum 7779504 Protective Enamel Paint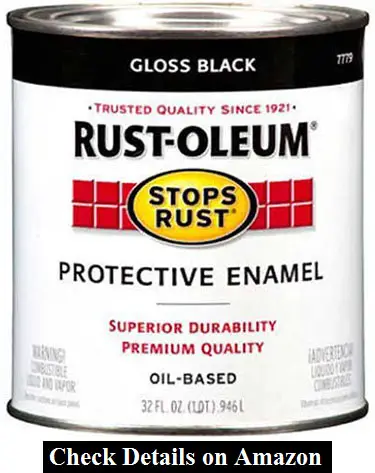 Wondering whether to coat your trailer with a matte, gloss, or semi-gloss finish? Here's your chance to pick any!
This protective trailer frame paint comes in a 32-ounce can to give a new lease of life to your trailer and other surfaces both indoors and outdoors. Use it on masonry, concrete, wood, metal and a range of other surfaces to ward off corrosion and rust forever.
What makes the paint so durable is its excellent oil-based formula. It resists the onset of any corrosion or rust.
Your trailer will never have any of those ugly chipping, fading, scratches, or other marks with this paint.
If you want a superior sheen to any surfaces, choose the gloss variant for the ultimate luster. What's more, you can choose from a variety of colors to add oomph to your trailer.
Being the best paint for trailer frames, it is able to cover up to 90 square feet of surface area. Wait for 2 to 4 hours before the first coating feels dry to the touch.
The paint might be a little too thick for your purpose. In that case, just add some thinner or acetone to get the desired consistency. After painting, you won't need to do any touch-ups.
For optimum results, sand down the surface and put on a primer before applying the paint. This will remove any loose elements like rust, dust, or other chemicals. Use two coats of paint so that the weather-resistance is permanent.
Highlighted Features:
Available in a variety of colors in gloss, semi-gloss, ad matte.
32-ounce can cover up to 90 square feet area.
It's suitable for masonry, wood, metal, and other surfaces.
Its oil-based formula repels all weather conditions and corrosion.
A single coating takes 2 to 4 hours to dry.

---
5. TotalBoat 511795 Aluminum Boat Paint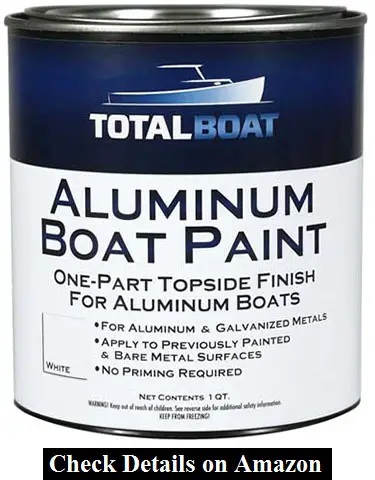 Do you have a fleet of different types of boats but don't know how to protect their surfaces from the rough weather and waters?
Worry no more as here is another boat trailer paint to your rescue. You can use this paint for both above and below the waterline. Its special formulation protects galvanized metal and aluminum boats.  Therefore, you can use this paint for boat masts and railings.
The resultant paint finish is low-sheen and non-reflective that's rust-resistant and looks appealing. This is the ideal finish to help you camouflage your boat in natural surroundings.
If you want to create a bespoke camouflage pattern, it allows you to do so. You can either apply one layer at a time to get the desired camouflage look, or you can mix with other colors so that your boat blends in with the fishing or hunting area.
This paint can be used either as a primer or as a topcoat. Either way, it can be applied directly to the metal without any elaborate prepping. Use a brush, roller, or a spray gun for application. The product is water-based and very easy to apply.
This saves time and hassle as you don't need to etch the aluminum. If you use this as an overcoat, it will dry very quickly, within an hour at 72 degrees Fahrenheit.
For the second coat, wait for 12 hours and sand the remnants before the application. After 48 hours, your boat will be ready for fresh and saltwater.
Highlighted Features :
It makes your boat ready for both salt and freshwater.
Low-sheen and non-reflective for camouflaging.
It can be used as a primer or a top coat.
Easy to apply directly on metal.
Its quick-dry formulation that dries within one hour.

---
6. Krylon 1962 Farm & Implement Brush, High Gloss, Black, Paints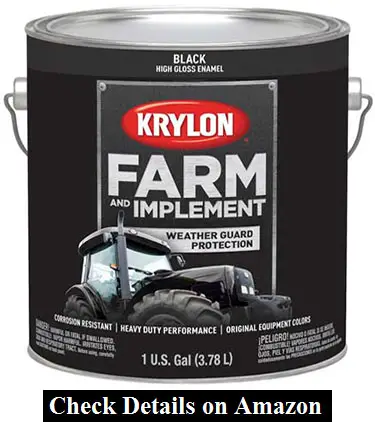 For your heavy-duty farm needs, here's the ideal paint for your wagon and trailer.
This paint is easy to apply and protects your wood and metal parts free from corrosion and rust. You can also use it to cover scratch marks and other abrasions to bring back the looks with its high gloss finish.
It takes 1 to 3 hours to get dried to the touch and the total curing time is 56 hours. You may need to do up to 5 coats to get the perfect finish and match to your John Deere green tractor or mower.
You can also use it to paint toy electric cars to make them look brand-new. For other surfaces that need paint and finish after welding, this should the g-to product.
Use it on your old tables and basketball hoop frames to prevent these from getting chipped and looking worn down. The smooth and hard finish is specially formulated to last for a long time.
Some users have mentioned that consistency as not as thick as desired. It drips off the sides of curved metal surfaces when sprayed on.
It's not only the best utility trailer paint but is also an excellent choice for touch-up projects. The trick is not to use a tape line and have this paint blend onto the original color. This way, nobody can tell that it's a touch-up job.
The superior adhesive power of the paint makes for not only a smooth application but also a high-quality finish.
Highlighted Features :
Superior adhesion for a high-quality finish.
It matches to John Deere products.
Prevents corrosion and doesn't allow chipping.
It takes 1 to 3 hours to dry to the touch.
 It may need up to 5 coats to match the original paint.

---
7. Rust-Oleum 7215502 Hammered Metal Finish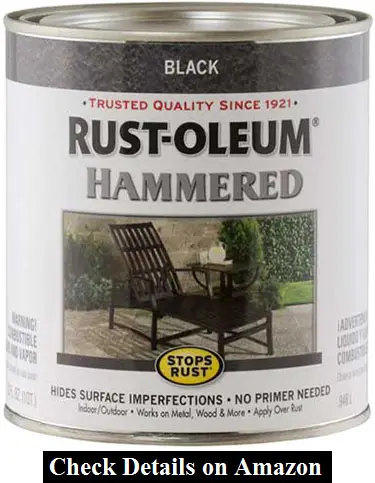 Are you looking for paint for a utility trailer that can be used on other surfaces as well?
Here's the solution for all your home utility projects. Without the need for any primer, which subsequently saves your time, you can use this product on your trailer and other surfaces. It can be applied directly to rust.
It sits well on masonry, wood, concrete, and metal also to protect them from the debilitating effects of rust and corrosion. Use on wheel rims, wheelbarrows, and lighting fixtures and breathe new life into these.
Your patio furniture will remain weather-resistant if they get a coat of this paint. There will no formation of rust as this paint is oil-based and specifically fights against rust.
A quart of this product will cover approximately 100 square feet of surface area. It will take 2 to 4 hours to get dry to the touch. This is the ideal solution against chipping, scratch marks, and fading. Apply two coats to get the right finish and durability.
Its finish is hammered metal so as to hide the imperfections left by scratches, dents, and pitted metal surfaces.
Available in a wide range of finishes and colors, choose the one that matches the closest to your intended project. It will not only lend beauty to worn-down metal ad wooden parts but will also make them more long-lasting.
Some users have put this paint on their stainless steel kitchen sink with fabulous results and no complaints even after weeks of use.
Highlighted Features :
It can be used on multiple surfaces like masonry, wood, metal, concrete, etc.
It is available in a wide range of colors and finishes for options.
 A quart of the product covers 100 square feet of area.
It takes 2 to 4 hours to dry to the touch.
Resists against rust and weather.

---
8. Valspar 4432-13 Ford Gray Tractor and Implement Paint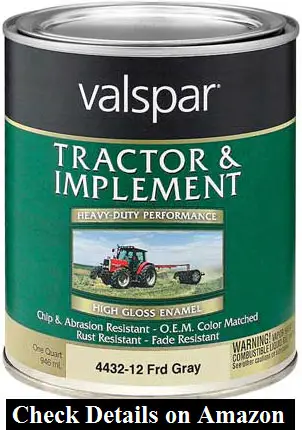 Wouldn't it be great to have painted for trailer frame that matches Original Equipment Manufacturer colors?
Anyone who owns wagons, tractors, and trucks would want to have their trailer color match to that of the main vehicle. It gives a nice, cohesive look besides keeping the trailer free from rust and corrosion.
This product does all the above plus resists fading so that your trailer continues to wear a neat and proper look for a long time. It also gives a heavy-duty performance so that your farm and construction equipment can continue doing what they do without worrying about the consequences.
You might find the paint consistency somewhat thick so a lot of users have advised using a thinner to get the viscosity you want. With a lacquer thinner or a mineral spirit and 1.3 spray tip, you're good to go.
Application is smooth and you won't encounter any drips. It also provides good coverage of the surface area. For a professional finish, use a high-end spray gun to apply the paint.
Users have saved hundreds of dollars by using this product to paint their car. With a brush and roller, putting on the paint is smooth and it leaves a glossy finish.
Coupled with a hardener, you will definitely get a durable result. This will also prevent any chipping and fading.
It's suitable for other surfaces and adheres well. With a primer and two coats of this paint, you will get a shiny and long-lasting finish.
Highlighted Features :
Glossy finish that lasts a long time.
No drips or mess whether applied with a spray gun or a roller and brush.
It perfectly matches OEM colors.
 Prevents rust and abrasion.
Heavy-duty performance for construction and farm equipment.

---
9. RTG Deck, Porch, Patio Anti-Slip Paint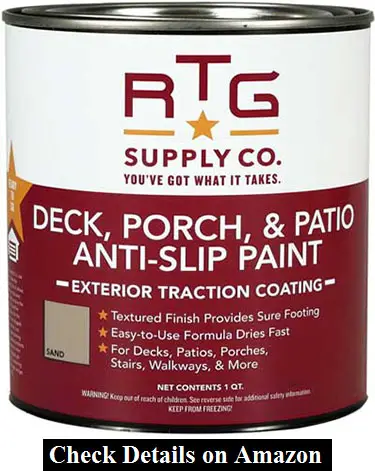 From weathered and worn to warm, welcoming, and wow!
That's what this product does to your outdoor furniture, patio, floors, decks, stairs, and ramps. The anti-slip paint keeps all your outdoor surfaces shiny and new with its excellent protective care. Use it on surfaces like masonry, wood, metal, and concrete.
Even in wet weather, the painted surfaces will remain anti-slip. It's easy to apply with a brush and roller and needs a maximum of 3 coats. With a non-abrasive property, your kids and pets can walk easily on bare feet without getting hurt as the paint has a special traction additive.
With zero fading, flaking, or peeling, all your surfaces painted with this product will last longer. It can withstand continuous foot traffic, snow, rains, wind, or sun without buckling. Credit goes to the UV-resistant finish that prevents fading.
As the product is textured, it gives an appealing look. Its fast-drying formula is good for projects that you want to complete within a tight deadline. You can apply it without putting any primer.
The water-based formula is friendly to the environment and is safe for use. You can clean it up easily with a solution of water and soap.
Choose a quarter-size container to cover between 80 and 100 square feet area. Apply any of the colors to give fresh life to the exterior parts of your home – light gray, sand, white, and amber.
Highlighted Features :
Available in four colors and 1 quart covers 80-100 square feet.
The anti-slip formula keeps surfaces so even when wet.
Prevents flaking, peeling or fading with UV-resistant property.
Withstands rain, snow, heavy foot traffic, and all types of conditions.
Special traction additive to prevent falls and injuries.

---
10. RUST-OLEUM 7466402 Gallon International Red Bright Enamel Paint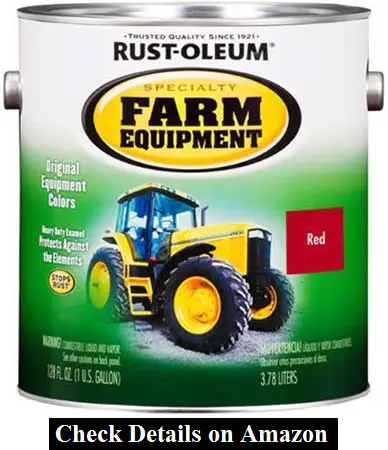 Paint the farm red with this international bright red enamel paint!
Suitable to withstand heavy work and conditions in farms and outdoors, this paint can turn lawnmowers, farm equipment, trailers, trucks, and tractors from drab to fab within days!
The smooth finish leaves an elegant sheen that brightens up your day and makes all farm work light. Not only do your machinery and vehicles look good, but they are also forever free from rust with this protective paint.
No more chipping, peeling, flaking, or fading colors on your valuable machinery and trailers. With this product, all these can shine bright like a diamond, thanks to the excellent color retention ability of the paint.
It's easy to apply and provides excellent coverage so that you get more bang for the buck.
Suitable for marine use also, paint your boat a bright red to catch the eye. This product won't let the sun and waters do any damage to your boat trailer. Make sure you put on a thick layer of this paint to get the optimum results. This will give you long-lasting paint and you won't need any touch-ups anytime soon.
With superior adhesive quality, you can paint the inside of a water tank and a fire engine a bright red. Just apply two coats with a brush and your engine will look as good as new.
Highlighted Features :
Bright red enamel paint.
Suitable for farm equipment, machinery, and boat trailers.
Anti-rust and super adhesive property for durability.
 Easy to apply with a brush.
Leaves an elegant sheen.

---
Benefits Of Using Trailer Paint
Rust-Free Appearance
A trailer paint can keep your trailer last longer if it's painted. The paint acts as a protective cover so that the metal parts of the trailer remain free from rust. Rust can cause slow corrosion and breakdown of the metal parts. Hence, if you put a coat of paint on the trailer, it will serve your purpose for a long time.
Good Looks
Nobody wants to be seen hauling a run-down trailer that looks like it's barely moving. To give your trailer a shiny and good look, a coat of paint is necessary. The trailer should match the way your truck or boat looks and both should look neat and clean.
Re-Sale Value Increase
Putting a coat or two of paints on your trailer makes it more eligible in the second-hand market. With a polished and clean look, the re-sale value of your trailer will naturally go up.
Faded Paint And Other Repairs
Over time, everything loses its original sheen, including your trailer. In cases of minor scratches, marks, faded paint, damage due to long hours of sun exposure, giving it a coat with the best trailer paint can restore its luster.
A Plus For Business
If you rent out trailers as a business, painting your trailer at regular intervals will speak volumes about the professionalism of your organization. Such a trailer will itself be an advertisement for your company.
Tips To Apply Paint On Your Trailer
Sanding, Cleaning, And Masking
Before you apply paint on your trailer, there are some prep steps you must go through. If the trailer is a second-hand one, sand it over to make the new paint bond well.
To get rid of the dust, use a broom or an air compressor. With a damp cloth, wipe the whole trailer. If you want to leave some parts unpainted, then tape or mask them.
Uniform Finish
Using enamel spray paint, put a coat of paint on all the metal parts. Apply another coat to get a uniform finish. Afterward, clean the whole thing with a solution of soap and water and let it dry completely before use.
Painting The Wheels
Before you paint the wheels, remove the lug nuts. Use a mask or tape to cover parts that need not be painted.
Dry Weather
It's ideal to paint trailers during dry weather as humidity will delay the drying process and you will run into chances of dripping.
Good Quality Rollers And Brushes
It's not only the paint that needs to be of high quality but also the tools with which you will apply the paint. Hence, spend the right amount of money on getting these tools for a smooth finish and good coverage.
Primer
Use a primer so that the bond with the paint and the substrate is stronger and lasts longer. However, only use a mixture of primer and paint if the surface is already smooth. Otherwise, use a primer first to ensure the paint adheres to the surface.
Hanging The Frame
For getting the paint on all parts, hang the frame of the trailer when you paint it. If there's no place to hang it, rest it on a few points of contact as possible.
Top 3 Recommended Trailer Paint Brand
Rust-Oleum
Operating since 1921, this company has been providing solutions for all problems that crop up due to rust. The underlying philosophy of the organization is to spot problems and offer effective solutions.
Through innovation and cutting-edge technology, they have successfully produced paints that are durable and powerful. The company stands for trust and quality.
TotalBoat
This company is the successful result of 35 years of listening to customers and combining that with its own knowledge about boats. A forefront in providing marine maintenance and solutions, the products of this brand are also a winner among DIY-ers.
The organization is based on the mission of making things simple, listening to customers, striving to improve products, continuous innovation, and fun at work.
Krylon
Established in 1947, Krylon is the pioneer and the different than application largest supplier of aerosol paints globally. The company is focused on colors, innovation, packaging design, and novel project ideas.
Their high-quality products are a result of continuous innovation and inspiration. This wide range of products is at home and in the backyard for multiple projects.
Frequently Asked Questions (FAQ)
1. Is Painting A Trailer With Paint Better Than Using A Powder Coat?
Answer: The process of painting is different than the application of a powder coat. While the paint is in its liquid form and sticks to the trailer, a powder coat is actually plastic dust that sticks to the surface after getting baked.
If you are looking for durability and convenient application, then a powder coat does a better job. However, with paints, you get the same longevity if you put a 2-part epoxy primer before applying the paint.
2. What Are The Features Of A Good Boat Trailer Paint?
Answer: Since a boat is exposed to water and other harsh conditions, the paint for a boat trailer should be suitable not only for the metal surfaces but also for the fiberglass and wood parts.
Also, the paint should be oil-based to repel fish oil that leads to corrosion over time.
3. What Is Cure Time?
Answer: Cure time is the length of time it takes for paints to reach the optimum adhesion and viscosity at a certain temperature. If the paint has not been allowed its cure time, it's bonding with the substrate will not be very strong. This directly impacts the durability of the paint.
4. Can The Same Trailer Paint Be Applied On Other Surfaces?
Answer: Yes, there are a few brands of paint that can not only be used on metal parts of the trailer but also on wood, concrete, masonry, and other surfaces. They perform the same function of preventing rust and corrosion from forming on these surfaces.
Many such paints can be used on patio furniture to prevent rust. Some can also be used on stainless steel to give a nice sheen.
5. Why Do I Need A Primer?
Answer: When the surface of the trailer is not smooth and clean, the application of a primer will make it ready to receive the paint. Otherwise, the paint without the primer will not stick to the surface, wasting your time, money, and energy.
6. What Is A 2-Part Epoxy Based Primer?
Answer: A 2-part epoxy-based primer has a base primer followed by an added hardener. With these two in combination, you get a really tough paint that epitomizes durability.
Final Words
Regular maintenance of your trailer is essential to ensure that it lasts for a long time and doesn't give out when working in different weather and ground conditions.
Since your trailer carries a lot of burdens and might cross rough terrains, it's natural for rust to form on it as well as scratch marks. As a result, you'd start to notice chips, flakes, and the paint is faded. Your trailer will start to look old and ready to kick the bucket.
However, with the best paint for the trailer, your beast of burden can get back its good looks and condition. This will greatly improve your business and even your daily chores around the farm or construction site. By following some basic preparation, the right paint can do wonders to restore your trailer.