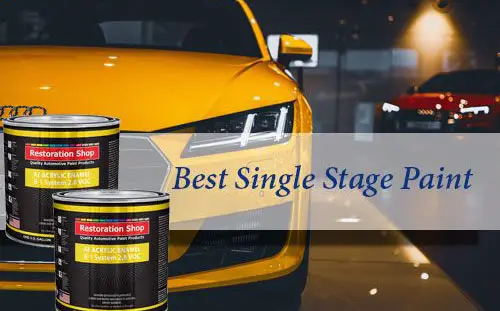 Single-stage paints have a rich history behind them. And, despite being a product primarily popularized in the late 70s, they still hold a strong market.
With modern SS paints, the manufacturers have brought down the VOC levels significantly, equipped it with various innovative technologies, and marketed many different types of basic concepts.
However, these pros also provide some cons. Take market saturation for example.
As the product's popularity increased, it also became harder for a buyer to pick out the best single stage paint that suits their particular likings and requirements.
But, fear not! This guide can help you sift through the nefarious web of lesser products and purchase one that's actually worth the price.
Top 6 Best Single Stage Paints Reviews
1. Restoration Shop, Complete Jet Black Single-Stage Paint Kit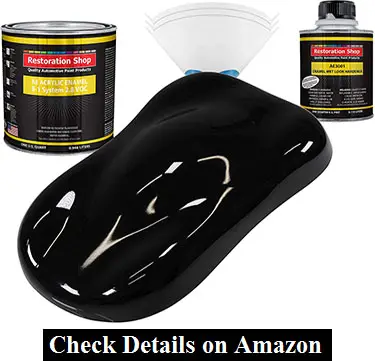 Warning! This product may make you a bit nostalgic.
This kit contains one U.S gallon of enamel paint, considered as the predecessor to now the most widely used SS paint called urethane. It also offers one pint of acrylic hardener, 5 pieces of nylon strainer, and 5 pieces of paint-mixer sticks.
The product provides industry-grade paint, specifically designed for use on automobile exteriors. The RSP AE3001-PT hardener provides a soft look. Combined, they're a perfect team to restore old cars or give the new ones an antique look.
Each of the strainers has 190-micron screens, providing you a material that's subtle enough to filter out any impurities (e.g. dust, debris, etc.) of the paint to perfection.
The mix ratio is 8 to 1. That means you need to measure out, using a professional paint measuring cup, 8-part paint to mix with a 1-part hardener. The amount of the parts depends on the particular job you're planning to execute.
It contains a 2.8 VOC count, meaning you can safely use the paint in all states of the U.S.A.
If you want to increase the fluidity of the paint, the manufacturer recommends using Exempt Reducers from the XR Series to maintain a 2.8 VOC count. You can also apply Urethane Reducers, though the VOC count will go up to 3.5 in that case.
They use quality base substances to produce the paint, giving you clarity, depth of texture, shine, and durability.
The paint is manufactured to resist solvents and harmful chemical materials, preventing the painted surface from fading, cracking, and chipping. It also protects against UV rays. Thus, can be conveniently used outdoors.
The product provides a multidimensional use, from all types of automobile paint jobs (e.g. 98 Honda Civic LX) to marine vessels like ships, fleets, and boats. It can also be used for wholesale factory coating.
Highlighted Features :
The kit is produced and delivered entirely by the company.
Can multifunction as a top-coat, reducing the effort of the paint job.
Contains a 2.8 VOC count, allowing you to use the pain in all U.S.A states.
Can be used on marine vessels and for wholesale factory coating.
Comes with 190-micron strainers to let you perfectly filter the paint.

---
2. Speedokote, Speedo Line Hot Rod Black Single Stage Gallon Kit With Included Activator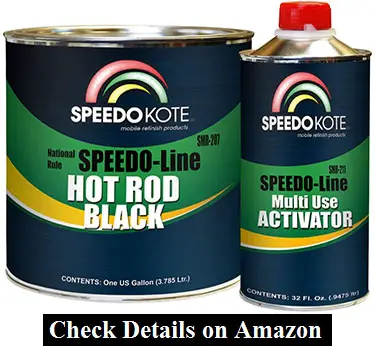 We're all aware that black is one of the most popular color choices in the automobile industry. And if you fall into that team, this product will be a perfect match.
The kit includes a gallon of urethane paint containing 3.785-litres of liquid and a hardener, measuring at 0.9475-litres.
The mix ratio is 4 to 1. That means you need to mix 4-part paint with 1-part activator before spraying. You can use a thinner if needed up to 10-percent, however, make sure it's a urethane reducer to maintain chemical compatibility.
The paint has a low VOC count of 4.8-pounds per gallon. However, it can't be used in states like California as they have stricter rules for VOC regulation, which is 2.8-pounds per gallon.
The kit includes 2 components. But after being mixed prior to spraying, it can be applied in a single step.  
The SMR-207 paint dries to a silky finish. Mixing it with the SMR-211 hardener will provide you one and quarter gallons of sprayable material.   
It's a 2K paint, meaning it needs to be mixed with a hardener. As a result, the product provides better longevity than 1K coatings. The paint provides a uniform jet-black texture. It dries quite fast, lessening the waiting period needed for a recoating.
It's efficient at reflecting off UV. So, if you use an outdoor garage, it'll be a fantastic purchase.
The paint is resistant to harmful chemicals and provides rub resistance. So, it won't come off the surface if you try to polish it like old SS-painted cars.  
It is intentionally manufactured to provide the same protection you'd get from layering a separate urethane SS top-coating. The product is pretty capable of weatherproofing as well.
The paint should be used with a fluid-tipped, HVLP spray gun. The compatible tip diameter is 1.3 to 1.4-millimeter. It provides a pressure range of 8 to 10 PSI. It can adapt to various spraying techniques and be used with premium, well-engineered spray guns.
Highlighted Features :
Designed to adopt various spraying techniques.
Offers a pressure range of 8 to 10 PSI.
Delivers the same protection as a separate urethane SS top-coat.
Resistant to both rubbing damage and harmful chemical elements.
Features one and a quarter gallons of sprayable liquid.

---
3. Eastwood, Jaded Green Metallic Single Stage Urethane Topcoat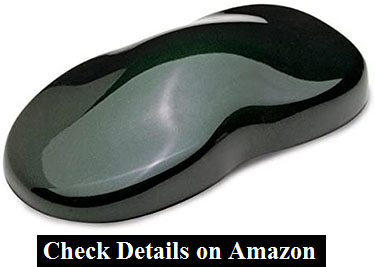 Designer Kevin Tetz crafted this product for his project "Jaded Mustang". So, you know right off the bat it's not going to be your average SS urethane paint.
The product provides you 96-ounces of liquid. The paint and activator mixing ratio is 3 to 1. However, the product doesn't include the hardener, you need to purchase it separately.
The paint can maintain chemical composure until the temperature reaches 300-degrees without becoming laminated. However, the manufacturer warns that color-shift may occur if you go above 170-degree. Thus, it should be used in a low-temperature setting.
Eastwood uses an innovative formula that involves catalyzing urethane to ensure the quality of longevity. It also uses industry-grade base substances to produce paints.
The company applies "composition-coating technology" to enhance the inherent value of the product. Most experts have reviewed this product to be the best single-stage black paint as it easily beats other lacquer, alkyd, and acrylic paints in the market.
The paint uses 10 to 65-micron pearl flakes to add a beautiful starry layer to the texture. Unlike old SS paints, this won't yellow and can hold its shine over time without using any topcoats.
If you're using an HVLP (high volume low pressure) spraying gun, the tip dimension range is 1.3 to 1.5-millimeter with an inlet pressure that can be set between 25 to 30 PSI.
For a gravity gun, the tip dimension is adjustable from 1.3 to 1.6-millimeter, with a pressure range of 45 to 50 PSI. For siphon guns, the tip dimension compatibility is the largest, ranging from 1.4 to 1.8-millimeter, and offers the same pressure range as the gravity gun.
You need to wait at least 18 hours before a new round of coating.
If you use it as a single SS topcoat, you can even sand (wet) and polish to increase the textural richness. However, for applying on metal accessories, a clear coat finish may be needed to properly adhere the paint to the surface.
Highlighted Features :
Compatible with HVLP, Gravity, and Siphon spray guns.
Can be used either as a singular topcoat or in combination with clear coats.
In terms of singulars usage, polishing and wet-sanding is allowed.
Offers coverage of 125-square feet area.

---
4. Restoration Shop, Black Cherry Pearl Paint Kit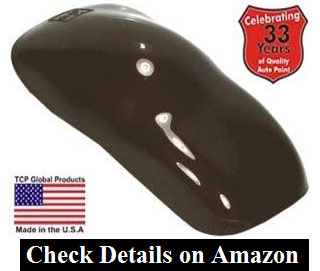 This is a pro-grade paint kit, armed with a top-notch hardener, industry-grade strainers, and even mixing equipment. This wholesome package will allow you to load your spray gun and start layering right away.
This single-stage urethane auto paint kit contains 1 U.S gallon (3.785-liter) of paint and 1 quart (0.94-liter) of activator. You need to mix it before spraying, using a 4 to 1 ratio. That means 4 parts of paint combined with a 1-part activator.
If you feel the need to use a reducer, you can go up to 3.785-liter per gallon to stay under a hazardous VOC count limit.
The company recommends XR and UR series reducers. With the first one, the VOC stays at 2.8, making it legal to use across all American states. However, with the latter, the VOC count will rise to 3.5, making it illegal to use in states like California, Maryland, etc.
You can use different XR models to increase the temperature range up to more than 85-degrees (e.g. Exempt Slow Reducer or UR85).
Apart from the paint and activator, the kit also includes 5 nylon strainers designed for specific automobile use and equipped with 190-micron mesh screens, along with 5 mixer sticks made from high-quality wood. The 190-micron mesh screens offer wonderful filtering while the activator provides you a shiny yet easy-to-the-eye texture with a wet style finish.
The urethane acrylic paint offers a wide range of use, from automobiles to big vehicles to shipping fleets and other marine vessels. This doesn't require any extra protective finish and dries fast to shrink the usual single-stage paint dry time, increasing your workflow speed.
It has all the necessary protective features as well. The resistance against various chemical degraders and solvents makes the product provide you an extremely durable finish without the fear of yellowing, chipping, cracking, discoloring, or fading.
It resists UV rays, giving you the freedom to park and drive your vehicles anywhere, especially outdoors. It offers an enormous 5 quarts of sprayable liquid in total and equipped with easy-spray technology.
Highlighted Feature :
Different thinner model compatibility allows paint usage up to 85-degrees.
Designed with easy spray technology.
Resists UV rays, giving you the freedom to park outdoors without worry.
Offers 5 mixer sticks made from high-quality wood.
Contains the minimum VOC count of 2.8, making it legal all across the USA.

---
5. Duplicolor, Jet Black Lacquer Paint Coat BSP200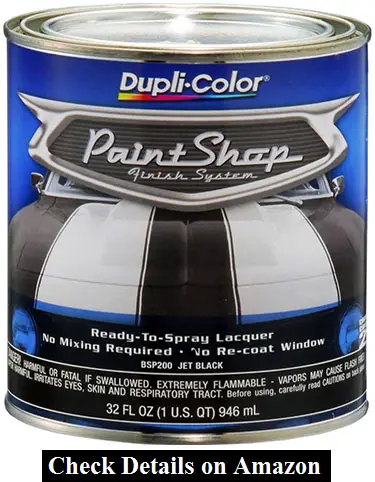 This is certainly one of the more fascinating products on the list.
This paint provides 946-milliliters of liquid.
If you have Duplicolor's entire "Paint Shop Finish System" set, which includes a primer, a silver metallic base coat for increasing color-depth, and a clear coat, you can use the paint right out of the package.
However, this product only provides the paint container of the entire system. On the bright side, the paint comes pre-reduced. Thus, you won't need to go shopping for a thinner/reducer (as both can be used with lacquer paints).
The paint provides one of the lowest VOC counts in the entire list, keeping it 0.82-pounds per gallon. This is a premium-grade lacquer and with the entire system in possession, you can achieve a texture that is as smooth as it's easy to polish.
The paint has been highly popular among small business owners and DIY enthusiasts because of its exceptional quality and connection to a completely self-sufficient painting system.
This jet black candy lacquer can be a perfect choice to restore antiques like the 88' Mazda RX-7. The paint has depth, clarity, textural consistency, minimal gloss, and a distinguishable sense of taste to it.
It's extremely user-friendly, as the product can be used to lay new shades on your preferred surface anytime, eliminating the entire concept of a recoating window. It can be wet sanded and offers one of the quickest drying times among SS paints.
The paint amounts to 1 U.S quart per gallon. Converting that into liter, you'll require somewhere between 1.8 to 3.7-liters to paint a regular-sized car. However, the amount may vary depending on your spraying angle, the number of coats/shades applied, if you plan to cover a bigger-sized vehicle like a supply truck, etc.
But, since this is a lacquer paint, you should clear coat it to ensure lasting durability.
Highlighted Features:
Offers one of the lowest VOC counts, holding it at 0.82-pounds per gallon.
Has no recoating window, letting you lay new shades any time you want.
Comes pre-reduced for an effortless and smooth spraying experience.
Provides a perfect option to restore black classics like the 88' Mazda RX-7.
Requires a clear coating to ensure lasting durability.

---
6. Speedokote, Speedo Elect Premium Blends Single Stage Auto Paint Kit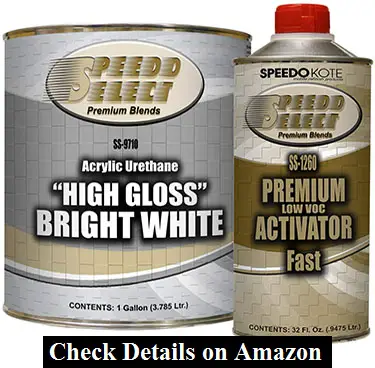 When we think about products that can carry out the reputation of their manufacturer, this one comes to mind.
This kit offers 3.785-liter of paint along with a 0.9475-liter hardener. The mixing ratio is a standard 4 to 1, meaning you need to mix 4 parts of paint with a 1-part hardener before spraying.
The package contains SS-9710, a deep-white acrylic SS paint of urethane gradation, and SS-1260, the hardener. The hardener enhances the adhesiveness of the paint to the surface.
This Uniform white paint has great clarity. It's a 2k paint, meaning it comes with an activator to increase shine, longevity, and weatherproofing features. It's also ingrained with quick-dry technology, making the product one of the best all-in-one automotive paint products in the market due to its wholesome pack of features.
The paint provides consistent protection from sunlight (which radiates UV rays that can damage an SS painted surface, causing it to yellow). It dries to a protective finish as well through resisting quality degrading chemical compounds.  
It can be used with a temperature range of 60 to 75-degrees, allowing you to work with the paint in hot, humid outdoors.
The paint is compatible with HVLP spraying guns, which are equipped with a fluid tip and have a 1.3-millimeter tip dimension. It offers an air-pressure range of 8 to 10 PSI.
The product provides enough sprayable liquid that can cover a mid-sized car, such as an 86' Corvette.
It multi-functions as an industrial-grade, premium SS urethane top-coat, thus you won't be needing to use a complex process of painting/layering separate topcoats.  
You can use any reducer up to 5-percent for controlling the flow, speed, liquidity, and spontaneity of the paint.
Highlighted Features :
Offers enough sprayable liquid that can cover an 86' Corvette.
Being urethane-based paint, you won't need to use paint thinners.
Provides the level of protection you'd expect from a 2K urethane paint.
Compatible with any reducer up to 5-percent to control speed and liquidity.
Features consistent protection from sunlight for outdoor use.

---
What is Single Stage Paint?
Generally speaking, a single-stage paint represents history, nostalgia, and a unique set of features.
In terms of definition, it is a type of paint that doesn't require any topcoat or protective finish. Its name is
self-describing, as this paint is applied in one step/stage.
It's an all-in-one package. You don't need to buy a bunch of extra products to use it. Simply open up your spray gun, load it with the paint, and spray away.
However, some experts recommend that you mix the paint with a hardener and reducer before applying.
The hardener increases the paint's adhesive strength to the surface. And, the reducer ensures that the paint becomes spontaneous enough to flow smoothly, allowing it to provide an overall consistent texture and a convenient spraying radius.
A predecessor to enamel paint, SS paints are made from pigments like most paints are produced. These pigments are bound together by a resin structure that provides you the paint as a final product.
The U.S companies then advanced the formula by adding polyurethane to the process. Polyurethane is a collection of series of chemical units. Each of these series is bound together by urethane links.
Things To Consider Before Buying A Single Stage Paint 
1. Previous Experience
SS paints can be difficult to work with if you have no previous experience. Even though they are applied in a single step, with a closer look you'll find there are a few nuances involved.
For example, though you won't need to use a top-coat, most experts recommend mixing the paint with a hardener and
reducer for a smooth application.  
This knowledge can be used as a way to detect the finest single-stage paint options in the market since they will have these extra products included in the package.
In terms of restoration as well, your usual buffing techniques may not work on an SS-painted car.
If you go too strong with the polisher, the secondary layers of the paint may come off the surface, exposing the base layer or worse, the bare surface of the car. A mistake you'd want to avoid with antique car restoration.
So, if you don't have prior experience of working with SS paints, do your research first.
2. VOC Count
The term stands for "Volatile Organic Compounds". And, in this case, you must take this matter quite seriously.
In fact, one of the main reasons automobile manufacturers moved to a clear coat over single-stage paint is the high VOC count provided by the latter. The government regulations deemed clear coats to be environmentally safer and put strict regulations in place to limit the emission of VOC into the environment.
Therefore, you must ensure the product has a low VOC count for the safety of yourself and the ones around you. Besides, not considering this issue can get you into legal troubles as well.
The U.S.A has different standards for VOC measurement, depending on the state. Unless you live in California, Delaware, Indiana, etc. (where the limit is set at 2.8-pounds per gallon) the general limit is 4.6-pounds per gallon.
So, make sure you're not purchasing something illegal. However, nowadays most manufacturers have upgraded their manufacturing process to bring down the VOC count of SS paints as low as possible.
3. Compatibility For Top-Coating
This is a matter of preference of course.
However, if you intend to enhance the paint job's security and gloss with a topcoat, ensure that the SS paint is equipped for it.
4. Amount Of Polyurethane
To understand this factor a little better, let's take a look at history.
Between the late '70s and early '80s, most major automobile manufacturers switched to SS urethane paint from enamel paint. And one of the influential factors in this switching was polyurethane.
Manufacturers started mixing polyurethane in formulating SS paints to create a product that provided better adhesiveness and outdoor durability (due to its resistance to UV rays) than enamel paint. They could even be painted over pre-enamel-painted cars.
It's also the use of this material that makes SS paints rust-resistant and free from requiring a top-coat finish. Thus, buying an SS urethane paint with a high percentage of polyurethane will serve you better on all fronts.
5. Know Your Spray-Gun
We recommend buying a high-quality spray gun, as it'll pay for itself in the long run, for example, TheFinishLine series by DEVILBISS.
A spray gun can be broken down into more or less 13 parts such as air inlet, fluid and fan control knob, tip, a fluid inlet, cup, cup lid, etc.
However, to use it effectively and safely you simply need to keep a few things in mind. Ensure that-
a) The paint you are purchasing is compatible with your spray gun (e.g. tip dimension, air pressure range, etc.)
b) The attachment between the holder cup and lid, as well as the lid and the fluid inlet, is firm and secure.
6. Personal Protection
Since VOC release can become an issue, we highly recommend using industry-grade PPE while spraying.
This includes: NIOSH-approved air-purifying respirators, protective eyewear, and headgear, leather apron, rubber/leather hand gloves, a well-ventilated workshop, etc.
7. The Chemical Standard Of The Paint
You can also check the chemical quality of the paint in-depth. For example, pigment load, base substances used to
produce the paint, textural depth, and consistency, etc.
How To Spray Single-Stage Urethane Paint
1. Prepare The Surface
i) Cleaning
If it's dirty, meaning general dirt and debris, clean it up with a soft, wet fabric, soaked in lukewarm water mixed with soap. If it's rusty, use a rust conditioner.
ii) Leveling The Texture
In the context of fixing an antique car, you may come to face textural damages like dents, scratches, and holes.
Apply a body filler (a type of thick polyester resin you can find in local hardware shops) with an appropriate tool (e.g. a flexible plastic scraper) to repair the damages. Use the filler in multiple coats to ensure it sits in properly.
Once it cures, level the surface through sanding.
2. Protect The Areas You Don't Want to be Painted
i) Buy Quality Masking Paper And Tape 
There are parts of your car you don't want a splash of paint over. For example, windows, door handles, bumpers, etc. Use good quality masking papers to wrap up all these areas.
ii) Tape The Edges
Don't forget to apply tape to the edges, otherwise, airflow from the spray gun might move the positioning of the masking papers.
3. Mix The Paint
Though SS urethane paints can be sprayed directly, most experts recommend mixing them with an activator/hardener and, if needed, a reducer.
i) Activator
Using an activator provides a variety of benefits. It allows the paint to strongly stick to the surface and hardens it after a full cure to improve durability and weatherproofing.
Most products come equipped with an activator, so you won't need to worry about making extra purchases.
ii) Reducer
Using a reducer/thinner is not always necessary. However, if you feel the paint is too thick to spray you can use it to enhance liquidity. Thus, you'll have a smoother flow out of the spray gun.
4. Prep The Gun:
i) Arrangement:
Fill the cup of the gun with the required amount. Properly place the cup lid and make sure it's securely attached to the gun through the fluid inlet.
Also, check the pressure valve and do a few dummy sprays to ensure the air pressure is right.
ii) Maintain A Proper Spray PatternAnd Distance
Most experts recommend that you spray from left to right for the base layer. Aim for a 7.5 to 8-inch width for each round of spraying.
Spray in multiple layers using a tail-to-head overlapping style, and allow full dry and cure time in between laying out each new shade.
For finishing layers, follow a top to the bottom pattern. This will allow you to achieve maximum coverage while avoiding textural damage and perceptual distortion.
Keep at least a 6-inch distance between you and the surface while spraying.
5. Take Safety Precautions
With single-stage paint, VOC is always a concern. Though modern companies have brought down the VOC count significantly, maintaining the government regulations (down to 2.8-pounds per gallon), taking proper safety measures are still important.
i) Personal Protective Equipment
Don't go cheap on PPE. Use a NIOSH-approved APR, latex gloves, headgear, protective eyewear, and an industry-grade, splash-proof apron.
ii) Proper Ventilation 
Use a workspace with a heavy-weight air-purifier system in place for proper ventilation.
6. Start Spraying
i) The Base Layer
Spray the base layer in the abovementioned pattern and allow 12 to 24 hours of drying time.
ii) Secondary Layers
 If you feel like increasing the richness/depth of the texture, apply another layer of paint after the base layer has fully cured.
However, if needed, you should re-sand the surface and apply tacking to increase adhesiveness before that. The recommended range for sandpapers is 220 to 400-grit.
Allow at least a 24 to 48-hour time period for a proper cure after the entire spraying process is done.
Single Stage Auto Paint Vs Basecoat/Clearcoat
See, in the '80s, especially in the USA and Japan, almost all the cars were painted with single-stage painting.
These paints were considered to be quite durable at the time. Mostly due to their ability for resisting ultra-violet rays and staying robust in the outdoors. That is why they became so popular and stayed that way till the mid-90s.
But, nowadays 90% of the manufacturers use what is known as basecoat/clearcoat paint. These paints are laid out in several stages and require a topcoat finish.
So, the question naturally arises, why this "moving away" from using single stage paint? After all, clear coat paints are generally expensive and demand a more challenging application.
Well, it's hard to answer that in a single sentence.
However, if we had to, it'd be: Technically, basecoats are technologically more advanced than SS paints.
But we must elaborate.
Single-stage paints are simpler to apply. Thus, they reduce the hassle of applying to a large degree.
Also, now you have access to a variety of methods that can be applied to use a top coating over SS paints. Thus, using a single-stage auto paint kit becomes equally effective and more effortless than clear coat paint.
Still, they're not without a few issues.
Since they have no protective finish, it makes them prone to oxidation. And when an SS-painted car falls prey to this phenomenon, it discolors rapidly to a point where you might mistake a red car as pink.
Moreover, unlike a clear coat, if you try the normal way of buffing an SS-painted car, and go too harsh, the paint would come right off the surface. And that'd be very difficult to restore. It may force you to take it to a body shop, increasing the overall cost of the repair.
Apart from the oxidation factor which also causes yellowing and the difficult repairing process, SS paints also take longer to dry than clear coats.
On the other hand, since clear coats are used with a protective finish, they are less prone to oxidation. They are able to contain the shine of the paint longer and brighter. Also, clear coats are easier to repair in case of any mishaps, such as a scratch mark or a swirl.
Then why are SS paints still in demand?
The first reason that comes to mind is restoring old, vintage cars.
See, an antique car like a Corvette 1980 would be originally painted by a single-stage paint. Thus, if you want to fresh up one of those to show off in a garage or a showroom, you must use a similar kind of paint.
So, certain unique traits (e.g. restoring the glory of a beloved, old car), minimal application style, and the newly discovered ways to use a clear coat over single-stage paint keep this breed alive, fueled by a thriving market.
Frequently Asked Questions (FAQ)
1. What Are The Types Of Single Stage Paint?
Answer: Any paint that doesn't require an additional top-coat and hence can be applied in a singular step is considered as a single-stage paint. They can be of many types such as lacquer, enamel, urethane, etc.
An SS paint is further characterized by a 1K/2K category.
1K SS paints don't require a hardener/activator and seals to the surface through air drying.
2K paints require and usually come with an activator and provide a slower drying time. However, they also tend to be more durable.
2. Can I Clear Coat Over A Single Stage Painted Car?
Answer: Yes.
The best single-stage automotive paint products are equipped with technologies that allow you to do so. However, in terms of restoration, you need to take extra care while laying a clear coat over an SS-painted antique automobile.
3. How Do I Know Whether To Use Thinners Or Reducers With Different SS Paints?
Answer: Thinners can be used with lacquer paints.
Though for urethane SS paints you must use reducers to achieve the desired result, such as enhancing the flow, speed, and liquidity of the paint.  
4. What Does An Activator Do?
Answer: An activator, also known as a hardener, helps the paint adhere to the applied surface. It also initiates a chemical formulation with the paint to provide a toughened finish, enhancing the longevity and shine of the painted surface.
5. How To Know If My Spraying Gun Is Compatible With The Paint I'm Buying?
Answer: Look at the product description closely. If the type, tip dimension, and pressure range in the description match with your spraying gun, it's safe to make the purchase.
Final Words
SS paints come in many types, each with unique strengths and weaknesses. Their usage arena is also quite broad, ranging from restoring antique cars to coating marine vessels.
So, having a little head spin while you're out shopping to find the perfect one is not uncommon. However, there is a way around it.
We designed this guide to deliver you precisely those facts that'll help to choose the best single stage paint for your particular project, without going through the headache of drowning in scattered information.
So, use it to its full advantage and make a purchase that'll serve you for good.