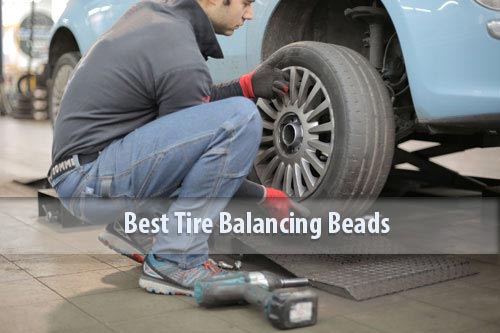 Whatever vehicle you may drive, you need to keep your wheels balanced to give you a smooth and vibration-free ride. Now, this balancing act of tires has long been done by balls of metal and other stuff made from sand, plastic beads, or powder.
The problem with these materials is that they are moisture-absorbent and stick to the insides of the tires and hence become useless. Moreover, if you are using metal weights, they won't last long as they are susceptible to rust and will also damage parts of the rim and wheel that they come in contact with.
This is where tire balancing beads come in. They provide a scientific mechanism through which they balance out the heavy spots in the tires once they start moving. Moreover, according to road conditions, these beads for balancing wheels adjust themselves so that you never face a sticky situation.
To know more about the best tire balancing beads, read through this article so that you can be well-informed and choose the right ones according to your vehicle and the tire size. Without further ado, let's dive into this article.
Bead Balancing For Tires: Do They Really Work?
The beads for balancing tires have several benefits and prove that they do really work. The following enumerates the advantages.
Fuel Efficiency
When vehicles go long-distance on highways, fuel consumption generally increases with speeds over 55 miles per hour. This happens when the balancing mechanism in tires is out of sync and works double time for synchronization.
With beads to balance the tires, extra fuel consumption is not required and hence, you get to drive greater distances with the same fuel amount.
Expands Lifespan Of Tires
Beads for tire balancing increase the lifespan of tires by decreasing the resistance that is formed during rolling. Thereby, the wear and tear of the tires are automatically reduced. Even though there will be wear, it will be more even as there is harmony between the tire and a balanced wheel assembly.
With the tires getting a new lease of life, you get more value for money as you won't need to change tires as often as before installing balancing beads.
Decreases Maintenance Frequency
Anything that moves causes vibration. And that's true for all kinds of vehicles. Vibration causes wear and tear through rubbing. But with balancing beads, the wheel assembly is complete and there is less vibration.
Moreover, balancing beads also decrease the times required for tire rotations. Thus, there is less wear and tear and hence, lower maintenance frequency.
Environment-Friendly 
Unlike lead-based products, balancing beads do not harm the environment by releasing lead. The best balancing beads are usually made from ceramic, stainless steel, or tempered glass, hence harmless to the environment.
Also, these are installed inside the tire, there is no chance of any environmental bad effect.
More flexibility and Durability
Balancing beads constantly adjust according to your driving conditions and how your wheels need balancing with changes on road conditions, for example in muddy or snowy situations.
They are also more durable and last the entire lifespan of the tires, and in some cases, can even be used with the new set of tires.
Top 09 Best Tire Balancing Beads Reviews
1. Esco 20466C Tire Balancing Beads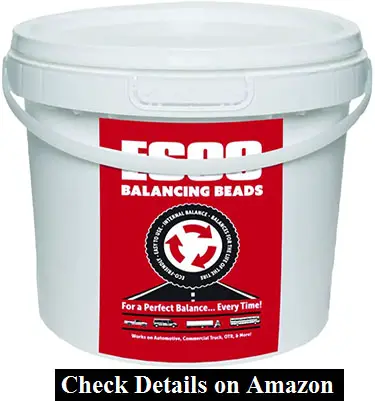 No more frequent wear of the tires of your vehicle and no more frequent visits to the workshop!
These balancing beads have been designed uniquely to adapt to the unique road conditions that your vehicle faces every day. The bulk bucket contains 282 ounces of tire balancing beads for passenger cars along with a convenient 3-ounce scoop for measuring them out.
Also enclosed is an application chart so that you are sure of the number of ounces required of these beads according to the size of your tires. The chart and the scoop make installation as easy as they can get. Just measure out and pour in the tire to make them last longer and give you more mileage.
The tire may change due to the road and normal conditions, but the beauty of these beads is that they constantly work to provide a counterweight and balance the tires. As they do so internally, they can identify the spots on the outer part of the tires where there is wear, so that they shift and adjust accordingly.
Hence, the biggest advantage of these beads is that they will continue to provide the right balance as long as your tires last. In fact, the beads are reusable and you can put them inside a new set of tires.
These beads for balancing ensure you have a vibration-free ride each time. Suitable for trailers, 4X4s, motorbikes, RVs, ATV, and automotive, the beads are made from ceramic, rendering them reusable and hence, environment-friendly.
Highlighted Features:
Uniquely designed balancing beads for high performance.
Bulk packaging of 282 ounces for more value for money.
Included a 3-ounce scoop and application chart for easy installation.
Vibration-free and smooth ride ensured with automatic adjustment.
Made from ceramic for reusability and eco-friendliness.

---
2. Counteract Tire Balance Beads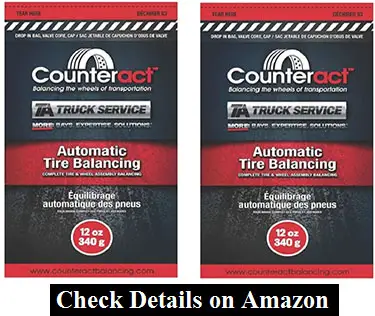 As a regular driver, who would not want to extend the lifespan of their vehicle tires and get a bump-free, noise-free ride!
Needless to say, with the extension of the tire life, you will have less occasion to go for maintenance often. All credit goes to these balancing beads. Standard tests conducted have proven that they provide fuel efficiency. Hence, you get more savings.
This is a 4-pack unit, each pack containing 12 ounces of balancing beads. For user convenience, this brand also offers 14-ounce tear-away packs. 
There is a throw-in bag included so that you can put it inside tubeless tires. Once you throw it in, your mind can be in peace as the balancing beads will adjust by themselves to give you a balanced wheel assembly.
For tires with tubes, use a good quality applicator to pour in the beads through the valve stem. It's recommended to use the enclosed valve core and valve cap for good results.
No matter the road conditions and the wear the tires are getting, these tire balancing beads provide a counterweight to maintain the optimum balance to ensure you have a smooth ride. All this is done automatically for your comfort.
These beads are meant to provide balance in tires of vehicles that have a half-ton or more suspension. This means these are suitable for UTV, ATV, RV, bus, commercial vehicles, motorcycles, and off-road vehicles and not for small passenger cars.
Why settle for less when you can help yourself and the environment together? Forget about wheel weights and use these beads instead. Made from tempered glass, these are eco-friendly, and the best tire balancing beads for you in the long run.
Highlighted Features:
Not suitable for small passenger cars.
Made from tempered glass and eco-friendly.
4-pack unit with each pack containing 12 ounces of balancing beads.
Provides fuel efficiency and savings.
Easy to install and includes one throw-in bag, valve cap, and valve core.

---
3. Counteract DIYK-10 Tire Balancing Beads Light Truck/Off-Road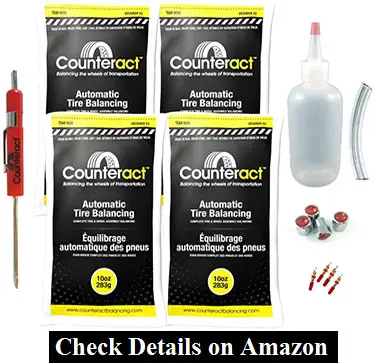 Why trust others with your wheel assembly when you can take advantage of these balancing beads that have been tested for superior balancing and fuel economy!
On two separate tests, the balancing beads have been proven to increase fuel efficiency, hence lessening your maintenance and fuel costs.
These beads for balancing tires come in four 10-ounce packages. For easy installation, the package includes 4 each of valve caps and valve core removers, and one airless applicator bottle with a tube.
The application charts included show you how many ounces of the beads are needed for light trucks, light terrain, all-terrain, and mud-terrain vehicles, off-road type ATV and UTV, trailers, and vintage cars. In short, all information and accessories are included to ensure a foolproof installation.
The larger tear-away packs have the throw-in bags inside. These throw-in bags are just the thing for putting inside the tire cavity before it's mounted. For already mounted tires, use the valve stem and the applicator bottle with the tube to pour in the beads.
With these balancing beads, you not only get fuel economy and a well-balanced wheel system but also a ride that has fewer vibrations. Moreover, the beads are great for extending the life of your tires as they will wear less when the balance is continuously adjusted.
Made from tempered glass, the beads give balance to your tires are also environment-friendly as they contain no harmful substances. However, they are not meant for small passenger cars with suspension below half-ton.
Highlighted Features : 
4 packs with 10 ounces in each.
The package includes valve core &caps, applicator bottle, and tube for installation.
Convenient throw-in bags within each tear-away pack.
Increase fuel efficiency, decrease vibration and extend tire life.
Eco-friendly material of tempered glass for making the beads.

---
4. E-Z Tire Beads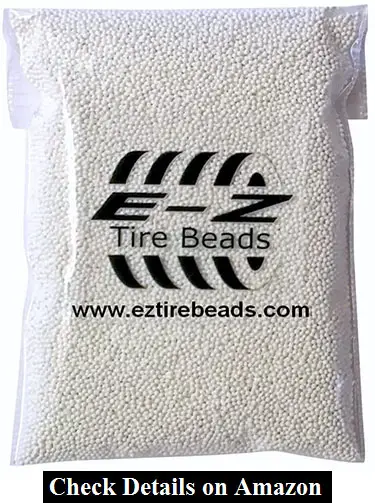 If you are facing tire cupping problems, maybe it's time for you to get these beads for balancing the overall wheel system.
These tiny balls for balancing wheels continuously shift their position while you are driving so that any imbalance is countered. The result is that you get a bump-free ride and your tires get a new lease of life as they get less wear and tear.
The ceramic beads are of high intensity to ensure they last long and can be reused even after your current set of tires have exhausted their expected life. Hence, these beads are also friendly to the environment. More so because there is no lead release.
If you have a truck, motorhome, motorcycle, trailer, or a 4X4, these tire balancing beads for 35" tires are the right ones. These come in a bag with 12 ounces of content. Installation is a matter of minutes if the tire is not mounted as you can just place the bag in its inner wall.
For tire balancing beads in tubes, you should use an applicator bottle and a tube for slowly pouring in the beads through the valve stem. Make sure to consult an application chart to see how many beads you need for the tire size of your vehicle. If the beads get stuck, just gently tap the valve stem.
With these beads, you can get more mileage and fuel economy as they make the tires less worn out. On top, they won't damage the inner lining of the tires.
Highlighted Features:
Ceramic beads for superior performance and durability.
Reusable and eco-friendly.
Suitable for trucks, motorbikes, trailers, 4X4s, and motorhomes.
Comes in a bag of 12 ounces.
Can be placed easily in unmounted tires and with an applicator in mounted tires.

---
5. EDIY-6 ECO Tire Balance Beads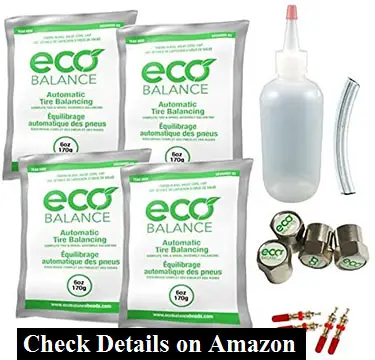 A good balancing act is needed in all aspects of life and your vehicle tires are no exception, hence, these tire balancing beads for cars.
There are 4 packs of 6-ounce bags of balancing beads in each along with 4 green valve caps, 4 vortex valve cores, an airless applicator bottle, and a tube so that you have no fuss whatsoever when you want to install these in tubeless tires or tires with tubes. These are not suitable for motorbikes.
Installing these beads for balancing the tires have very important benefits. There won't be undue pressure on the suspension as the beads will maintain the perfect balance by identifying the heavy spots inside the tires and adjusting their position accordingly.
Moreover, the tires will be less worn out due to wheel imbalance, and hence, they will last for a longer time. With the tires in good condition for longer, you will not incur unnecessary maintenance expenses.
What's more, the tires will go farther distances using less fuel, thus giving you more fuel efficiency and more value for money. Another bonus point of these beads is that they reduce friction and thereby cause less vibration. Hence, you are guaranteed a smooth ride with these beads taking care of your tires.
Besides all the above, the balancing beads are eco-friendly as they do not contain any harmful compounds. Before installation, you should consult the application chart to identify the number of ounces of balancing beads needed for your tire size.
Highlighted Features:
Eco-friendly balancing beads for your peace of mind.
Extends tire life, reduces vibration, provides fuel economy through balancing.

3.4-pack unit with 6 ounces of beads in each.

Applicator bottle, tube, valve cores, and valve cores included for installation.

5.Not suitable for motorcycles.

---
6. Stainless Steel Tire Balancing Beads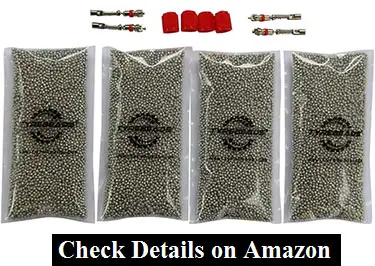 If you are looking for something bigger and heavier, as in balancing beads for 33-inch tires, this could be up your alley.
These beads for balancing wheels are made from high-quality stainless steel so that they are anti-rust and anti-corrosion. Meant of placing inside the tires, these beads will not melt or be affected by moisture which leads to clumping and making the beads ineffective.
You will get more value for money with this product as the beads come in 4 packs, each containing 6 ounces of beads. Also, since these are denser and heavier, you won't need to use as many of these as you would with other types of balancing beads. Hence, you get more savings.
Since these balancing beads are made from metal, they are more durable, will last the lifetime of your tire and beyond, and are also reusable. This makes them eco-friendly as you don't need to buy another pack for a long time.
Another benefit of this product is that static cling does not affect it and therefore, the beads have no way of blocking the air valves.
Moreover, the installation of these is easy as you just need to add them to the inside of the tire during mounting. They will automatically adjust their position when the wheels start moving and provide a counterweight to produce a well-balanced wheel assembly.
As a consequence, you get a ride free from vibration and the lifespan of the tires also gets prolonged.
Highlighted Features:
Stainless steel balancing beads for superior performance.
These will not rust, melt, cling, or clump inside the tires.
4 packs, each containing 6 ounces of the product.
Heavier and larger, they provide more durability.
Do not block the air valves as they are resistant to static cling.
---
7. Dyna Beads Motorcycle Tire Balance Kit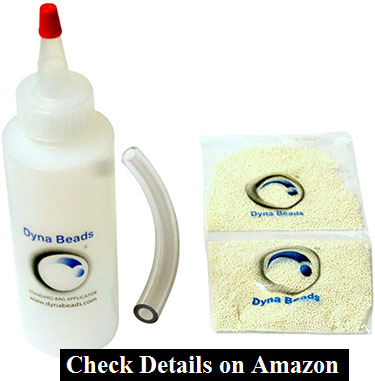 The days of lugging around unsightly wheel weights are gone!
These tire balancing beads for motorcycle have been designed specifically with this type of vehicle in mind.
Of ten times your tires may experience cupping and you may face a bumpy ride. These are caused when your wheel system is not balanced properly. That's why these balancing beads are meant for motorcycles to ensure a smooth ride all the time.
This kit contains an ounce of these beads for the front tire, two ounces for the rear tire, and also an applicator kit so that you get a seamless installation. You can either pour in through the valve stem or put them inside the tire wall during mounting.
Made from ceramic, the balancing beads are heavy and durable. As they are also reusable, they are friendly to the environment.
This product identifies the spots in your tires where it's heavy. As the wheels turn, the beads distribute within the tire to provide a counterweight opposite the heavy spots so that the wheel system becomes balanced.
For the right installation, use 1 ounce for 80 – 120-millimeter width tires, 2 ounces for 130 – 230 -millimeter tire width, and 3 ounces for 240 – 360-millimeter tire width.
With these beads in your motorcycle tires, there will be less vibration, and this will, in turn, increase the life of the tires. Hence, you will gain over the long run as you will need fewer tire changes.
Another way these beads make savings for you is that they increase fuel efficiency. With more mileage, you save more.
Highlighted Features:
Specially design ceramic beads for balancing motorcycle tires.
Hard, durable, reusable, and eco-friendly.
Easy installation through valve stem or pouring inside the tire before mounting.
Increases fuel efficiency and tire lifespan.
Continuous dynamic balancing for a vibration-free ride.

---
8. TyreBeads Tire Balancing Beads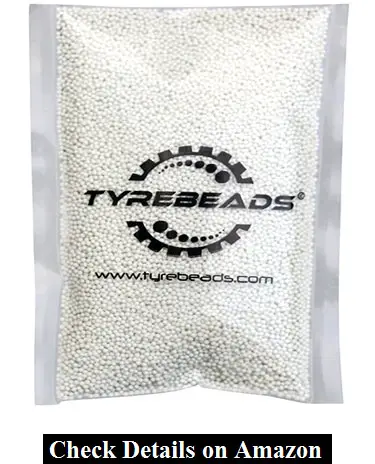 Are the tires of your vehicle getting tired of hauling you around every day? If so, just a simple solution can extend the life of your tires and give you a worry-free ride!
Just place a bag of these balancing beads inside your tire during mounting and all your rides will be smooth as there will be less vibration. Also, as the tires don't need to struggle under an imbalanced wheel system, their life gets extended.
You can also install these beads for balancing through the valve stem in case you want to put these in tires that are already mounted. Don't forget to look up the right amount of these beads to use as it will depend on the size and weight of the tires.
With this product, you are guaranteed savings as you don't need to spend money often on maintenance. Also, since the tires last longer, you won't need to change these before their time.
The 5-ounce bag of this product contains beads made from ceramic as this is the most durable and hard material to balance wheels. Moreover, ceramic doesn't absorb moisture and hence, there is no chance of it getting clumped and getting stuck on the inner lining of the tire.
These beads are also resistant to rust and will not melt inside the tires. They distribute themselves inside the tire when in motion to shift their position and provide a counterweight against the heavy spots.
Highlighted Features: 
5-ounce bag of ceramic balancing beads.
Provides balance to the wheel system for a smooth drive.
Resistant to rust and doesn't clump or melt inside the tires.
Durable and reliable for a vibration-free ride.
Extends tire lifetime and ensures fewer maintenance costs.

---
9. Esco Balancing Beads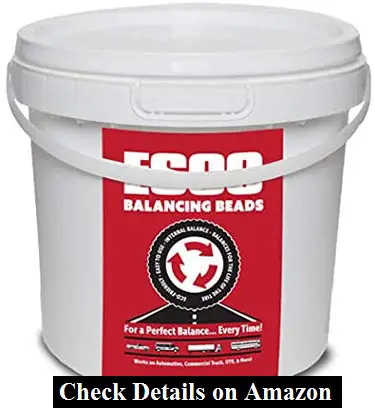 Say yes to a smooth and vibration-free ride over long distances without changing road conditions ruffling your nerves!
These tire balancing beads roll smoothly and in a well-distributed manner inside the tires of your vehicle so that any imbalance in the wheel system is ironed out.
The product comes in bulk packaging of a 17-pound bucket. Use these as per the application chart where the number of balancing beads ounces is given as per the weight and size of the tires of different vehicle types.
When the tires are getting mounted, pour the right amount of beads in the inner wall. For already mounted tires, use an applicator bottle and tube to pour the beads through the valve stem. If the beads get stuck in the process, simply tap the valve stem gently.
Anti-static in nature, the balancing beads will not clog the air valves and will not stick to the inner lining of the tires. The valve core that comes with the package is recommended for use and it's also advised to use dry air to inflate the tires.
Before installation, make sure to clean the inside of the rim and you are also advised to make minimum use of lubricants. The beads are durable, reusable, and eco-friendly. They help to gain fuel economy as they enable the tires to go longer distances without getting worn out.
Suitable for both car and truck tires, this product decreases vibration by constantly adjusting their position as per the road conditions.
Highlighted Features:
17-pound bulk packaging for more value for money.
Long-lasting beads that add to the lifespan of the tires.
Eco-friendly and reusable.
Promises to give a vibration-free ride.
Easy installation through throw-in bag or pour-in method.

---
Things To Consider Before Buying Tire Balancing Beads
As you probably deduced from all the tire balancing beads reviews above, the market has no shortage of products. But will they all fit your particular needs? Probably not!
Before you open your wallet to purchase tire balancing beads, you need to consider a few factors so that you can make a wise decision. Check the factors below-
Material
The construction material of tire balancing beads is one of the most important aspects to look for before you decide to invest in these. If beads are made from steel or lead, they will damage the rims and the internal lining of the tires.
If you choose plastic beads or weights made from sand or powder, they will absorb moisture and get stuck to the insides of the tires, and become ineffective.
Choose tire balancing beads made from coated or tempered glass or ceramic compound. They are neither affected by moisture nor damage to the tire's inner lining. However, there is a danger of glass beads breaking and leaving powder inside the tire that can damage the inner lining of the tire.
Ceramic is the ideal material as it's heavier, will note get out of shape, and more durable.
Ease Of Installation
Look for bag-in-bag beads for balancing wheels as these require throwing the inner bag inside the tire. Another way of getting the beads inside the tire is by injecting these through the valve stem. This could be slightly tricky as you need to slowly pour in the beads using an applicator bottle and a tube.
Bead Size
Make sure to check the size of balancing beads for tires before you buy these. Small beads can lead to problems with valve system blockage that leads to leaking. Larger beads pose no such problem and can be reused many times.
Tire Size
The size of the tire will determine how many beads need to be placed inside the tire for proper balancing. There are charts from which one can match the tire size with the number of beads required.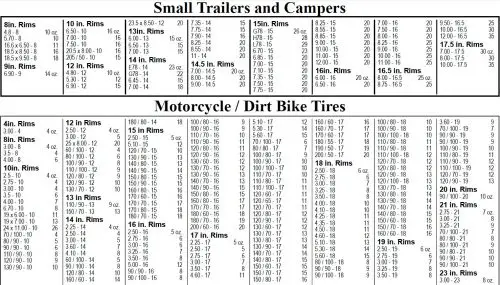 Photo Credit- https://balancewellnesscenterzawasei.blogspot.com
Balance Beads Vs. Weights
There are plenty of reasons why beads for balancing wheels are preferred overweights. The following are points that show you how they differ from each other.
Efficiency
Weights are placed in a fixed position on the wheel that's opposite the part of the tire that's imbalanced. However, the tires do not wear and tear along the same position.
As a result, while the tire gets worn on different points, the weights stay in a fixed position and are not able to adjust to the new parts that are worn out.
On the other hand, the balancing beads automatically adjust to the spots where there is an imbalance to provide a counterbalance. As they are not fixed to a certain spot, they can move around inside the tire to balance things out.
Effects On Environment
Weights are made from lead and this is poisonous to the environment. In many parts of the world, lead weights are being banned for their harmful effect.
On the other hand, tire balancing beads are made from glass spheres that have been tempered or from ceramic. In fact, many brands use reusable and recyclable glass to make these beads. Hence, there is no chance of harming the environment when you're using balancing beads.
Damage Prevention
Beads for wheel balancing are not made of metal and hence, they won't rust and cause damage to your tires. They are made of either ceramic or glass.
On the contrary, you have this problem with weights, especially if such weights are made using sand, metal, or powder. Weights are affected by moisture that can cause rust. They damage both tires and rims.
Less Hassle
You don't need to carry along packs of weights in your vehicle for balancing purposes. You can just forget about balancing after you put the beads inside the tires. Hence, you are free from the hassle of carrying extra weight packs.
Affects The Looks
While weights hang from the rim and have the danger of falling off, you won't face either of these issues with balancing beads.
Weights ruin the look of your vehicle as they look ugly. These are visible from the outside. As balancing beads remain inside the tires, they are not visible from outside and therefore, do not spoil the look of your car or truck. Moreover, there's no chance of these falling off.
How To Install Tire Balancing Beads
There are a few ways to install balancing beads for tires. The following gives a detailed account as per the installation technique type.
1. Applicator Bottle Installation
Locate the valve core in the tire and remove it. Pour the balancing beads in the applicator bottle after you cut a corner in the bag containing the beads. Put the plastic tube into the valve system by screwing it on. Put the mouth of the applicator bottle on the tube end and secure it properly.
Tilt the bottle so that the beads go gently down the tube into the valve system. If the beads get stuck, lightly tap on the valve stem to clear the path. The final step is to install the valve cores that are filtered.
This type of installation is done for motorcycles.
2. Installation From A Bag
This method is applied in the case of putting new tires in recreational vehicles or RVs and large trucks.
The balancing beads come in a plastic bag with a bag clip. You need to slowly pull the top of the bag apart to allow the clip to be removed. After its removal, you will need to push the tape seal with your thumb and finger to seal it tight.
Pull up the upper part of the tire and place the bag over the rim in an upright position. The position should be opposite the valve stem and against the inner part of the tire wall.
3. Pour-In Installation
This technique is used when tires have not yet been mounted on the rims. On top of the rim, place the first tire bead. Pour into the tire all the contents of the balancing bead bag. After placing the last tire bead, inflate and you are good to go.
Frequently Asked Questions (FAQ)
1. How Do Tire Balancing Beads Work?
Answer: When the vehicle starts moving and so do the wheels, the centrifugal force distributes the balancing beads throughout the tire. As the wheel assembly is not balanced, its forces will increase with speed, and the heavy points will put pressure on the suspension.
Now the balancing beads will move and adjust their position inside the tire. They will keep moving until they shift to a place opposite the heavy points of the tire to provide balance.
2.What Types Of Vehicles Balancing Beads Work On?
Answer: On most types of vehicles, you will see balancing beads provide a good balance to the tires. Suitable vehicles include sports utility vehicles or SUVs, motorcycles, recreational vehicles, motorhomes, trailers, semi-trucks, pickup trucks, etc.
However, the balancing beads are not recommended for sports cars, small cars, racing cars, and tires with a low profile.
3.What Are The Advantages Of Larger Balancing Beads?
Answer: Larger balancing beads do away with the need for specially fitted valve cores. Moreover, they won't cause leakage by blocking the air valve system. Also, larger beads for balancing tires have a longer life and can be re-used.
4.Why Are Wheel Weights Not Efficient?
Answer: Wheel weights are not efficient because they are placed outside the tire and the distance between the rim and the outside of the tire makes them inefficient. Moreover, they cannot provide the scientific weight distribution when the wheels are turning as do balancing beads.
Plus, weights are exterior attachments and may fall off, rendering them inefficient.
5. How Much Tire Balancing Beads Should Be Used?
Answer: The number of tire balancing beads to be used depends on the tire size. However, as a rule of thumb, you should use one ounce of these beads per thirteen pounds of tire and rim combined weight.
Final Words
To make your vehicle give you more bang for the buck, you need to pay attention to small but important details. Balancing beads for wheels may be small in size but their importance in maintaining the health and life of the tires is huge.
The best tire balancing beads not only ensure your ride is smooth, but also prolong the life of your tires and therefore, decrease the maintenance cost and frequency. You can check the tire balancing beads chart which shows how many beads your tires need as per their size and weight.
If you know the basic information about these tire balancing beads, you will have an easier time choosing the right ones for your vehicle. Installation methods of these beads are also important to understand as these differ from one type of vehicle to another.
Hope this article will help you take better care of your tires and wheels so that you get more value for money from your vehicle.