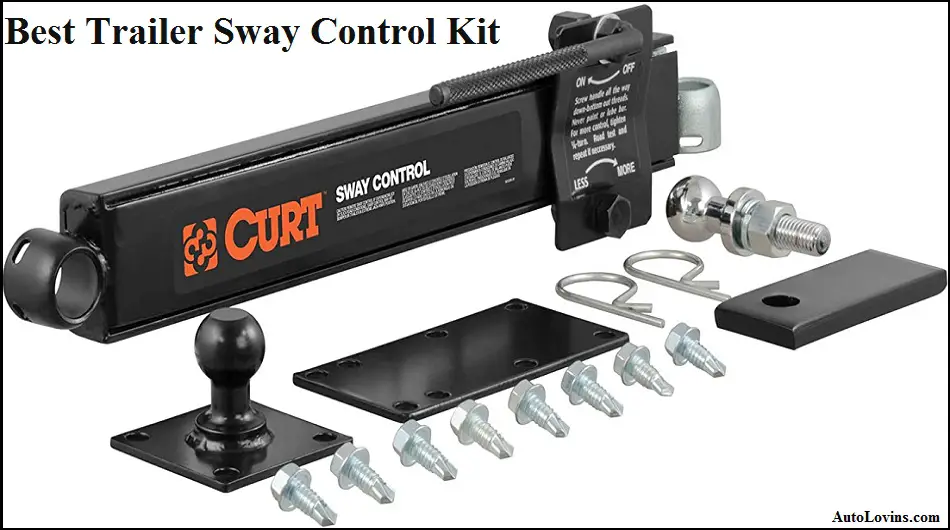 Controlling sway is very important when you are driving an SUV or truck with a trailer. If you don't have a sway control kit, you may face some serious accident because of the uncontrollable movement of the trailer.
Buying and installing the best trailer sway control kit is the only solution if you want to have good control over the trailer and save yourself from accidents. But choosing the best one among the options available is not an easy task. So, what to do?
Am I making you confused? Don't worry. I'm going to clear the confusion right away. Here I'm going to talk about the 5 best sway control kits available in the market which can be a good pick for you. But before that, let me tell you something.
You'll find sway control kit is two forms- sway control bar and sway control kit that comes with weight distribution hitch and the sway control bar. If you have the hitch already, you can buy a suitable sway control bar. Otherwise, you have to buy the whole kit of hitch and bar.
Here, while reviewing, I've included both types. So, you can pick one according to your need. Now, without further ado, let's start.
Top 5 Best Trailer Sway Control Kit Reviews 2021 [New Update]
1. EAZ LIFT 48069 1200 lbs Elite Kit, Includes Distribution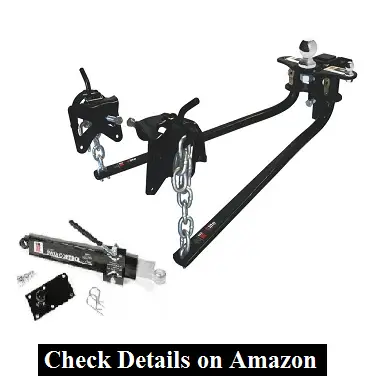 For helping you to keep your trailer stable, EAZ Lift offers this control kit. This series comes with several sway control kits. Among those, this one is the strongest kit as it can handle up to 1200 lbs. tongue weight easily. This has made this able to control a trailer of 12,000 lbs. gross weight.
This is a universal fit kit. So, you can pick this up easily without being worried about your vehicle model. To install, you won't have to take much pain because the chain package and U-bolts come pre-installed on the spring bars. The sway control balls and hitch balls are also pre-installed and torqued so that you don't have to take any pain.
Safety and strength are two most important factors in case of sway control kit. For that, this kit comes with elite trailer hitch that is manufactured from a wide range of engineered steel. A detailed manufacturing process including oil quench and heat treatment is followed to bring up the final product. As a result, you can depend on the kit that you get in hands.
This sway control kit doesn't create noise problem. Also, it doesn't come up with any issue of road-clearance. You won't lose control ability in turns too. The package includes- crank handle, side bars, ball tongue plate, friction plate, spring clips, self-tapping screws and chrome-plated tongue ball.
Related Post: Top Rated Tonneau Cover for your Truck Review
Pros
Fully-controlled manufacturing

Quality steels are used to produce the kit

Can handle a huge load

Doesn't lose control even in turns

Comes pre-installed for your installing comfort
Cons
Instructions may be a bit confusing

---
2. CURT 17200 Trailer Anti-Sway Bar Control Kit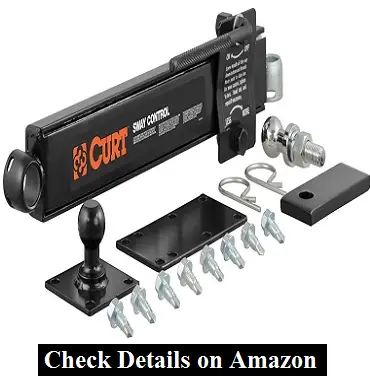 For controlling your trailer, this is another helping hand for you. Coming from Curt, it ensures controlled-movement of trailer and risk-free driving. This is versatile, adjustable and easy to setup. If you are searching an inexpensive solution of swaying trailer, this can be a good one for you.
It uses a brake pad type material to control the movement of the trailer. You can use it with a wide range of weight distribution hitches. This is also compatible to most trailers coming with A-frame design. Setting is also very easy. It comes with trailer balls. Mount it in place and use the on-off handle to engage or disengage it when needed.
The best thing about this kit is its adjustability. With the help of the hex nut, you can easily control the sway restriction for different sizes, weights and types of trailers. This allows you to find out the best setting for each time you change the load or trailer.
The anti-sway bar control kit comes with everything you'll need- a sway unit, a hitch-mounted attachment ball, a trailer-mounted attachment ball and bolts, a mount reinforcement plate, a weld-on tab and necessary attachment clips.
Pros
Different installing options

Works with a wide range of weight distribution hitch

Can be used for different load-sizes

Quick disengagement or engagement through on/off handle
Cons
You may need to weld to adjust sometimes

---
3. Fastway e2 2-Point Sway Control Round Bar Hitch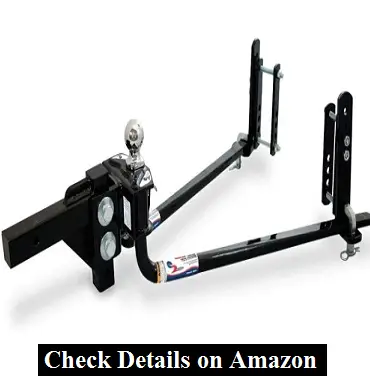 This round sway control bar from Fastway is a good option for controlling the sway problem of trailer or other vehicle attachments. The best thing about this is the built-in sway control with the weight distribution kit. So, you won't have to take any hassle of installing any other tool or component.
The two-point sway-control ensures better control over the trailer comparing to most other similar kits. As a result, you can be more relaxed in different stressful towing situations including downhill, crosswinds and turning.
No matter what the towing style is, this kit distributes the weight to both of the axles and makes the vehicle and the trailer work together like a single unit. When both the vehicle and trailer work together, there is no backing or turning restriction. You can go back or turn easily with the kit installed.
It comes with a tongue weight rating of 600 lbs. and trailer weight rating of 6000 lbs. If you want to tow more weight, you'll find more heavy-duty options available of similar design. It comes with all the necessary parts and adjustments. But you won't get the ball with the kit, you'll have to buy one separately.
Related Post: High Quality Recovery Boards for your Jeep  and Truck Review
Pros
Built-in sway control

Easy to install

Help you to stay relaxed is stressful situations

Distributes weight properly
Cons
Doesn't come with the ball

---
4. CURT 17063 MV Round Bar Weight Distribution Hitch with Sway Control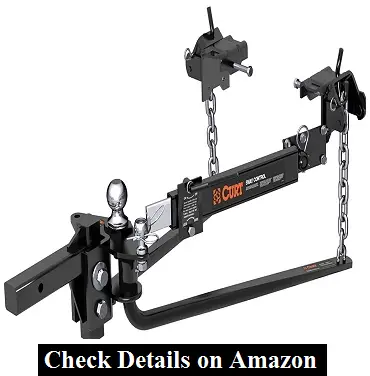 From Curt, this is a full sway control kit with weight distribution bar. This kit is designed and manufactured to ensure a quiet and smooth towing experience. This is a perfect fit if you want a reliable anti-sway kit for regular towing and other tasks.
It comes with an internal lubrication system where continuous lubrication is ensured by the two easy access grease zerk fittings. As a result, you'll get a smooth and quiet towing experience. To make it durable and free from corrosion, Curt has covered the whole kit by a carbide black powder coat which ensures long-lasting finish.
The best thing about this kit is the versatility. You'll find a 2-inch shank that is highly adjustable and fits any industry-standard 2-inch hitch receiver. For your ease of installing, the 2-5/16 inch trailer ball comes pre-torqued.
You can rely on this kit because of the strength it ensures. The long forged steel spring bars ensure this strength. It is rated 1000 to 1400 lbs. tongue weight and 10,000 to 14,000 lbs. gross trailer weight. So, you're getting the option to cover a wide weight range and trailer types.
Pros
Durable anti-rust coating

Integrated lubrication system

Heavy-duty sway controlling

Includes sway control bar
Cons
May require drilling while installing

---
5. EAZ LIFT 0224.2014 Screw-On Sway Control, Right-Mounted Passenger Side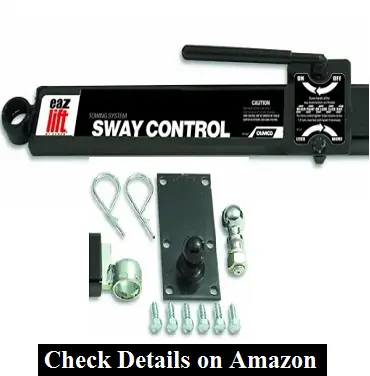 This is a sway control bar from EAZ Lift which ensures controlled sway caused from a different reasons including wind gusts and passing trucks. This is a durable, dependable and easy to install sway control bar that you can get.
The best thing about this bar is its double friction pads. These pads ensure better sway control while making as low noise as possible. Noise is also controlled by the smooth movements of it. You'll find towing with it comfortable because it doesn't affect the road clearance.
You can easily release it when it is not needed. Spring clip connectors and sockets have made it easy to attach and release when needed. This is designed to be mounted on the right side of the weight distribution kit. You can use another one at the left for heavy trailers if needed. It won't affect much.
The sway control bar comes with everything you need to install it. If you purchase it, you'll get a cranks handle, the side mounting bar, friction plate, spring clips, self-tapping screw, ball tongue plate and the chrome tongue ball itself.
Pros
Reduced noise

Easy to attach and release

Comes with everything needed to install

Better control with double friction pads
Cons
May requires welding when installing

---
Why You Need Sway Control Kit (Video Review)
---
The Best Trailer Sway Control Kit Buying Guide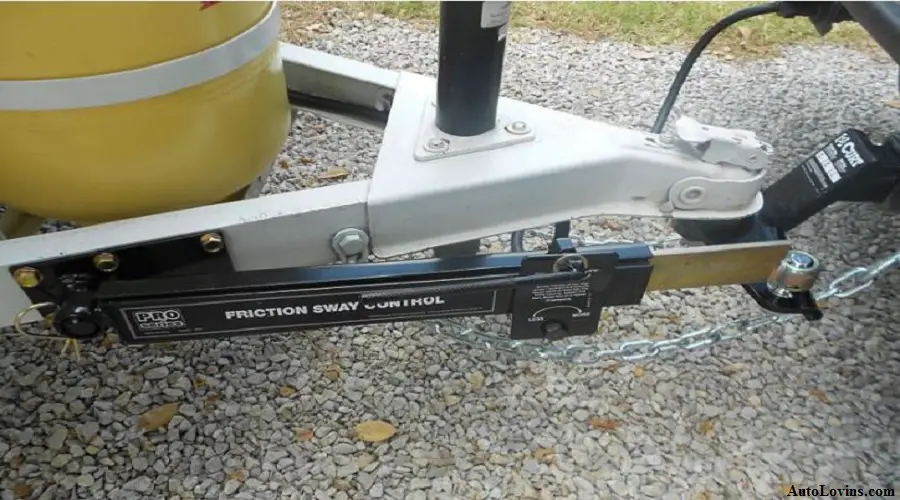 If you are looking for the top-rated sway control kit to buy, there are few things you must consider. You should not just pick one and install it. You have to check and find out the one that is the best fit for your regular need. For this, look at the few things I've discussed below.
This is not a factor while buying the sway control bar alone, but if you are looking for a Sway control kit that contains weight distribution hitch and sway control bar, this is a must factor to consider.
Load capacity comes in two main factors- tongue weight and gross trailer weight. Gross trailer weight is the maximum weight that the kit can handle. On the other hand, the tongue weight expresses the downward force the trailer has on the hitch.
Before buying the kit, determine the maximum weight you'll have to tow. After that, buy a kit that'll handle a bit more than that specific weight. This will keep you safe.
Controlling the trailer is the main reason behind buying this kit. So, this is the most important factor while you're buying one. A kit with good sway control reduces sway during turns, abrupt stops or unwanted situations.
There are normally two types of sway control. One stops swaying totally from the first place, another reduces sway when it occurs. Both are good, all you need to do is to find out which one does it best.
As you are carrying a huge load, safety is important. That's why you'll have to check how much safety the kit offers. Some kit comes with safety chain. This is a good thing to check. Quality material also ensures safety. So check the material if possible.
Installing sway control kit is not an easy thing to do. You'll have to have a lot of knowledge and understanding about it. Also it takes time.
To make the installation process easy, some sway control kits come with pre-installed parts. This reduces the installation time and makes the process easier. You can go for one of those. In some situations, you may not need controlling the sway. So, make sure that the sway bar can easily be released or installed.
As sway control kit is an expensive investment, you should make sure that you are buying one that is durable and supports you for a long time. To make the kit durable, quality materials are important.
Also, try to choose a kit that comes with anti-rust feature. It also ensures durability.
---
How to Install Trailer Sway Control Kit (Practical Video)
---
Final Verdict
After reading the reviews and the buying guide, I hope now you know what to do. The kits and bars I've reviewed are some of the finest kits and bars I've gone through. So, if any of the above meets your expectation and criteria, you can pick up immediately.
You have the scope to go through the available options too. But before buying any, make sure that it meets your criteria and comes with quality and safety.
Also don't forget to let me know which one is the best trailer sway control kit in your eyes. Share your experience with all in the comment section.