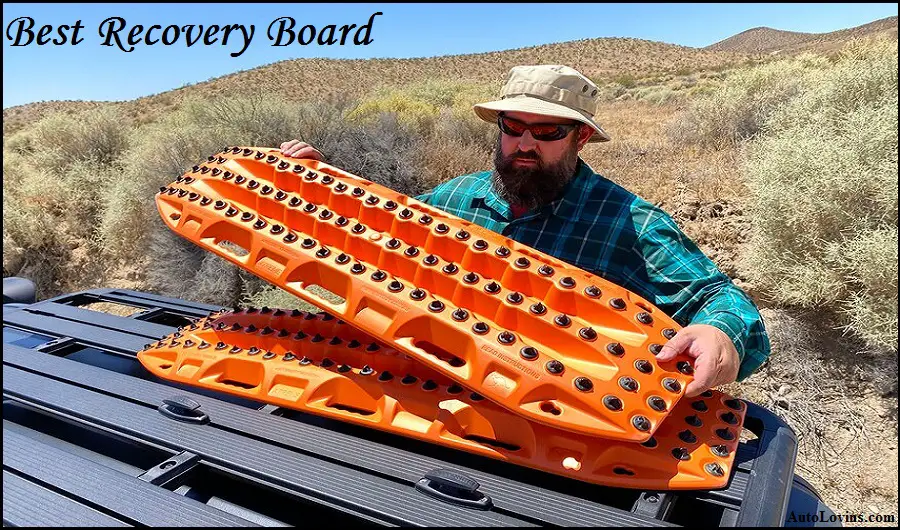 For a smooth and safe journey in 2021, a recovery board is one of the primary concerns if you are going to explore some uncharted sloppy roads or some hilly rocky paths with your jeep or 4×4. To ensure an unimpeded and smart journey for you, the best recovery boards of outstanding quality are reviewed and recommended here.
We all know how awful it is in any scenario of life to get stuck somewhere. But if that happens with an off-roader's vehicle on a tough road that just becomes the worst. Nevertheless, thanks to vehicle recovery boards, that you can get yourself out of such troubles without damaging the tires of your car or wasting your time.
Before you set off for a road trip, along with packing all the disinfects and facemasks, carrying all the necessary kits like a set of traction boards for a smooth journey is a must for you. The primary objective of the best traction mats is to provide traction to the tires. They do so while grabbing the tires tightly and bring them out of the hindrance by raising the tires out of the sand, sticky mud, slippery ice, or stubborn rock.
Top 5 Best Recovery Boards for 4x4s and Jeeps Review
1. X-BULL New Recovery Traction Tracks Sand Mud Snow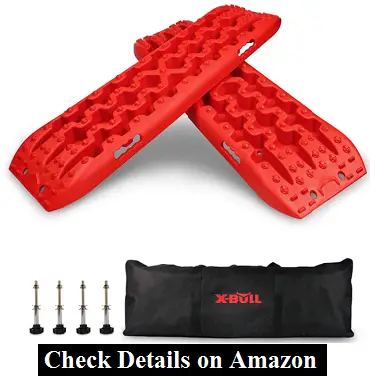 Key Features
Thermo stabilized and UV resistant boards to prevent damage.

Weight – 11.2 lbs (weight of each pair )

Dimensions – 43 ×13× 5.1 inches.

Raised tracks to increase friction.

Comes with a bag and mounting brackets.

Compatible with 2D and 4D vehicles.
The new X Bull recovery boards can turn to be your solo protector when bogged down in any sticky situation on a tough road, thanks to its excellent nylon material, and great durability. The boards have bottom bending-proof cruciform grips which are great grabbers of underneath land.
But the feature that will make it dearest to you is its affordability. They are not as expensive as industry-leading brands like TRED or MAXTRAX. But according to the users, they combine the best qualities of both those famous brands, like traction design of TRED and sloping ends at both ends like MAXTRAX.
The recovery traction mat from X-Bull can be used as a shovel as well to dig the mud or sand under your wheels. The X – Bull new recovery traction tracks come with a set of two boards and a nice storage bag. They belong to the latest generation and costs much less than the other expensive alternatives. So if you are going for a budget buy, these recovery traction mats from X Bull can be your savior.

---
2. ARB TRED PRO RECOVERY BOARDS TREDPROGR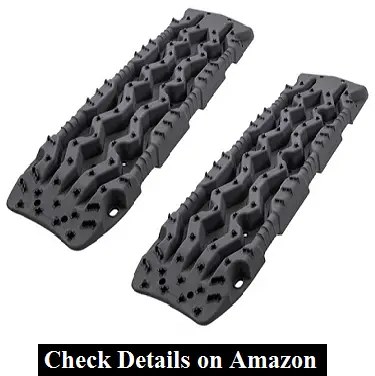 Key Features:
Set of 2 boards.

Able to handle high levels of flexibility.

SIPE- LOCK patented grip profile.

Retro-fit mounts available to suit most recovery board mounting options.

Weight – 17.86 Pounds.

Dimensions – 47x14x4 inches.

Unique Nylon material for superior flex and durability.
Coming out as the result of a partnership between ARB and TRED, these recovery boards are best known for the flexibility of the industry-leading highly engineered Nylon formulation,  great grips, and unique design. The users appreciate the boards to be sturdy, robust, heavy, and solid, making them one of the best designed and executed vehicle recovery systems ever.
The boards are designed after analyzing multiple tire patterns to give maximum grip and traction to tires. In these boards, you will get supreme durability with TRED's dual composite material in their EXO tred. Additionally, you can store the boards easily in your car because of their lower stacking height. They also have those extremely useful shovels with ergonomic handles used to clear debris under the tires
These boards are directional unlike many other brands, including a resolute entry and an exit. The entry part helps the tires to grab the boards in a finer and stronger manner. And that's why, while putting the boards under the tires the wheels get the most amount of surface area engaged.
The green-colored recovery boards are designed with black teeth which are exceptionally nifty and positioned accurately to match all kinds of terrain tires. The glass-filled resin nylon teeth are helpful to resist damage caused by wheel spin. May it be sand or mud or snow, the recovery boards are easygoing while entering underneath the tire to remove the sand or snow.

---
3. Billet 4×4 Tred PRO –

4X4 Off-Road Vehicle Recovery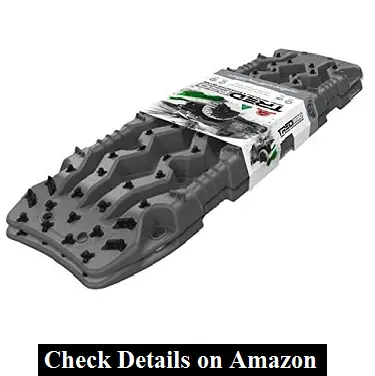 Key Features:
Sold in pairs.

Weight per pair – 19 pounds

Shipped ground in the continental US

Size – 45-1/2" L x 13" W x 2 – ½

Superior ramp design and unique shovel feature.

Four-channel design with underbelly traction.
Billet 4×4, one of the most sophisticated brand names in the automotive world, manufactures these extremely enduring traction boards, specifically for off-roaders. The boards are absolutely worth their high price as they are made but Australian engineers and guarantee ultimate traction with superior flexibility on unstable roads.
The designers of Billet 4×4 combine both strong rigidness with fine elasticity for this pair of recovery boards. That results in an excellently higher level of pressure resistance of the main body of the Billet 4×4 Tred PRO Total Recovery and Extraction Device. So the boards are engineered to tolerate the weight of heavier tires and give the optimum level of propulsion at the same time.
The unique structure of the boards also allows them to be very useful as shovels to clean up the excess snow or mud on road. According to the customers, even when winching and snatching could not help them, these boards appeared to be their savior on uneven roads.
The feisty teeth on the surface and mounting points enable the boards to achieve greater durability while the ergonomic handles lend a better grip.

---
4. MAXTRAX MKII Blaze Yellow Vehicle Recovery Board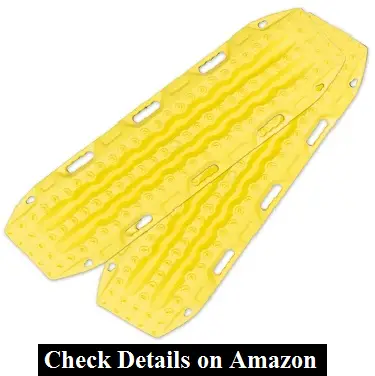 Key Features:
Lifetime warranty against faults in material and workmanship

Sold as a pair with two tell-tale lashes.

Manufactured in Australia. Made from Australian material.

Constructed from Australian – sourced fiber- reinforced, engineering-grade nylon.

45 inches long and 13 inches wide.

Tested at the University of Queensland to completely wrap around a 33-inch tire without failure, while returning to shape.
MAXTRAX keeps its age-old reputation and standard up with MKII Blaze Yellow Vehicle Recovery Board which is designed by Australian technicians and comes with a lifetime warranty. A perfect blend of brilliant design and high-quality material, this pair of the board will save your day, may it be a snowy path or sandy road that you are stuck on.
UV- stable engineering-grade reinforced nylon as material ensures a higher level of resistance and aggressive and large teeth ensure a better grip of the tires. Also specially designed teeth on the rear side which is MAXTRAX special feature, prevent the board from slipping backwards.
With 6 built-in handles and a shovel on each side, the boards are great in clearing debris like snow or sand from in front of the tires of your vehicles.

How to Use Maxtrax Recovery Board (Video Review)
---
5. MAXSA 20333 Escaper Buddy Best Traction Mats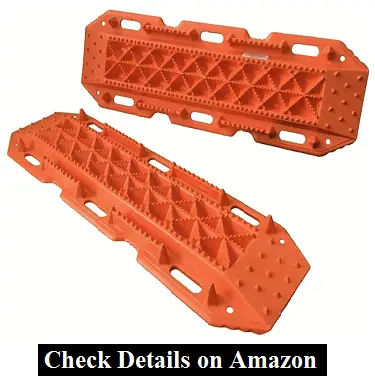 Key Features:
Set of 2 recovery boards.

Color – Orange

Dimensions – 48 x 14.4 x 5 Inches

Raised tracks help prevent vehicles tires from spinning on uneven roads.

Durable, thick material.
MAXSA 20333 Escaper Buddy Traction boards are designed by expert engineers to get you unstuck from any kind of obstacle – snow, sand, or mud. They are made of high-quality Polypropylene to make them durable yet lightweight.
Despite being comparatively wider and longer than many other products presently available in the market, this set of boards are pocket-friendlier than others. Extremely helpful for off-roaders, these boards are compatible with both jeeps, vans and trucks, and SUVs.
The boards have treads on the top to grip the vehicle's tires and on the bottom to grip the surface. They are also helpful for digging ice, mud, and sand underneath the vehicle.
Addressed as "life-saving" by a significant number of customers this set of recovery boards is popular mostly because of its affordable price and material quality and width.  One of the best sellers of the recovery board market this product is helpful in signaling other passing vehicles owing to their bright color.

---
Best Recovery Boards Buying Guide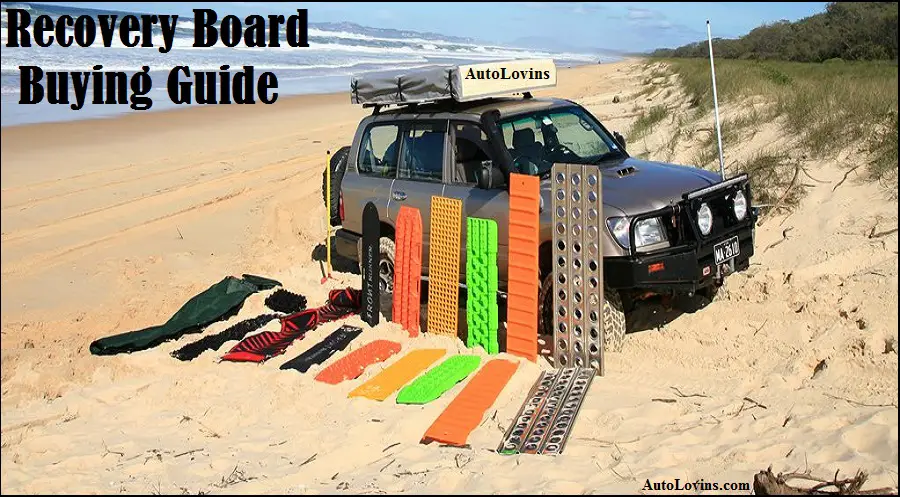 Before purchasing the required recovery boards for your jeep or 4 x 4, as a customer, you should be assured of some important matters. The quality of the material used, compatibility with your vehicle model, and some other issues are needed to be taken care of.
Different brands use different types of substances for their products, like rubber, nylon, plastic, and fiberglass. But you must be sure of your requirement. Consider the roughness of the roads you are going to explore and the heaviness of the tires of your vehicles. Then find out if the boards are flexible and durable enough to be able to tolerate that much pressure.
The design, structure, and engineering of the recovery boards are important to be checked before you purchase them. Usually, the renowned brands manufacture their products in Australia, while Australian engineers plan the outlines and execute that. Try to know if your selected boards are from there. Decide if you want teeth on the boards and the board to act as shovel as well. Buy the boards that fulfill all of these conditions.
One of the most important things to be sure of before purchasing the boards is if they pair with your tires and their dimensions. The boards should be structured like a shovel to be used to clear debris. Be sure that they can give enough traction to your tires in difficult situations without getting bent or broken or fractured.
Determine your approximate budget and find out the choices matching your budget. Don't compromise too much on quality because of the price range if you are an off-roader or setting off for some extremely dangerous and uneven roads as low-priced products can leave you in a worse situation.
---
How to Use Vehicle Traction Mats
---
Final Words
After you go through the profiles of the best recovery boards with unique features your dilemma is hopefully over. You should decide depending on the quality of the  Nylon material and the design of the boards. But the two most important things here are your budget and the nature and roughness of the roads that you are going to explore.
If you are going to care for value, then you should go for the one from X-Bull or MAXSA and if you are ready to spend a little more, then TRED Pro or MAXTRAX should be your best choice. The boards from Billet can be a prestigious and luxurious choice that will provide a huge range of benefits. As for 2021, the tension of buying the right recovery board is solved now, so enjoy a happy journey.