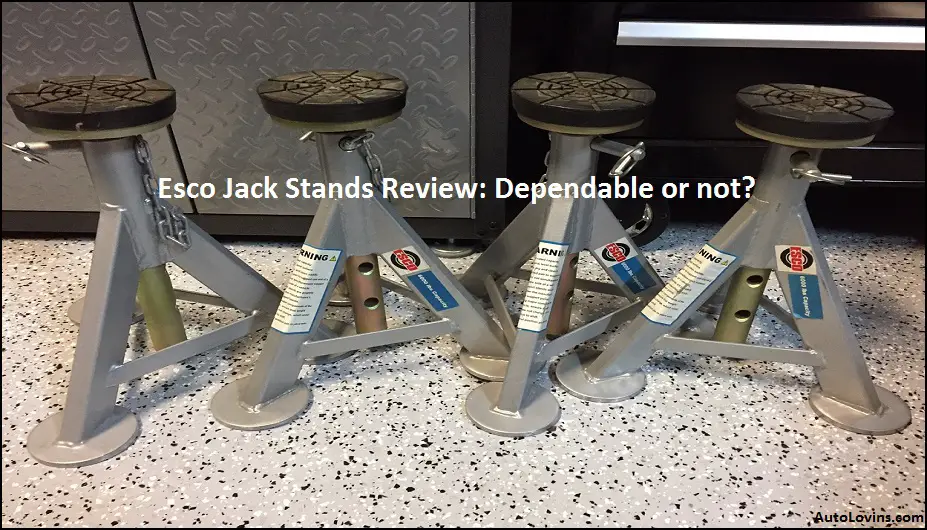 Safety is the most important thing when you are working under a vehicle in your workshop. In that case, depending on only jack lift is not something you should do. Haven't got it yet, right? Let me explain.
Jack lifts are meant to lift the vehicle, but not hold it there. It can hold weight for a short time but there is enough chance of failing to hold under constant pressure. Jack stands can do the holding part for you. So, if you want to be safe, you need to use jack stands. To ensure better safety, you need to get quality jack stand instead of just a regular stand you see in the market.
For helping you in this case, Esco offers ESCO 10498 jack stand. It is a strong, durable and dependable stand which makes sure that you are safe while working under almost any vehicle. This is what we all want from jack stands.
In this Esco jack stands review, I'm going to talk about my experience with this one and what I think about it. I'll add the pros and cons too. So, if you are interested in this one from Esco, let's start talking more about it without further ado.
Esco Jack Stands Review: Dependable or not?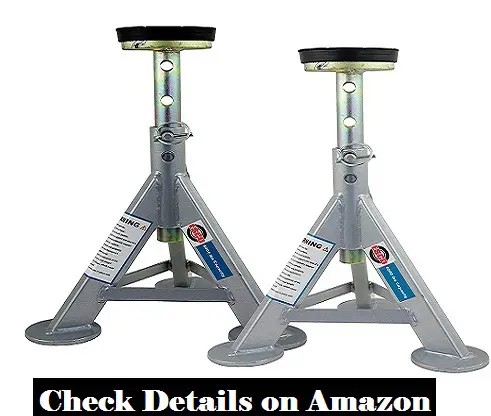 The stand is made of quality steel that is durable too. The joints are welded nicely so that it looks clean. Also, you'll see that nicely painted silver finish enhances the look. The base is powder-coated to keep it safe from corrosion attack.
The tripod design makes sure that it stands strong with load. There are circular base pads with each leg. These pads provide more stability. Overall the design and build quality is something that everyone wants.
Esco 10498 is an adjustable jack stand that allows you to choose one according to your comfort from a few height settings. You'll find 10 different height options here. The minimum height here in this stand is 13 inches where the maximum is 21 inches. You can choose your preferred height and fix it there with the help of the strong and durable position pin.
The lowest height might be a bit high for some users. But it's okay if you can consider this small height adjustment for the stability it provides.
You can use this stand with any vehicle with flat frame rails. But you can use this for most other vehicles too. There is a rubber pad on the top of it so that it doesn't scratch the paint. You can remove the rubber anytime and use the jack pad that comes with your vehicle. The top surface is wider than the jack point and provides enough space for the vehicle to be lifted properly for a long time.
Weight of each stand is around 11 lbs. So, you can easily carry and post where you want to keep it. Also, you won't see any shake while it keeps the vehicle holding. So, overall experience of using this stand will certainly be better from most other stands over there.
The jack stand is capable of holding around 6000 lbs or 3 US ton. So, if you have 4 of this jack stand in your workshop, you'll probably be able to handle a wide range of vehicle models easily.
Pros and Cons
Pros
Awesome sturdiness

Doesn't shake even a millimeter

Taller than most others in the market

Flat holding surface and removable rubber pad

Insane weight carrying capability
Cons
Overall speaking, I've liked this one a lot. For any vehicle workshop, this stand can be an asset. There are a few cons like it is a bit heavy and takes a bit more space. But if you see the performance it provides, you'll consider forgetting these cons for sure.

Jack Stands Video Overview:
---
Frequently Asked Questions (FAQ) About Jack Stands
Can I use these stands if my vehicle doesn't have flat frame rails?
Yes, you can use it with those types of vehicles. But there are chances of scratch or dent on the jack points. But if your vehicle comes with own jack pads from the manufacturer, you can take a chance. For that case, you'll have to remove the rubber pad from the jack stand and use your vehicle's jack pad instead.
If you do so, you may face a bit shake because your jack pad won't sit on the wide surface of the jack stand fully. But it won't be a big deal.
Is this stand stable even in the highest height adjustment?
The build quality and design says it all. The base area is very wide and stable. As a result, it ensures stability to a huge degree. So, even if you use it with the highest adjustment, the chance of shake is very low. But if you try with the maximum load it can take, you may experience a bit shake.
What is the exact diameter of the top flat surface?
The exact diameter of the top surface is 4 inches. The rubber pad comes with a diameter of 4-1/4 inches. It is a bit bigger because they wanted it to be pressed and sit on the top strongly when you put the vehicle on it. However, it is not a big concern I guess.
Another thing, if the pad is somehow broken, you'll get replacements available in the market. So, don't worry about this.
Related Post: High-Quality Useful Recovery Boards for Jeep Review
Final Verdict
In this Esco jack stands review, I've tried to pick up the best jack stand from Esco and discuss the reasons for which it is this much popular and dependable. You may find it a bit expensive comparing to other stands in the market, but it surely worth the pricing.
If you compare the price and performance with other stands available in the market, you'll surely be amazed by its performance. So, don't be late to grab Esco jack stands for your workshop or home. Share your experience below the comment section. It will help other users to make a good decision.