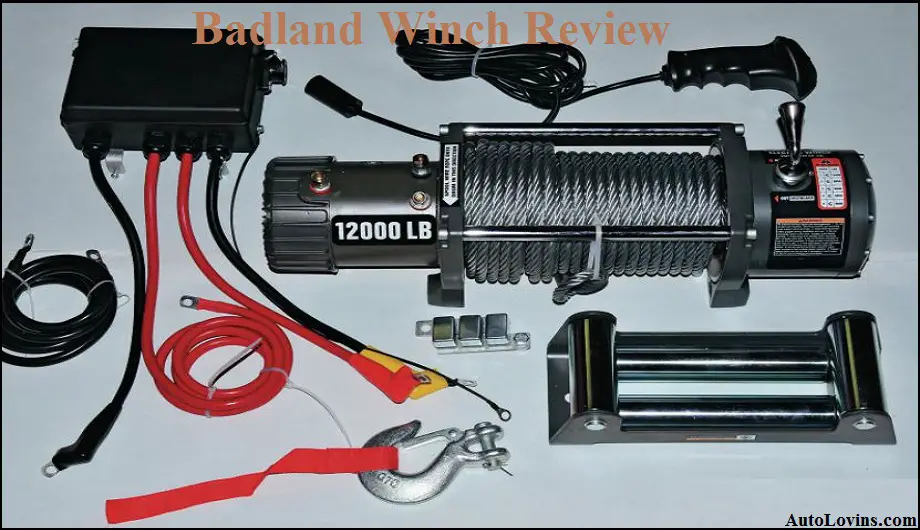 If you are an off-road enthusiast, you must know the need of winches. These help you a lot especially when you are stuck somewhere. Also, winches help you to perform towing when needed. You'll find many more uses of winches.
However, when you go searching for an off-road winch, you may face some problems including matching the price and performance. You should buy high-quality winches if you are a regular off-road driver. But money matters too. Winches come in a really high price.
But relatively cheap options are there too. Today, I'm going to talk about Badland winches which ensure good quality within a comparatively low price range. These are manufactured and marketed by Harbor Freight. In this Badland winch review, I'll talk about some of the best winches under the brand that are most used and loved by a lot of people. So, if you are interested, let's start.
Top 5 Badland Winch Reviews 2021 [New Update]
1. 2500 lb. Electric ATV/Utility Winch with Wireless Remote Control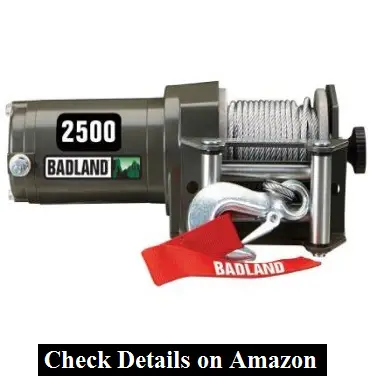 If you are looking for off-road winch perfect for using with an ATV, you should consider this one from Badland. Coming with a number of helpful features, this will assist you in off-roading situations when needed.
This 2500 lbs. winch comes with aircraft-grade wire rope that won't wear or tear easily. There is a permanent magnet motor in this winch that draws less current than others of the similar size but performs similar or better. This has made the winch perfect for ATV use. To make sure that the line speed remains fast, single-stage planetary gear system is used. Also, it offers fast line out through free-spooling.
Safety is ensured through the automatic load-holding brake. The winch comes with a wireless remote that can control it from up to 20 feet away. The package comes with all necessary parts included. So, don't worry about it.
Related Post: List of Automotive Gargae Tools for Beginner Review 
Pros
Fast line speed

Fast line out

Aircraft-grade wire

Draws less current from batteries
Cons
Wire is a bit short for some tasks

---
2. Badland Winches 61383 ATV/Utility Electric Winch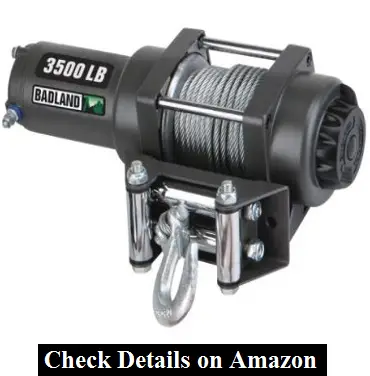 For ATV recovery, loading a boat or other light off-roading tasks, another safe and reliable winch from Badland is this one. Coming with a load taking capacity of around 3500 lbs, this can be a great companion for you in your off-roading adventures.
Just like the previous one, this also comes with a strong permanent magnet motor that takes less current to perform similar or more load taking works comparing to other winches of same size. As a result, battery life becomes longer. Coming with a three-stage planetary gear system, it ensures fast line speed. For fast line out, you'll find the free-spooling feature.
You'll get 50 ft. aircraft-grade wire rope with the package that doesn't tear or wear easily. So, you can use the rope for a long time. It comes with a 12 ft. remote control that adds comfort. Also, 8 ft. handler bar control allows you to choose any of the two options according to your comfort. Automatic load-holding brake is enabled for ensuring better safety and security.
Pros
Comes with both remote control and handlebar control

Three-stage planetary gear system

Automatic load-holding brake

Needs less current comparing to similar-sized winches
Cons
Installing is a bit tough

ATV/Utility Electric Winch Video Review
---
3. Badland ZXR 12000 lb. IP 66 Weather Resistant Off-Road Vehicle Electric Winch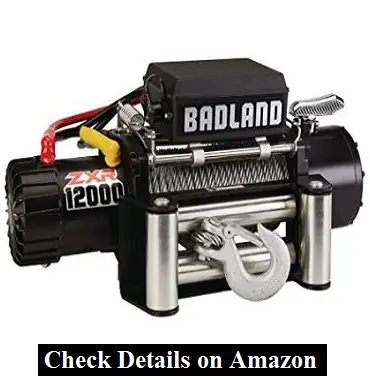 If towing is your regular task and you are looking for something big for off-road towing, Badland has exactly the thing you need. ZXR 12000 lb. from Badland is a truck/SUV winch that'll be there for you in any extreme off-road situations.
To handle this much heavyweight, it comes with a powerful 6 HP motor. This series-wound motor stays cool during long pulls. Thus it ensures maximum safety. Safety is also ensured by its automatic load handling brake. It comes with 6 ft. battery cables. This allows you to install the battery and winch according to your convenience.
To make sure that it works at a good speed, three-stage planetary gear system is there in the winch. Free spooling ensures fast line out. As a result, you'll get fast and speedy performance when you need. The weather resistance rating IP 66 ensures that it can withstand with rough off-road weather.
The wire rope is full aircraft-grade and galvanized. 65 ft. rope comes with the package. I hope this is a good length for you. To reduce cable tangling, cable tensioner feature it there. 12 ft. handheld ergonomic remote control allows you to control the winch perfectly and comfortably.
Pros
Cable tension feature

Powerful 6 hp motor

Aircraft-grade galvanized 65 ft. wire rope

Three-stage planetary gear system
Cons
Duty circle is a bit short

---
4. 9000 lb. Electric Winch with Automatic Brake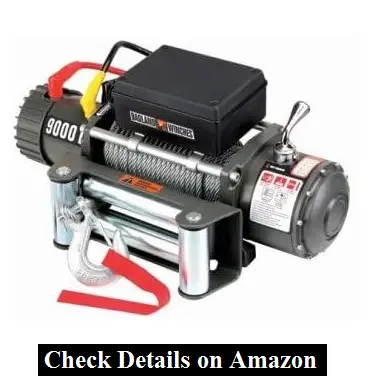 This is another off-road winch from Badland that comes with all the great features like the previous ones we've discussed above. The weight bearing capacity of this one is around 9000 lbs. which is almost perfect for medium off-road recovery processes.
Safety and performance is always gets the most concern while designing and manufacturing Badland winches. That's why it also comes with an automatic load-holding brake. To ensure the best performance, it is loaded with features. The three-stage planetary gear system ensures speedy line pulling while the free spooling guarantees fast line out.
To make sure you get stable performance, the series-wound motor remains cool while performing long tasks. As a result, you get some more time for long pulls. If you are a fan of cable, this is absolutely for you. It comes with 65 ft. aircraft-grade cable for supporting off-road activities.
For your safety, it comes with a 12 ft. handheld remote control. So, you can control it from a safe distance. You won't need any help from others.
Related Post: Harbor Freight Pittsburgh Tools Review
Pros
Three-stage planetary gear system

Great support for medium off-road tasks

Cool motor supports long tasks
Cons
Electric parts give a hard time sometimes

---
5. 18000 lb Industrial / Tow Truck Electric  Best Winch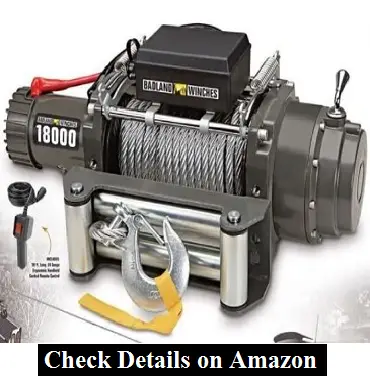 If you are looking for some winch that'll support you with heavy load capacity, maybe this one is exactly for you. It comes with a weight-holding capacity of 18000 lbs. which is more than enough if you are not a professional. Coming with a gear ratio of 337:1, this is the perfect winch for SUVs and heavy vehicles.
For taking this heavy load, it comes with a 7.5 HP motor. This series-wound motor ensures safe and speedy pulling speed by being cool as much as possible. Fast line in and out is ensured by three-stage planetary gear system and free spooling feature.
For safety, there is an automatic load-holding brake. It comes with a distance remote control that allows you to control the pulling operation keeping distance to stay safe. The battery cable is around 6 ft. which allows you to get the convenient space to install the winch.
It comes with a 75 ft. aircraft-grade steel cable for ensuring better strength. If you are a cable-lover, this is a plus point for you.
Pros
75 ft. long cable

18000 lbs. heavy load capacity

7.5 HP motor

337:1 gear ratio
Cons
The remote may give you some problems

---
Best Badland Winch Buying Guide 2021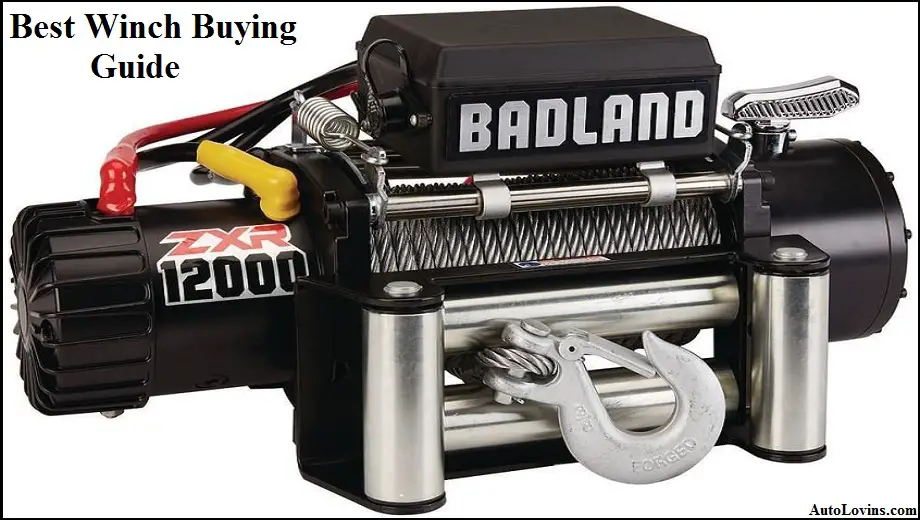 Safety is a major concern while working with winches. As a result, you'll have to focus on a lot of things while getting one for yourself. Here in this Badland winch review, I'm going to discuss the major things that you should focus on while buying a winch. Don't miss this section.
As winch is for pulling your vehicle, construction is very important. Make sure that the winch comes with a good construction and quality build. Construction material ensures strength, prevent corrosion and reduce weight. So, while buying, check out the construction material and what advantage it gives.
The capacity of winch matters. It depends on the weight of your vehicle if you use winches only to pull your vehicle while stuck. However, the exact weight-bearing capacity is always a bit less than what is told by the manufacturer. So, buying a winch that can carry a bit more weight than you need is always preferable.
This is another thing you should focus on while buying a winch. Normally winches take power from your vehicle battery. So, you should check whether the battery can take the load or not. As we use winches for a short time, in most cases, this doesn't matter. But still, check the energy requirements to be safe.
Winches come with cable or synthetic ropes. Each of these two has its own advantages. Cable is more durable and long lasting. It is likely to dissipate the heat easily. It is less expensive too. But cable tends to be prone to rust, or kink. On the other hand, synthetic ropes are easier to handle, lighter and rust-proof. But it should be cleaned regularly. Otherwise water can retain and freeze it. Also, it can be cut internally by sand. Again, it is degradable by UV rays or high heat. So, choose wisely.
As winch is mostly used in off-road trails, it remains exposed to weather, dust, mud, rock chirps and water. As a result, buying a weather resistance winch is always a good decision. IP ratings clarify the protection from water, mud, dust and debris. Search Google and you'll get to know the details of IP rating.
Best off-road Winch Buying Guide (Video Review)
---
Frequently Asked Questions (FAQ) About Badland Winch
Are Badland winches waterproof?
Badland from Harbor Freight offers a few winches in the market. All of those are not waterproof or weather resistant. There are some winches marked IP rating. Those might be waterproof; you can get that from the IP rating. But you can't say that all the winches from Badland are waterproof.
However, there is another thing. The winch might be waterproof or splash proof but the remotes are not. So, you'll have to keep the remote safe even if the winch comes with a good IP rating.
Will I get a replacement remote?
Normally, Harbor Freight doesn't sell remotes separately for these winches. So, if your remote becomes faulty, that would be your bad luck. However, you can still contact to your seller and talk to make a way. Hope, you'll get a good response that'll work out.
Do Badland winches come with specific vehicle models to fit?
No, there is not any specific vehicle model. These winches are good fit for all the vehicles. But to install the winch in your vehicle, you'll have to get a winch mounting plate or a hitch mount. No matter what is the vehicle model is, get a mounting plate and you're ready to install the winch in your vehicle. This is this simple.
---
Final Verdict
Badland winches are for you if you want quality products in a cheap price range. In this Badland winch review, I've tried to give you some idea about the off-road winches and why you should buy those. These are packed with features to help you in off-road tracks. But those have some downsides too.
So, considering the downsides, you can make your decision. But if you ask me, I'll say that you should try Badland winches. The rest depends on you.