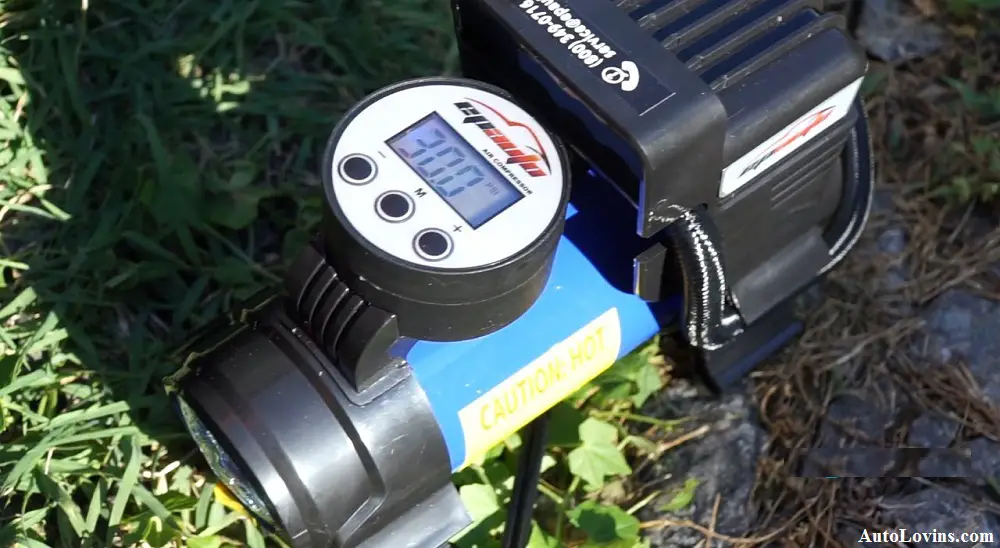 An air compressor is an important device that comes handy while dealing with tires. But it is hard to choose a good and suitable one. If you are looking for a good air compressor, look no more because this article might help you. In this EPAuto air compressor review, I am going to review the EPAuto Portable Air Compressor which works great as a digital air inflator.
Is This Air Compressor Trustworthy?
If you are afraid to order this air compressor because it might not satisfy your needs, do not worry. I will provide all the necessary information that you need to know about this product which will make it easier for you to decide if it's suitable or not. This air compressor has good reviews from the customers and some of the features might just convince you to purchase it very soon!
What Is This Air Compressor Used For?
The EPAuto Portable Air Compressor is a digital air inflating device used for pumping tires. Even though this product is specifically made for pumping tires, it can be used for other purposes as well such as pumping balls, portable swimming pools, inflatable sofa or beds, etc. This compressor is handy, easy to use, and also comes in three different colors.
Specifications of the Product: 
Comes with 12V – DC cigarette lighter socket plug

Dimensions are 13.5 x 8.1x 5.6 inches

Weighs about 1 pound

Working voltage is DC12V

Minimum amp is 10 Amps and the maximum amp is 15 Amps

Maximum working pressure is 70 PSI

Power cable with 15 amps fuse

Overheat limit is 167 degrees

AAA batteries needed to operate

Certified by CE
Highlighted Features:
The EPAuto air compressor is not like typical heavy machines. It is small in size and it can be carried around. The weight of this device is only 1 pound so we can easily carry it.
We can easily store the EPAuto compressor at home or keep it in the car as it is small and portable.
This little compressor is designed digitally and easily so that anybody can use it. Whoever purchases this product can easily understand how it works.
This device has easy buttons for switch on/off, pressure level button, and four display units – KPA, PSI, BAR, KG/CM. The compressor has its own LED flashlight attached. This product also comes in 3 different colors –yellow, blue, and green.
Digital products or good machinery products usually cost a lot of money. People sometimes avoid buying compressors and just choose to go to car stations to fix tires. Well, purchasing the EPAuto tire inflator is way more worth it than going to the car station now and then.
This product is very affordable and will help you save all the time and charges you put on stations.  A lot of people have bought this compressor because according to them it is affordable and worth the money.
Every product has some pros and cons. You just need to decide if they are worth it. I have listed some pros and cons in this air compressor review to make it easier for you to judge the air compressor.
Related Post: Westlake All-Season Tire Review
Pros:
This air compressor does not work for tires only. This device comes with additional needles which can be used to pump football, basketball, etc.

People sometimes face a lot of trouble while operating a digital device. Well, this device is not very hard to operate. It comes with clear and easy instructions and literally anybody can understand how to use it after one reading.

 Sometimes it is hard to figure out when the air compressor is overheated, and we don't know when to shut it down. This device automatically shuts down when it's overloaded so we do not need to worry.

One of the best things about this compressor is that it is small in size. We can carry it in our car while going to other places. We can use it at home and avoid the hassle of going to gas stations.

Easy to use in dark conditions because it has its own flashlight attached. A backup fuse is included in the package as well.
Cons:
This device works for car and bike tires but not truck.
This air compressor has limited voltage support and works for 12 volt DC only. It will not support LT or HT.
Buy it From Amazon

Important Instructions To Keep In Mind
After removing the dust cap, screw the air chuck into the tire's valve stem.

The power button must be switched off while the engine is running.

Press the (+) or (-) button to increase or decrease the pressure level.

Choose the unit by pressing the (M) button.

Wait until the flash stops

Turn off the power button when the engine reaches the proper pressure level.
Related Post: High-Quality Cleaner for Carburetor Review
FAQs About EPAuto Air Compressor
How do I understand if the engine has reached its pressure level?
Answer: The flashing will stop as soon as the engine reaches its pressure level.
What is the engine gets overheated?
Answer: The engine will automatically switch off if the heat reaches its limit.
Can we use this compressor for all kinds of tires?
Answer: No, this compressor supports car, bike, or bicycle tires only. Big vehicles like truck tires cannot be pumped by this compressor.
What is the length of the power chord?
Answer: The power chord is 9 feet long.
Can I use this compressor to inflate my bicycle tires?
Answer: Yes, this compressor is safe enough for inflating bicycle tires.
What kind of batteries is used to operate this air compressor?
Answer: This compressor is operated using AAA batteries.
What are the color options?
Answer: This compressor comes in three colors – yellow, blue, and green.
What is the color of the LED light?
Answer: The flashlight color is white.
Can I use it for my jeep car?
Answer: I don't think it would be wise to use this for jeep cars because this compressor doesn't support fat tires.
Is it heavy? Can I carry it around?
Answer: No, it is not heavy at all. It only weighs around 1 pound and you can easily carry it anywhere. You can also store it in your car.
---
Final Thoughts
We all struggle to choose a suitable product and often get deceived after ordering one. Well to avoid this disappointment, it is very important to check the features and review of the product.
Talking about good air compressors, I think the EPAuto 12 DC portable  Air Compressor is very handy and works great enough as a small-sized device.
Not only that, but this product is also affordable and a lot of people have purchased it already. In this EPAuto air compressor review, I've listed all the important information, pros, and cons that you need to know before purchasing this product. I hope this article is helpful for you to judge if the product is worth buying.
Also, just so you know, this tire inflator has a good number of purchases and the stock gets limited very quickly. So just grab it before it runs out of stock!
---
EPAuto Portable Air Compressor Pump Video Review