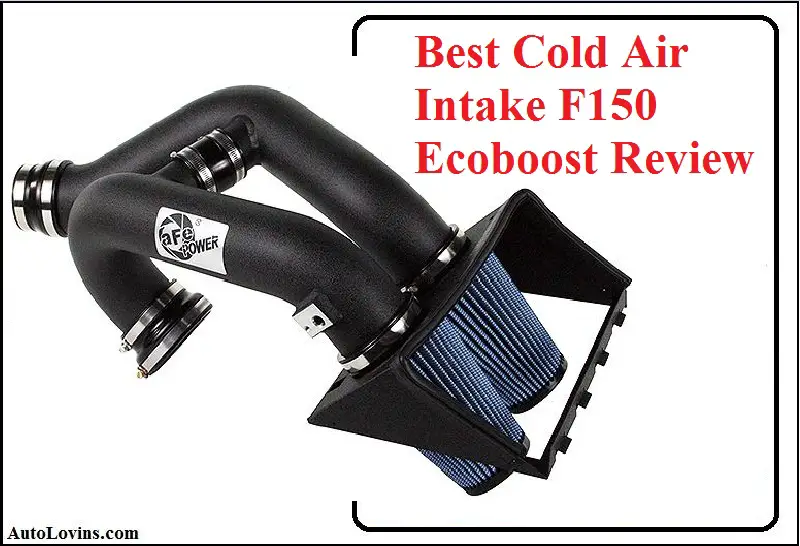 Do you want to improve your trucks' performance? The majority of F150 Ecoboost suffer from airflow chokes at the factory intake and exhaust system. This results in restricted power and performance of the truck. That said, cold air intakes are the best solution that can solve your truck performance problems. Installing the best cold air intake F150 Ecoboost not only provides increased airflow but also boosts its horsepower, provide additional intake and turbo noise.
The airflow in your F150 Ecoboost truck is restricted from three main points. They include the air intake system, the Y-pipe, and the catalytic converter or downpipe. Trucks essentially have one choke point in the air intake system where the air is channeled into the engine and two choke points in the exhaust. This makes it difficult for the already used exhaust gases to be scavenged, forcing the engine to work extra hard to compensate for the handicapped performance
To ease your engine performance, the cold air intake replaces the intake providing more air. Since more oxygen is a recipe for more combustion, the engine benefits from increased horsepower and performance. The cold air intake also relocates the filter to the outside engine compartment, ensuring that it delivers air at its coolest temperatures as possible.
Enough said, below are the top 5 best Performance Air Intake Systems for F150 Ecoboost.
Industry #1 Best Seller (Top Product)

Top 5 Best Cold Air Intakes for F150 Ecoboost Review 2021
1. K&N Cold Air Intake Brand Kit – 2015-2019 Ford F150 2.7L V6,63-2593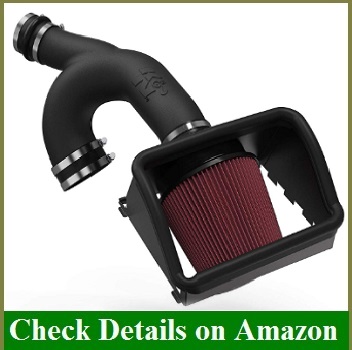 The K&N Cold Air Intake Kit is specifically designed for those who want the best performance features from their truck engine. This durable kit can boost the performance level of the truck to facilitate hauling, towing, and climbing steep slopes with ease. The kit virtually eliminates air path restriction by replacing the entire air path to the engine.
The brand, K&N, is a world leader in manufacturing high-quality performance cold air intake systems for both cars and trucks. The K&N Cold Air Intake Kit, being a sequel of its products, is designed to increase engine horsepower by providing better engine airflow.
A notable feature of this kit is the sleek aesthetic appearance that looks good under the hood. The K&N Cold Air Intake system is an oversized washable high-flow filter that fits the engine compartment through various mounting points and factory holes. The extra-sized filter provides more airflow with minimal restriction. The oversized filter also captures more dirt, increasing the efficiency and service life of the intake.
You will also like the fact that this cold air intake is easy to install. Like other K&N intakes, installing this unit in your car only requires basic hand tools. So to say, your installation will be complete with a screwdriver, ratchet set, and pliers. The brand intentionally engineers these products to leverage the existing factory holes and mounting points to ease installation. As such, no drilling or cutting is required.
Key Features
Assured increase in horsepower

Improves engine sound

Easy to maintain

Easy to install

Protects the engine

---
2. K&N 3.5L V6 for F150 Ecoboost –

2015-2016 Ford F150 Turbo Ecoboost, 3.5L V6,63-2592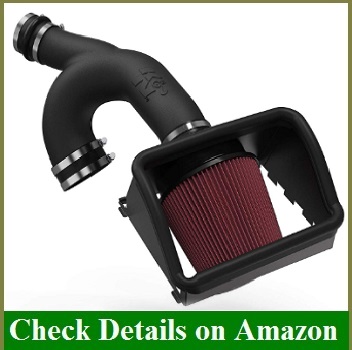 Designed to boost your truck's horsepower, the K&N Cold Air Intake Kit, 3.5L V6 F150 Ecoboost is a quick solution for those looking to increase reliable power in their trucks. As with other air flow intakes, this model eliminates obstruction in the engine. The kit's aerodynamically engineered conduit drives a significant amount of air into the engine, translating to more power.
Though large, the filter fits into your vehicle's engine compartment through the already available mounting points and factory holes. Note that the unit replaces the stoke intake tube and airbox, making these attachment points available. The K&N Cold Air Intake Kit, 3.5L V6 F150 Ecoboost features an oversized filter that not only captures more dirt but also lengthens service life before necessitating cleaning
The filter also comes with a heat shield that isolates it from the high engine temperatures. Ensuring that air entering the engine is at low temperatures increases the horsepower. The filter also attaches to a rotationally molded tube with an interlaced high-density polyethylene. This precise shaping of the tube accelerates airflow into the engine and reduces turbulence.
You will also like the limited warranty provided by purchasing the K&N Cold Air Intake Kits, 3.5L V6 F150 Ecoboost from authorized dealers. If the product fails to meet your expectations, the manufacturer guarantees immediate replacement.
Related Post: Top Rated Duramax Fuel Filter Review 2021
Key Features
Engineered to fit specific vehicle design

Provides increased horsepower and Acceleration

Street legal in several states

Million-mile manufacturer limited warranty

---
3. AEM 21-812DC Cold Air Intake System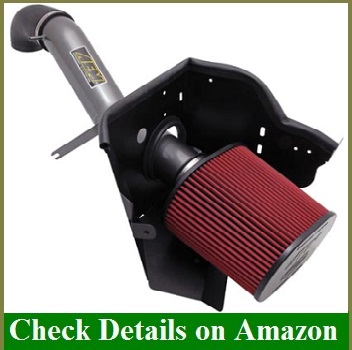 The AEM 21-812DC Cold Air Intake System provides another excellent way to make your intake system run cool whilst increasing the vehicle's performance. The kit boosts the engine's horsepower and torque by typically replacing your truck's factory-made restrictive air filter and air intake housing.
The kit's air intake system is designed, tuned, and dyno-tested to fit the F150 Ecoboost engine models. Air enters the filter through an oversized AEM dry flow washable filter that provides outstanding air filtration and performance for up to 100,000 miles. The filter is positioned within the original air box and is protected by a heat shield, designed to reduce the inflowing air temperatures as it increases the horsepower.
The filter system is made from durable mandrel-bent aluminum with gunmetal gray-powder finish. The AEM 21-812DC Cold Air Intake System's construction and design accommodate your truck's engine factory emissions control, including air intake temperature sensors.
The filter is also made from oil-free and synthetic media that doesn't necessitate frequent cleaning depending on the driving conditions.
Related Post: Top Rated AFM Disabler Review
Key Features
Dyno-tested to improve engine sound and acceleration

Engineered to outperform

Easy to install with minimal tool requirements

Lasts up to 100,000 miles before requiring cleaning

---
4. Spectre Performance Air Intake Kit-

2014-2019 CHEVROLET/GMC/CADILLAC SPE-9006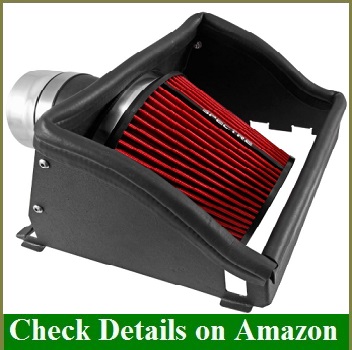 The Spectre Performance Air Intake Kit is a cold air intake system from a popular brand that provides unmatched horsepower and torque. The kit features a red washable air filter that can be reused, polished aluminum air intake tubing, and black powder finished heat shield that prevents the hot engine from warming the cold air passing through the air intake inlet to the engine.
Unlike most models, the air intake system is positioned on the driver's side of the engine. The unit also comes with couplers, stainless steel clamps, a velocity stack, breather hoses, and any other essential hardware necessary for installation. The Spectre Performance Air Intake Kit also allows for the installation of a stick MAF sensor and a breather tube.
The Spectre Performance Air Intake Kit comes with an installation instruction sheet that makes it easy for both beginner and experienced personnel in the installation process. The manufacturer also gives a limited warranty from defects regarding the filter's material make and workmanship. You can also enjoy the 90-day money-back guarantee that starts immediately after purchase.
Key Features
Specially designed to boost torque and horsepower

Easy to install

Includes blue Spectre air filter

Has powder-coated steel heat shield

---
5. aFe Power 54-32642 Magnum Force Performance Intake System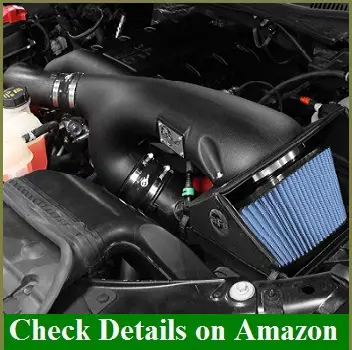 The aFe Power 54-32642 Magnum Force Performance Intake System is a great cold air intake for F150 Ecoboost if you want to increase your truck's intake by more than 60 percent.
The kit comes with a unique design that adds approximately 21HP and torque. Most people like this system for its unique design and superior performance. It comes with a one-piece sealed housing that eliminates multiple housing construction.
The incredible design also ensures cool air intake for superior performance. At the inlet, it has five layers of oiled cotton media that collaborate to provide maximum filtration of inflowing air.
Like other high-end cold air intakes, installing the aFe Power 54-32642 Magnum Force Performance Intake System is very easy. It features a premium stainless steel T-bolt with silicon couplers that provide both strength and durability while ensuring accurate and easy installation. Installing the system doesn't require any drills or cuts on the factory parts.
Related Post: Crosswind All-Season Tire Review
Key Features
Improves outflow power by more than 60 percent

Window access for easy inspection without disassembling

Heat shield covers the top of the factory air box

Hassle-free installation with all necessary tools provided

---
Cold Air Intakes for F150 Ecoboost FAQs
How does Cold Air Intakes for F150 Ecoboost work?
Answer: Simply put, cold air intakes enables your truck engine to breathe. As you may know, engines require a combination of air and gas to drive the pistons. However, most engines have restricted airflow, which limits the power and torque of the engine. Cold air intakes, on the other hand, are there to enhance this capacity.
They do so by reaching far beyond the engine compartments, grabbing cooler air from the outside, and channels it to the engine. Cold air carries more oxygen, thus provides more power in the engine.
How are Cold Air Intakes Filters for F150 Ecoboost cleaned?
Answer: Cleaning cold air intakes varies depending on the brand. Different manufacturers provide specific cleaning instructions for their products. Therefore, depending on your product of purchase, follow the outlined instructions in the included user manual.
However, the majority of cold air intake filters require that you remove them, apply a recommended cleaning solution to soak and rinse
What are the signs of a faulty cold air intake system?
Answer: If you suspect that your cold air intake kit is faulty after installation, check for the following three indicators
Diminished engine performance – cold air intakes are supposed to better the performance of your engine. However, check for problems if the engine performance declines. In most cases, this could be due to a clogged air filter.
Engine lights – cold air intakes also have sensors that display as check engine lights in case it develops complications.
Very high idle – excessively high idle is another confirmatory sign that your cold air intake is defective. Though it is not the only causative factor of high idle, faulty cold air intake is among the common causes. High idle signifies a vacuum leak from the vacuum ports.
Can Cold Air Intakes for F150 Ecoboost cause engine problems?
Answer: Cold air intakes are meant to enhance engine performance. Therefore, they cannot cause any engine problems. However, most engines with cold air intakes can be affected by hydro locking. In this situation, the cold air intake system takes water instead of cold air.
Unlike air, water will be trapped in the cylinder of the engine and doesn't compress, thus ruining the engine pistons. They can also cause the connecting rods to bend. Regardless, this is a very rare occurrence.
Does Cold Air Intakes for F150 Ecoboost increase gas mileage?
Answer: Yes. If you install the right cold air intake into the right car engine, you will benefit from increased gas mileage. However, fuel economy is not the main goal of installing the kit in your vehicle. Regardless, the little savings may eventually accumulate to cover the initial price of purchasing the high-quality cold air intake system.
---
Conclusion
There are many reasons why you should consider installing the Cold Air Intakes for F150 Ecoboost. Most people find it daunting to find the right model for their vehicles. As such, you should search for appropriate cold air intakes with caution to find one that suits your engine. Finding the best Cold Air Intakes for the F150 Ecoboost brand is the only sure way to enjoy the benefits of installing this system.
You should observe timely maintenance to ensure that your system lasts long. Among the maintenance, practices are ensuring that you regularly check for water ingestion to prevent hydrolocking, use thermal barriers, and purchase a CARB approved system. The products mentioned above are the best to begin your market search for the best kits.