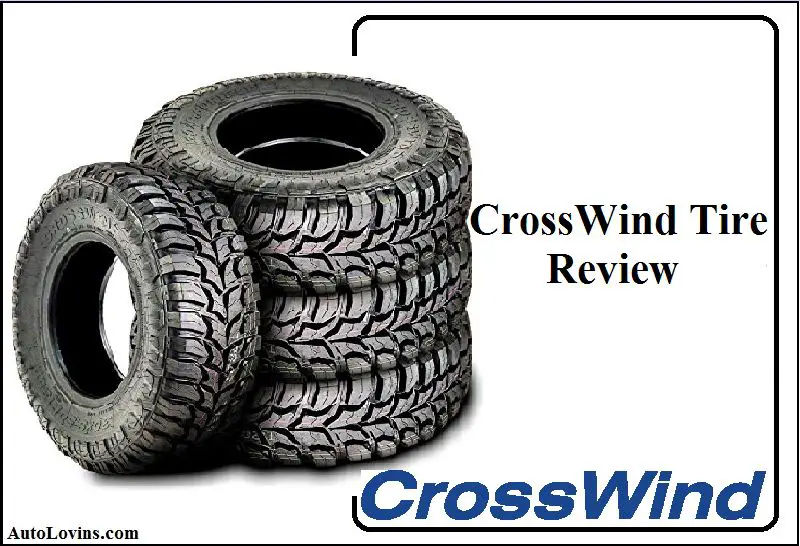 Tires are important if you want to have a comfortable driving experience. But you can't spend your life looking for good performing tires at a reasonable price. Let me suggest you something. Crosswind tire brand has come with a few tires at a reasonable price. Most of those are all-weather tires, so you can be free from the hazard of changing the tire when the season changes. Those are good deals at a reasonable price.
In this Crosswind tires review article, I'll be talking about five tires offered by Crosswind. Those are all-season tires, and each is perfect for a specific road type. Keep reading and choose one to pick for your ride.
Why should You Pick Your tires from Crosswind?
Crosswind has become one of the best tire brands because some of its qualities. This is a brand under Shandong Linglong Tire Co. LTD. It offers versatility, durability and quality while ensuring the maximum value of your money that you spend on tires.
Under the brand Crosswind, you'll see different tires for different purposes. All those are manufactured and offered for a wide range of vehicle types. From this versatile collection, you can easily get one that is suitable for your vehicle. Crosswind also offers a specific line of Eco-tires.
Among the top tire manufacturing companies in China, Linglong is one. So, you can depend on them. The manufacturing process of Crosswind is based in Thailand. You can depend on this brand because it has passed a wide range of American and global certifications.
Crosswind also focuses on researching and developing tire technology. As a result, you'll find a wide range of technologies used in the tires which keep you safe and ensure maximum driving comfort.
Top Rated Crosswind Tire Technical Details & Comparison
| Product Name | Model | RimDiameter | Weight | Price |
| --- | --- | --- | --- | --- |
| Crosswind HP010 All-Season Tire | HP010 | 17 inches | 28.1 Pounds | Buy Now |
| Crosswind m/t LT35/12.50R20 121Q | M/T | 15 inches | 67 Pounds | Buy Now |
| Crosswind A/T All-Season Radial Tire | A/T | 17 inches | 39.7 Pounds | Buy Now |
| Crosswind M/T Mud Radial Tire | M/T | 15 inches | 40.4 Pounds | Buy Now |
| Crosswind 4X4 HP All-Season Radial Tire | 4X4 HP | 17 inches | 31.6 Pounds | Buy Now |
---
Top 5 Best Crosswind Tires Reviews 2021 to Buy
1. Crosswind HP010 All-Season Radial Tire-235/60R17 102H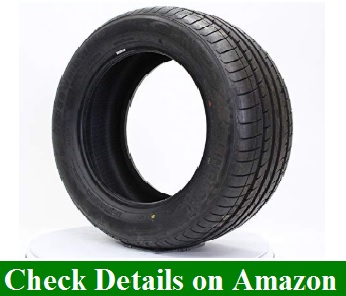 I don't know exactly what you want from an all-season high-performance tire, but I think Crosswind HP010 all-season radial tire has everything you are looking for. This is a true performer on the road, no matter what the season is. That's why it is rated M&S.
This high-performance CrossWind tire is appropriate for cars and small SUVs and CUVs. It has a solid center rib that ensures improved handling, making it a true responsive tire to the actions you take. The tire is stable in most road conditions, which allows you to get the control in your hand properly.
This tire is made tough and strong to ensure the best performance you can get from a tire. There are wide circumferential grooves in the tire. These grooves reduce hydroplaning and ensure a better contact with the roads. Thus, extra safety is ensured for the driver and the passengers.
The tire also comes with an optimized tread design and material that keeps the road noise lower than most other tires and ensures a noise-free comfortable riding experience.
All-season performance

Optimized tread design

Wide circumferential grooves

Responsive to actions
A little bit low rated in Uniform Tire Quality Grade Rating

---
2. Crosswind m/t LT35/12.50R20 121Q BSW all-season tire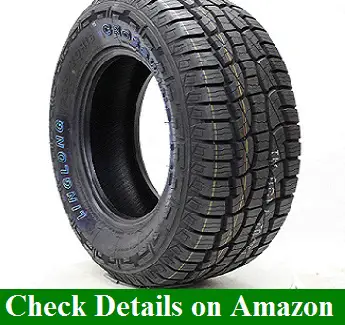 If you are searching for a sturdy-looking tire that can support you during all types of weather conditions, this tire is for you. It is made for all mid/full-sized Jeeps, pick-ups, and SUVs.
The tire is made durable and sturdy to ensure optimum performance. The aggressive-looking bits are designed to ensure superior performance when you drive the vehicle in off-road areas. It also comes with a wide block pattern. This special type of pattern ensures good traction when you ride the vehicle on unpaved roads.
To keep the vehicle running in different tough road conditions, the tire comes with shallow central grooves and strong shoulder blocks. Besides making it better running on tough road conditions, this design also makes it puncture-proof. As a result, you'll face the minimum hazards of changing the tire, especially when you are in a hurry.
The tire is designed to ensure that the control is in your hand, even on wet roads too. The blocks are designed to ensure maximum contact with the roads when there is water everywhere on the road. As a result, the risk of losing control is very low.
It is available in 16" to 20" Metric and LT size. So, you can choose according to the size of your car.
Related Post: Top Rated Fluid Evacuator Review
Features to support in off-road

All-season performance

Strong shoulder blocks

Good traction on unpaved roads

Not so costly
Wires a bit quicker than others

---
3. Crosswind A/T All-Season Radial Tire-265/65R17 112T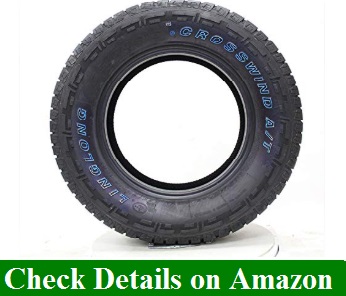 Another all-season tire under the name CrossWind is this one. This all-season radial tire is economic but a great performer when it is the question of performing in different weather conditions. This tire is suitable for light trucks, SUVs, Radial vehicles, and Passenger Vehicles.
Coming with a large tread lug design, Crosswind A/T tire ensures maximum attachment to the road in any condition- wet, muddy or dry. Besides, the design allows it to expel mud or water and move well, biting the road properly.
The self-cleaning material and design of this tire allow it to stay clean and continue looking good, even after a long drive. Even after driving on a muddy road, if you wash it with just water, it'll look good as it was. Thus it improves the look of your car.
Besides keeping the look constantly good, it is good at keeping the performance similarly good. As a result, you'll get optimum performance for a long time. It is also designed to be fuel-efficient ensuring smooth riding experience in different road conditions.
All-season performer

Can be cleaned easily

Maximum attachment to the road

Economical

All-surface smooth performance
In snow, the performance is a little bit weak

---
4. Crosswind M/T Mud Radial Tire-30X9.50R15LT 104Q LRC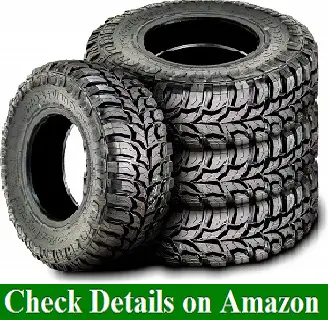 If you are looking for a mud-terrain tire for your regular ride, you shouldn't ignore this Mud Radial Tire under the brand Crosswind. For SUVs and light trucks, you'll find this tire ideal.
This all-season Crosswind tire comes with a rugged and special directional tread pattern as well as wrap-around shoulder tread design. These characteristics have made this tire ideal for running on a muddy track. With this, the open tread design ensures increased traction and gripping ability in any weather condition- wet, dry, or winter.
The tire also avoids hydroplaning with the help of the wide tread groups. The treads actively wipe away the water and sludge from under the tire. As a result, you get maximum control of the car at your hand. The controlled handling is also ensured by the shoulder tread block and directional pattern of the tread.
One of the best characteristics of this Crosswind tire is its self-cleaning ability. The open tread design ensures easy cleaning and removal of mud and snow. Also, removing the rocks stuck between the treads is easy. The quality material has made the tire durable as the treads avoid maximum common damages caused by road conditions.
Related Post: Top Rated Kensun Air Compressor Reviews 
Open treads design

Made for muddy tracks

All-season performer

Self-cleaning

Good grip in all types of weather

CrossWind Tire Review (Video About New Mud Tire)
---
5. Crosswind 4X4 HP All-Season Radial Tire-255/60R17 106H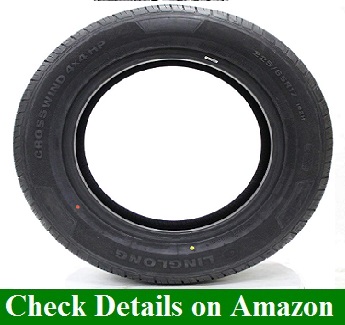 Another great Crosswind all Season tire is Crosswind 4X4 HP all-season radial tire. It is compatible with CUVs, SUVs and wagon automobiles. If you are looking for a comfortable riding experience, this tire is recommended for you.
This tire is manufactured focusing on highway running. This is an all-season tire so that you can use it in different seasons with almost a similar comfortable driving experience. It comes with wide circumferential grooves. The grooves reduce hydroplaning by removing as much water as possible from the traction points. Thus it ensures secure grip of the tire with the road in a variety of weather conditions. Thus you get maximum handling control.
The five-rib design ensures a smooth and stable ride. Besides, the design effectively reduces road noise. The reinforced tread blocks also ensure the driving comfort in the sides. These ensure easy handling as well as cornering. As a result, you get a safe, smooth, and comfortable riding experience on the highway in any season.
Related Post: Most Popular Sway Control Kit Reviews – Buying Guide
Reduces hydroplaning

All-season performer

Reduced road noise

Increased control over handling

Smooth running on the highway
Not so suitable for muddy trails

---
How to Take Care of Crosswind Tires?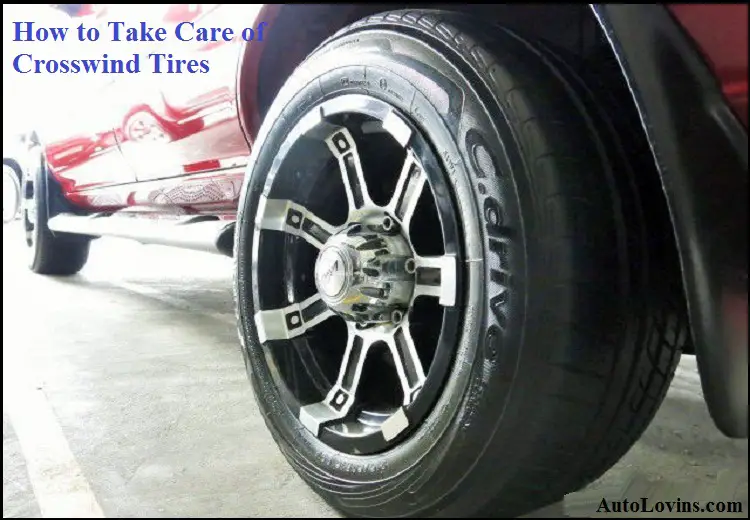 Crosswind has a few self-cleaning tires. However, cleaning is not the only way to take care of tires. Let's see a few tips on taking care of your Crosswind tires.
Inspect for damage:

Invest some time in investing the condition of the tires. Check for damages. If you drive the car with a damaged tire, the damage will be bigger.

Avoid driving too fast:

When you drive too fast, the lifespan of the tire decreases constantly. So, try driving at a moderate speed.

Avoid overload:

Tires can take loads up to a certain limit. You can check the user manual to know the limit. Try to keep the weight of the car within the limit. Overload can harm the tire a lot.

Maintain proper inflation pressure:

Don't inflate the tire too much or too little. There is always a recommended level of inflation, keep it within the level. Overinflation damages the tire.

Keep it clean:

You should keep the tire clean because it enhances the look of the vehicle. Besides, keep the tire clean also helps you to spot the wears, tears, and damages easily. As a result, you can take the necessary steps before any major damage happens.
---
Frequently Asked Questions about Crosswind Tires
Does Crosswind tire run on muddy trails?
Not all the tires for Crosswind are perfect for running on muddy trails. For muddy trails, Crosswind has a special tire called Crosswind M/T Mud Radial Tire. This tire is made for running on a muddy trail in any season. The treads of this tire are specially designed for that.
Does Crosswind offer a warranty?
It depends on the tire you are buying. Depending on the tire model, Crosswind has different warranty policies. There are some terms and conditions too. You'll find those in the manual or Crosswind's official website.
Does Crosswind offer the best tires?  
The answer is a bit tough because the concept of 'the best' depends on individual perception. However, Linglong is one of the top tire producers around the world. So, you can depend on Crosswind when you are talking about quality. When you are looking for tires at a reasonable price, Crosswind offers the best you can find within the price. So, you can say that Crosswind offers the best tires, but within a reasonable price range.
---
Final Verdict
The deal of Crosswind is simple- you'll pay a reasonable amount of money and get the maximum you can expect from spending that amount. All of the tires are built with durable materials. So, you'll find those lasting for a long time with almost similar performance.
I hope my Crosswind tires reviews will help you to choose the best tires for your ride. If you have more questions, knock their support system. You can also ask us. We'll try to provide the best answer to your question.