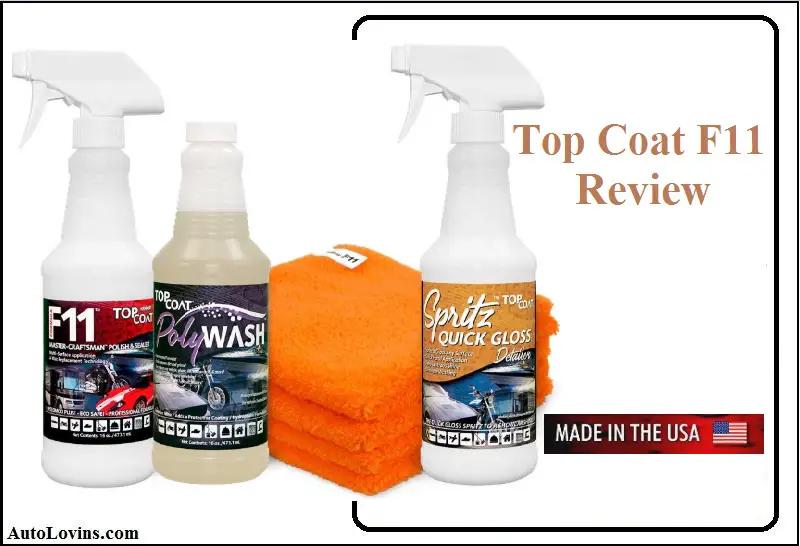 The shine of your car, bike or boat surface says how much do you care for those. So, if you think you really care, you should keep those clean and shiny. It also enhances the gorgeous look of your vehicle. But, nowadays, it is very tough to keep the vehicle surface shiny because of the dust and contaminants we face every day, right? Though you clean the surface every day using clean cloths, but the shine fades away gradually.
So, what to do?
The solution is also available. There are many surface polishes available in the market. Those polishes somehow help you to bring back the shiny look. But, most of those are not effective in case of sealing the look for a long time.
But, when we are talking about TopCoat F11 review, we are talking about a trustworthy solution to the problem of bringing the surface shine back and keep it for a long time. It is such a polish that is formulated and manufactured to restore the showroom shine and seal the look for months.
Do you want to know more about this effective and awesome vehicle surface polish and sealer? Continue reading the article.
Expert Quick Choice!

TopCoat F11 Review: One of the Best Polishes Available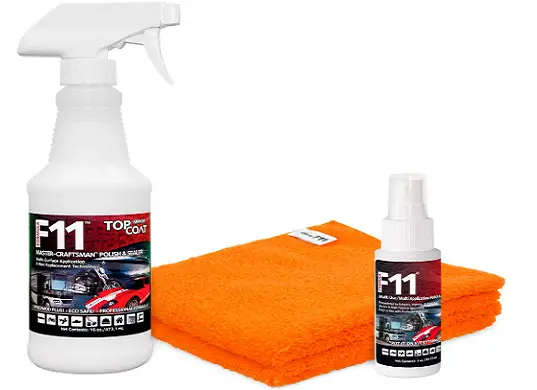 Coming from TopCoat, the F11 polisher is something that is satisfying most of the car enthusiasts and customers. As a result, you'll find a lot of fans of it. To out-perform most other polishing, sealing and cleaning products in the market, it comes with a few great features. Let's know about those.
TopCoat F11 is not just a surface polish. It is a polish which makes the surface clean, a shiner that brings the showroom shine back, a sealer that protects the surface shine for a long time, and a protector that protects the surface from the harmful effects of contaminants like bird droppings, acid rain, brake dust, bug splatter and others.
It also makes the surface water-resistant. So, rainwater or seawater can't do much harm to your vehicle. This is a great part of this product.
It also improves the color of your vehicle's surface, making it more attractive and cool-looking.
Versatile Surface Application
This product is made for allowing you to get the most out of it. That's why it gives you to option of using it on a wide range of surface types. Starting from aluminum and chrome, you can use the polish on fabric, glass, wood, leather, vinyl, rubber, steel and even plastic.
On all these surfaces, this is not equally effective. But, it is effective enough to out-perform most other shiners and polishes available in the market. What's more you need?
Designed to Ensure Satisfactory Performance
While applying a surface polish or shiner, a few small things matter. F11 is designed to ensure satisfactory performance in case of those.
For example, this is virtually odorless. As a result, you'll find it comfortable while applying. Also, this is a non-stick polish. So, while applying, you won't have to be tensed about accidentally touching the surface. Your body mark won't ruin the polished surface. But, being careful is recommended.
The bottle of TopCoat F11 doesn't come with any normal product. This premium surface shine is made following a special water-based formula that has minimized the use of harmful materials. As a result, you'll find no Volatile Organic Compound (VOC) or abrasive compounds in this. So, it is safe to use by your hand.
It is also safe to apply in a closed space. It is not flammable. So, you can easily use it near your engine too.
You can easily apply this product on the surface of your vehicle. For that, you won't need any bucket, brush or cleaning gear. All you need to have is a clean piece of microfiber cloth.
To apply this, just spray it on the microfiber towel and use the microfiber towel to wipe surface of your vehicle and spread it evenly on the surface. Wipe the surface for a few times to get better result. Don't leave any residue. For tough stains, use your strength to press and wipe.
But, this product is not made for removing strong contaminants.
F11 effectively saves your time too. As it is very easy to use and doesn't need many cleaning gears, you can do it really quick. It takes only half of the time needed for waxing your car.
Pros
The scope of the versatile application allows you to use it on a wide number of surfaces.

It improves the depth of color and micro-scratch concealment.

This can tolerate high-temperatures and it is not flammable.

No cleaning gear is required to use this polish.

It is a multi-purpose product which works as shiner, seales, polish and protector.

Professional grade touch-up with quality materials.
Cons
It is a bit expensive comparing to other products, but the performance justifies the price.

If you don't allow a minimum time to dry, it'll wash off by water.

TopCoat F11 Review (Practical Video Review)
---
Top 3 TopCoat F11 Reviews (Bundles Package)
Besides the single bottle, you'll also get some more bundle variations of this product where it comes with other helpful products. Some of the helpful bundles are given below.
1. TopCoat F11 Prep Kit
This kit comes with a 16-ounce spray bottle, 16-ounce TopCoat PolyWashbottle and an ultra-micro 16 detail towel. TopCoat PolyWash helps you to prepare the surface for applying the F11. It washes away heavy dirt, dust and debris build-up. Thus it makes it easy for F11 to interact with the surface.
2. TopCoat F11 Polish & Sealer – Gallon Kit Special
If you have an automotive workshop and you get regular polishing tasks, this kit bundle is for you. It comes with a 16-ounce spray bottle, 1 gallon of the liquid and 5 ultra-micro 16 detail towels. So, you can give a think about it.
3. TopCoat F11 Polish & Sealer: 1 Kit special
If you have to travel a lot, this kit is made for you. Here, you'll get a 16-ounce TopCoat spray bottle, a 2-ounce travel-sized spray bottle and 2 high-quality microfiber towels. Isn't it a good deal?
Check All TopCoat Polish & Sealer on Amazon
---
How to Apply Top Coat F11
Applying Top Coat F11 is very easy. It doesn't require any type of cleaning or polishing support except a microfiber towel.
Before applying, clean the surface of your vehicle with water. I recommend not using any kind of soap with silicone or wax as you want F11 to interact directly with the surface. Make sure there is no water spot on the surface after washing.
After washing your car properly, now it is time to apply the Top Coat F11 polish on the surface of your vehicle. There are two ways to apply this polish on the vehicle's surface.
Way 1- In this way, directly spray it on a part of the surface of your vehicle. Then, use the microfiber towel to buff the spray around that specific area.
Way 2- Spray F11 on the microfiber towel and wipe a specific part of the surface. Rub it properly to spread it evenly on the surface.
You can follow anyone from the two above, but make sure that you are following some advice given below-
Try to have 2-3 microfiber towels. As F11 comes in a water-based formula, it quickly makes the towel wet. As a result, after using a few times, the towel may not work evenly on the surface. In that case, keeping 1-2 backup towels will help.

If your car already has a coat on it, it won't let work properly. So, before applying F11, make sure that the previous coat doesn't exist anymore. Or, you can do another thing. After applying TopCoat F11 on a previously wax or silicone coated surface, add another layer of coat after a few days, maybe a week.

Apply it in such areas where possible contaminants, dirt and dust can barely touch your vehicle. If you apply it by the side of a road or in an environment full of dust, you can't expect the best result from it.
Video Review on

How to Apply TopCoat F11
---
Frequently Asked Questions (FAQ) About TopCoat F11
How long does a bottle of Top Coat F11 last?
There is no grammar to say exactly how long a bottle of TopCoat F11 will last. It totally depends on your usage. Normally, the first application of F11 takes only 2 ounces of it. Then, the following applications barely need 1 ounce. So, a 16-ounce bottle can support you for a long time, I guess.
But make sure that you are not spraying a huge amount while applying. Using a little amount of F11 works great.
How long does the coat of F11 stay?
The average duration of this polish is around 3 to 6 months. The longevity increases or decreases depending on the environment and exposure of the vehicle to contaminants. Make sure you are storing the vehicle in a safe place, washing it with water regularly, and using clean clothes to rub away contaminants quickly. If you do so, it will last for a longer time.
Can I apply it under direct sunlight?
If you want to apply it under direct sunlight, you can do it. But it is not recommended. Try to apply it in the presence of ambient temperature and room light.
When you apply it under direct sunlight, the temperature of sun put a pressure on the coat to dry quickly. As a result, it can't get the scope of working like it should. So, you won't get the expected result.
---
Final Verdict on TopCoat F11 Review
Using the best polish for your car will enhance the look of the car. So, you'll always look for the best, I know. That's why I've brought TopCoat F11 in front of you. This polish and sealer might not be the only best, but it is one of the bests available in the market.
To get the best out of it, make sure that you are following the instructions properly. Let us know your thought about it after applying. Cheers.