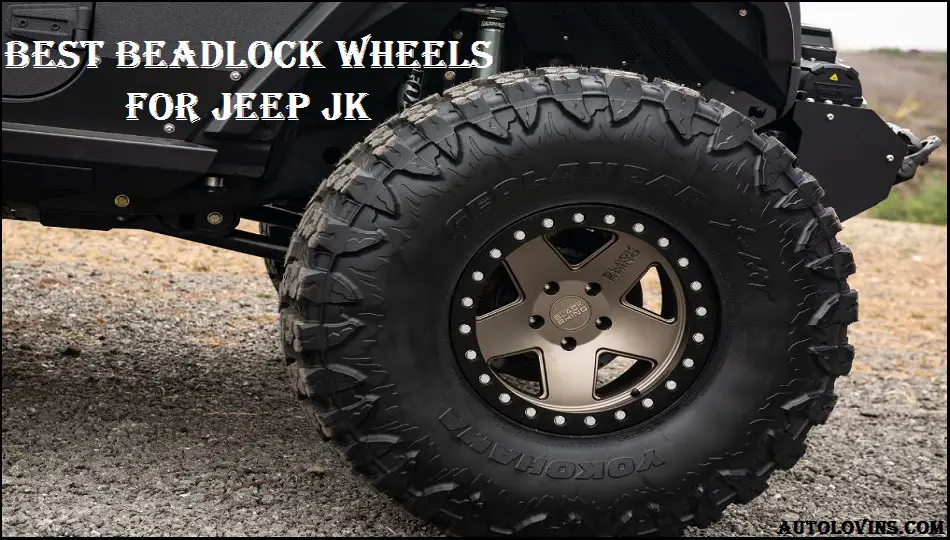 When you are in off-road, a bit more traction can help you in tough situations. You can gain that by reducing the air pressure slightly. But that is risky because it can break the bead seal and deflate the tire fully. What to do then?
Solution to the problem is simple- locking the tires so that the bead seal doesn't break. This is where the concept of Beadlock wheels works. It seals the tire bead to the wheel properly so that it stays in place even in low tire pressure. Great, right?
I know that you are also aware of the importance of off road Beadlock wheels and that's why you are looking for the best Beadlock wheels for Jeep JK. Don't worry because I'm here to help you in choosing the best one for you.
Here I've talked about a few jeep JK Beadlock wheels I've gone through. Also, there is a small discussion about different types of Beadlock wheels and which one you should choose. If you don't want to miss it, keep reading.
Editor's Choice!

Top 3 Best Beadlock Wheels for Jeep JK Reviews 2021
1. Pro Comp Alloys Series 33 Wheel with Flat Black Finish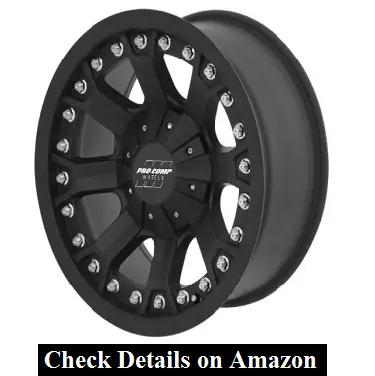 For Beadlock wheels, depending on Pro Comp Alloy is not a bad decision. The 33 series from this company will be a great choice for you if you want a rough look. This is a compact, tough and strong Beadlock wheel which will enhance to look and performance both.
The wheels from Pro Comp Alloy are designed for performance without compromising anything. That's why it is made by Low Cast Pressure Technology which makes it strong and durable. Also it is very lightweight and stylish.
The wheel is designed for you if you want to get a huge change in the look of your Jeep JK. The trendy and eye catchy design will definitely blow your mind. You can simply say that besides performance, this wheel is also for showing off the upgradation. Even you can show off your brake upgrades as it doesn't block the brake.
Though installing the wheel is really easy, I would suggest taking help from a professional. This would allow you a fast and mess-free installation.
Pros
Enhances the strong and sturdy look

Comes to ensure performance as well as durability

Lightweight

Easy to install
Cons

---
2. Ion Alloy 174 Black Beadlock Wheel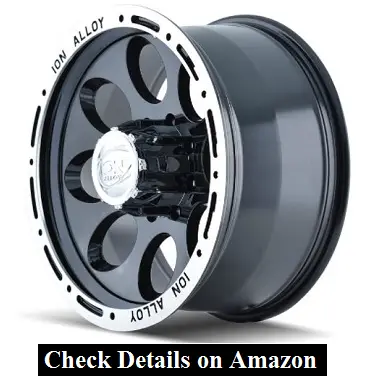 If you are looking for quality Beadlock wheels for your Jeep JK, don't forget to check this one from Ion Alloy. They have successfully done a tremendous job by designing and manufacturing this jeep JK Beadlock wheel. Using the best technology available, they have made this one really strong and long-lasting.
It comes with a cool design that'll bring a big change in the look of your Jeep JK. If you are fond of simple design and looks, this one will surely impress you. To create the perfect look, the designers have assessed everything for a long time. So, you can be tension-free about the look.
This wheel is made to ensure the best value for your money. So, you'll find this aluminum-made wheel strong, durable, lightweight and great performer. It does exactly what it is made for. So, if you want to get what you've expected to get, pick one of these without any hesitation.
The wheel is crafted precisely to fit to your vehicle directly. So, you won't need any modification. However, still I recommend assigning a professional to the task of installing it. Trying to install it without prior experience may lead to serious mess.
Pros
Precisely designed to fit

Made to be durable and strong

Easy to install

Ensure a simple yet stylish look

Made with the best technology available
Cons
A bit issue with quality control. You may have to claim for a change if luck doesn't support you.

Ion Alloy 174 Black Beadlock Wheel Video Review
---
3. Pro Comp Alloys Series 31 Wheel with Flat Black Finish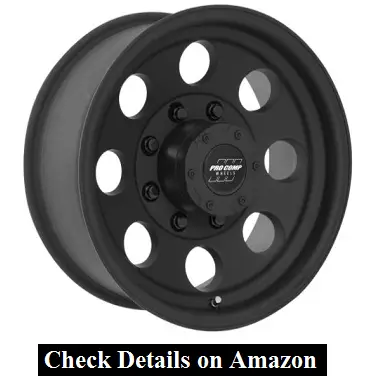 In the list of the best Beadlock wheels for Jeep JK, there is another one from Pro Comp Alloys. This series 31 can be a great choice for you if you want a calm look and satisfactory performance. This wheel is simple looking yet strong enough to support you in tough situations when you are in rough terrain.
Just like the 33 series, it is also manufactured using Low-Pressure Casting technology that allows it to be durable and strong. Though it is strong, you'll find it very much, lightweight. To keep the look smooth and stylish, it comes with flat black powder finish.
It ensures massive brake clearance and gives you the chance of upgrading the brake without facing any major problem. Also, you can show off the brake upgrade if you want because it comes with an open-stoke design.
If you want to run seamlessly on rough terrains, getting these for your Jeep JK won't disappoint you. So, what are you waiting for? Buy which fits, install, and enjoy the run. And a tip- don't forget to install by a professional.
Pros
Strong and durable yet lightweight

Great brake clearance

Simple yet stylish look

Performs great on rough trails
Cons

---
Different Types of Beadlock Wheel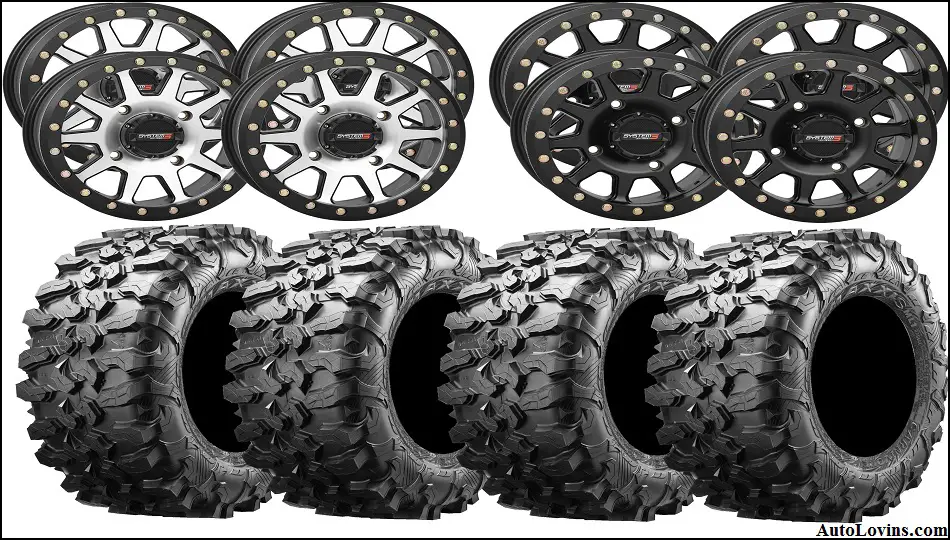 Depending on the locking system, there are mainly three types of Beadlock wheels available in the market. In this section, I'll be explaining the basics about these three types so that you can know which one will be the best option for you.
1. Standard or Outer Clamp-on:
This type of Beadlock wheel uses an outer ring to lock the tire. In this system, the tire bead is locked between the outer ring and the inner lip of the rim. This is the most common design in the market.
The advantage of this design is its simplicity. Because of this, it can easily be installed and easy to use. Also, it doesn't hamper the tire changing process that much. But the drawback is the maintenance. To get the most out of it, you should check it frequently and maintain the torque of the bolts.
2. Double Inner Beadlock:
Double inner Beadlock uses a rubber insert to support from inside as well as the outer ring. In this system, both inner and outer beads are captured to ensure better performance. This type of Beadlock wheel is a bit heavier than the standard one.
The advantage of this design is its performance. Wheels with this locking system ensure better performance. So, you can use this in off-road races or military applications where performance is a must. It keeps inner and outer bead in their places, no matter what happens. But there are drawbacks too. This is not easy to install. Also, you'll find it tough to assemble and disassemble the wheels.
3. Single Inner Clamp:
In this design, inner plates are used to lock the Tire bead with the rim from the inside. Sometimes, cotter pins are used to keep the bolts in place. This is not used frequently, but it is an effective way.
It works great to keep the bead in place. Also, it requires low maintenance. But the problem is- installing it is really a tough task, not a home job. It is a long process too. Also, it may reduce brake clearance.
---
Now you might be confused about which one to buy? Right?
The answer depends on a lot of things including your budget, maintenance you can do, the performance you need etc. But let me draw a fine line.
If you are not into real tough driving where you remain in rush and need great performance, go for the Standard or Outer Clamp-on design. If you just tighten the bolts regularly and maintain properly, it'll support you for a long time. Also, you can easily change wheels when needed.
If you are into something that needs a badass performance and you want your beads to stay no matter what happens, you should go for Double Inner Beadlock or Single Inner Clamp. These are the ultimate performer, but you need to spend more time and bucks on these.
So, now I guess now you can make a decision easily.
---
FAQs About Beadlock Wheels
Are Beadlock wheels illegal?
There is some confusion about it. There are some states that don't allow you to use Beadlock wheels. But there is no specific notice by DOT that says that Beadlock wheels are illegal. Again, because of the building structure, some types of Beadlock wheels are safer and some are a bit unsafe in some conditions, I've already talked about that above. So, this is something that is a bit confusing.
It is better to check the states that don't permit to use Beadlock wheels and avoid those if you are living in one of those states.
Do Beadlock wheels need special Tires?
You won't have to search a lot for special Tires for your Beadlock wheels. Most of the available tires can be adjusted with Beadlock wheels and those work pretty well. However, in this case, get some expert opinion too. Is someone is having Beadlock wheels around you, ask them if your Tire can be used with the wheel or not.
Can I run on the highway with Beadlock wheels?
Beadlock wheels are designed to support you in off-road. If you want to run on streets with Beadlock wheels, you must make sure that those are well maintained. Otherwise, accidents may occur by snapping off the bolts under pressure. That's why some states don't allow Beadlock wheels on streets.
How many clamping bolts are better?
Different Beadlock wheel comes with different number of clamping bolts. Starting from 18, you can see Beadlocks with up to 40 bolts. Owning wheels with 40 bolts will ensure great security. But I suggest not going for this much because it takes a lot of time and energy in installing and maintaining.
Again, Beadlocks with 18 bolts are a bit risky. So, I suggest buying off-road Beadlock wheels with 24 to 30 clamping bolts. It ensures a balance in maintenance and performance.
How to Install Off-Road Beadlock Wheels
Final Verdict
Installing a jeep JK Beadlock wheel increases your responsibility of maintaining the vehicle. So, when you are doing this, make sure you have enough time and energy to invest on your Jeep JK.
So, this is it. I've talked about some of the best Beadlock wheels for Jeep JK above and showed the pros and cons. Now it is time for you to make a decision. Depending on your need and priority, you can pick up one.
Best of luck with your off-roading.