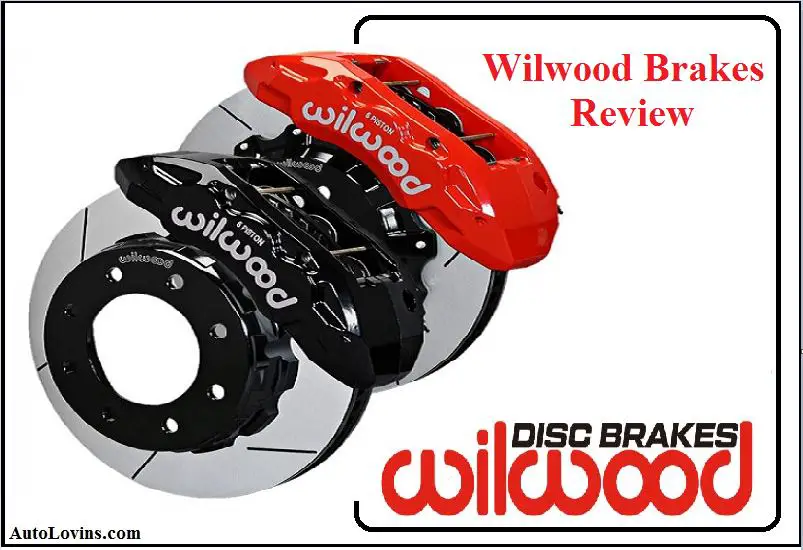 Thinking of buying the best car braking system? Wilwood Engineering, Inc is one of the most reputable companies. Founded in 1977 by Bill Wood, the company manufactures high-performance disc brake systems. If you are a car enthusiast or regular car driver, you need to upgrade your current brake setup with Wilwood disc brakes.
With Wilwood brakes, you ensure that your car has the stopping power to stay safe. Without a premium braking system, your vehicle will not have enough braking power. As such, you and your passengers could find yourself in a lot of trouble.
Wilwood offers optimized value to its customers. How? By using quality materials able to withstand the high level of friction and temperature. As such, the brake kits are perfect for street and track too. Apart from the materials, you have the powder coat and high gloss finish.
Together with Wilwood's signature logo, the calipers are stylish and durable with high wear resistance. A caliper is one of the crucial parts of your brake system, and Wilwood offers the best. Not only does it fit over stock rotors, but it has a blend of high strength and extreme performance.
Want to ensure that you are safe while driving? Want to ensure your brake system has the best stopping power on track and street? In our Wilwood brakes review, we discuss the top braking systems on offer and which is right for you.
Recommended by Expert Auto Mechanic!

---
Top 5 Wilwood Brakes Reviews 2021 (New Update)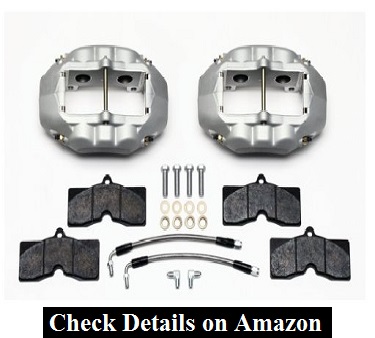 Highlighted features
Clear anodized caliper

Forged billet aluminum body

Stainless steel Flexiline
Are you in search of a Wilwood brake kit compatible with 65-82 Chevy Corvette C2? If so, the Wilwood Clear Anodized Brake Caliper is the right choice for you. The braking kit features a natural aluminum finish protected by a durable coat anodizing.
As such, the braking caliper offers excellent years of use. In the package, you will find the complete kit. That includes the D8-4 Caliper, pad, and line kit for both front and rear wheels. Engineered explicitly by Wilwood Engineering, Inc, the braking kit provides superior system performance. This allows you to stop the car when needed.
With forged billet aluminum bodies and seals, not only is the kit rust-resistant. But it's the perfect choice for high strength braking capacity. Also, it's a good budget option for motorsport and race cars.
Fits a 1965 – 1967 Chevrolet Corvette C-2 and a 1968 – 1982 Chevrolet Corvette C-3.
Pros
Comes as a complete kit for both front and rear wheels

High-temperature seals protect against rust

Provides superior braking performance

Stylish and clear anodized

High strength aluminum body
Cons
No fit for wheels of all diameters
Related Post: Top Coat f11 for Shiny Car Review

---
2. Wilwood 14011290R Caliper – Best Replacement Brake Rotor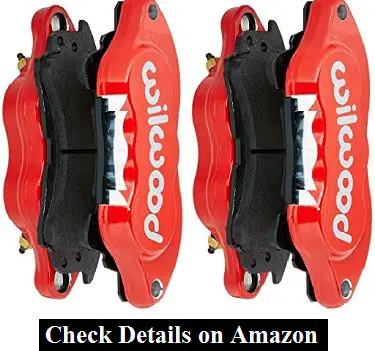 Highlighted Features
Forged billet bodies

Stainless steel pistons

High-temperature seals

BP-10 friction pads

Red in color
According to the Wilwood brakes review, the calipers are famous for asphalt modified racing. They are also popular in dirt modified racing, and road racing. The Wilwood 14011290R Caliper is a direct bolt-on two-piston replacement.
It has a forged billet aluminum body and stainless-steel pistons. Together with the competition style high-temperature seals, you can say goodbye to corrosion. Designed to provide low maintenance performance, it offers a lot of weight savings.
Perfect for street and track, the Wilwood 14011290R Caliper is compatible with most wheels that clear the OE calipers. The front calipers provide a piston area per caliper of 6.28 square inches. This ensures the system can maintain the original front to rear bias.
In the package, you will find Wilwood's slide pins and BP-10 high friction pads. You can also find matching rear calipers for custom installations. Fits vehicles from 1978 and up, but the cars need to have M10-1.5 banjo bolts and a new brake line.
Pros
Easy to mount in the stock location over stock rotors

Perfect for most wheels with clear OE calipers

Maintains the original front and rear brake bias

Low maintenance performance

Red in color and looks nice
Cons
Does not come with a braided brake line

---
3. Wilwood 140-12996-DR Front Caliper and Rotor Kit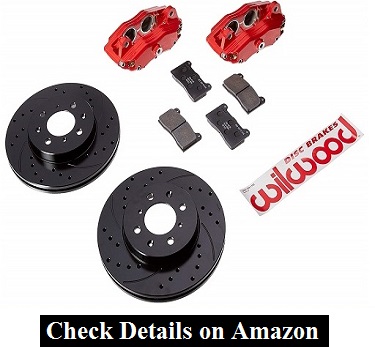 Highlighted Features
High red gloss finish

Forged billet bodied caliper

Four stainless steel pistons

High-temperature brake fluid resistant sealed powder coat

Features Wilwood's signature logo
Designed to fit Acura and Honda models equipped with 262 mm diameter rotors, the Wilwood Front Caliper and Rotor Kit is available in red. With the high-temperature brake fluid resistant powder coat, the calipers will not rust.
Rust reduces the performance of your braking system. If not checked, it can spread to other car parts. This compromises your safety, that of your passengers and other road users. The Wilwood 140-12996-DR Front Caliper and Rotor Kit features four stainless steel pistons.
They provide fully balanced pad loading. The thermal retardant properties of stainless steel ensure your calipers run cooler. Not only that. They ensure the calipers run trouble-free for many miles. To deliver high strength clamping force, it has a forged billet body designed.
What you ought to know is that the calipers bolt directly to the stock mounts. They also accept the OE brake line and 262 mm diameter rotor.
Pros
Available in high red gloss

Features the Wilwood's signature logo

Stainless steel pistons keep your calipers running cooler

Works with ABS functions and OE master cylinder

Delivers positive stopping power
Cons
OE brake line sold separately

---
4. Wilwood 140-11291-BK Black Powder Coated Front Caliper Kit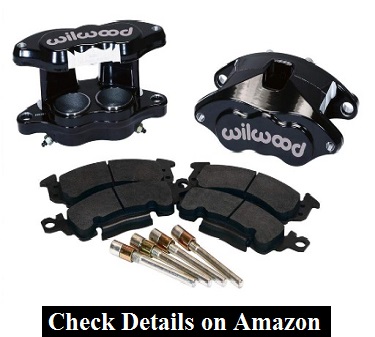 Highlighted Features
Stainless steel pistons

Forged billet aluminum bodies

High-temperature seals

Hardened slide pins

Black gloss finish
Positive stopping power is essential on the street, but it's equally crucial in off-road driving. Also, it's perfect for track thanks to its high-temperature reliability. The Wilwood 140-11291-BK Front Caliper Kit has forged billet aluminum bodies.
Thanks to the thermal retardant properties of steel, the caliper offers substantial weight savings. The powder-coated front caliper mounts in the stock locations over stock rotors. Not only does this maintain front to rear brake bias. But, it delivers heavy duty stopping power for the track and road.
For the perfect fit, we recommend using original OE D52 brake pads and an OE 7/16-20 banjo bolt brake line. The high-temperature seal provides low maintenance performance and puts an end to corrosion.
Fits vehicles 1978 and up, but they should have M10-1.5 banjo bolts. What you ought to know is that there are matching rear calipers for custom installations.
Pros
Low maintenance performance

Corrosion-resistant

Direct bolt-on

Delivers huge weight savings

Black powder coat for durability
Cons
You have to buy rear calipers separately

OE brake line not included

---
5. Wilwood 140-13476 Brake Kit – Top Wilwood Brakes Kit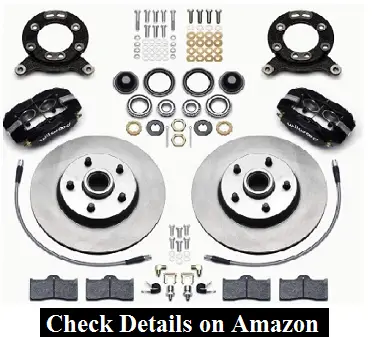 Highlighted Feature:
Forged Dynalite calipers

Cast iron rotors

Red powder coat finish

Stainless steel piston
Best for 1965 to 1969 Ford Mustangs, the Wilwood features four-piston forged aluminum calipers. They provide the most significant amount of wheel clearance compared. They also feature 11.30-inch diameter and 0.94-inch thick one-piece cast iron rotors with hubs.
Not only has this simplified installation, but it provides excellent wear resistance. Suited for a daily driver or show enthusiast, the Wilwood Brake rotor Kit hub offset moves the wheels inward or outward from the fender.
As a modified version of the Forged Dynalite caliper, it requires no modifications before installation. The kit does not fit OEM drum brake wheels. But, it's useful with power or manual boost master cylinders.
In the package, you will find left and right-hand calipers with Type III Ano finish. You will also find a one-piece hub and rotor. The rotor is plain and made of iron.
Pros
Fits Ford and Mercury vehicle models

Delivers high strength stopping power

Easy to install

Offers the most considerable amount of wheel clearance

Provides superb wear resistance and stability
Cons

---
Wilwood Brake Rotors Installation Video
---
FAQs About Wilwood Brakes
Q. How Do I Know If a Specific Brake Kit Will Fit My Car Wheels?
Answer: Every brake kit has a specific kit part number. Browse Wilwood.com and search using the part number. On the brake kit detail page, you should find a link to the wheel's clearance diagram. Use the dimensions in the clearance diagram to find out if the brake kit fits your wheels. If you need assistance, contact Wilwood sales/tech support.
Q. Do All Wilwood Brake Kits Have Both Front and Rear Units?
Answer: Wilwood offers the best standard caliper. In the package, you will find four-piston calipers, stainless steel pistons for every pad, and braided brake lines. The pistons have forged billet aluminum bodies and powder coated to enhance performance.
Do All Brake Kits Come With Installation Instructions?
Answer: Yes, they do. All Wilwood brake kits include step by step instructions. They help you install the brake kit for safer driving except for specific kits. This is common with certain custom applications. Remember, make sure the Wilwood brake rotor gets installed by professionals and experienced mechanics.
Is Buying Bigger Wilwood Brake Calipers for My Car Better?
Answer: Large brake calipers offer more clamping pressure. As such, they increase the braking performance. This is possible if the tires can transfer the brake torque efficiently. Buying big caliper pistons not suited for your car can cause excessive pedal travel.
Also, it affects the front to rear balance resulting in longer stopping distance. Wilwood brake kits are best for specific applications. Why? To maintain system balance and deliver positive stopping power. For your safety, make sure you buy the right kit for the right car model.
How Do I Determine the Pedal Ratio?
Answer: The pedal ratio is the length from the center of the footpad to the pivot point of the pedal. For example, a 1-inch master cylinder stroke has a pedal ratio of 4:1. When you apply a 100-pound push on the pedal, the force is (4 X 100 = 400 pounds) while the stroke is (4 X 1 = 4 inches). To find the right pedal assembly, visit Wilwood.com.
Are Stock Brake Lines Compatible With Wilwood Brake Kits?
Answer: No, they are not. Wilwood brake kits require 1/1/8 inch – 27 NPT adapters for stock brake lines to fit. For added strength, use #3 braided flex lines to replace stock rubber lines.
What Is the Difference Between Floating and Fixed Calipers?
Answer: Floating calipers float on pins attached to the spindle. Fixed calipers are solidly mounted on the spindle. They have outer and inner opposing pistons. When it comes to floating calipers, they have only inner pistons. They rely on external pad carrier movement to apply pressure to the outer pad.
---
Wrapping Up on Wilwood Brakes
Wilwood uses stainless steel and aluminum to make its braking kit components. Stainless steel and aluminum have corrosion-resistant properties. They have excellent thermal retardant properties, too, which keep the caliper running cool. This allows the car to run trouble-free for many miles.
The company integrates powder coating or gloss finish for durability and added protection. As such, the brake kit last long. The calipers bolt directly to the stock mounts on factory spindles. They accept OE brake lines and fit over an OE rotor.
Wilwood brake kits deliver high performance and fit a wide range of vehicles. You have the Chevrolet Corvette (1965 to 1969), Honda, Acura, and Mercury car models. The braking calipers also fit the Ford Falcon and Ford Mustang, among others.
Although not all kits fit all car models, they deliver extreme stopping power. As such, they keep you safe on the road. Also, they work perfectly with ABS functions and OE master cylinder. I highly recommend the brake kits highlighted in our Wilwood brakes review.