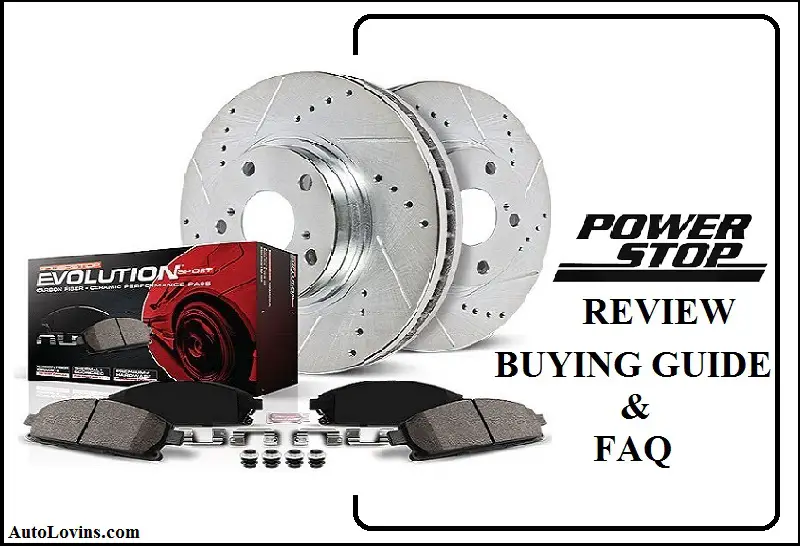 To help achieve the best brake system performance, most car owners have resorted to using power brake kits that come with high-quality components and build. These kits upgrade the braking system to allow for more load towing and operations in a wide range of driving surfaces.
At the moment, there are different Power Stop brake kits in the market. Each made for different vehicles and purposes, which makes it tricky to settle on the right one.
That is where this guide comes in. The guide is set to look into some of the top Power Stop brakes reviews and give you a detailed procedure on how to install one.
Let's get to it.
Power Stop Brake Company Overview
From 1995, Power Stop is a dependable name in the automobile parts manufacturer and distributor. After being founded in 1995, this company is working on different parts of the car braking function, including best brake rotors, top-rated brake pads, brake calipers, sensor wires and some other parts of the braking function of a car. It focuses on the braking system of different types of vehicles, including cars, utility vehicles, SUVs, duty trucks and tows, trucks, and so on.
From the very beginning of the company, Power Stop looks for improvement in quality. As a result, through thorough research and development, it offers a few great brakes for your car. By introducing its first performance brake kit, 1-click brake kit, in 2011, the company has set a standard in the automotive braking industry.
Besides, Power Stop is committed to eco-friendly practices. As a result, when you are using their brakes, you'll feel good about that.
Recommended Power Stop Brake Rotor

Top 5 Power Stop Brakes Reviews 2021 [Updated List]
1. Power Stop K6268-36 Z36 Truck and Tow Front and Rear Brake Kit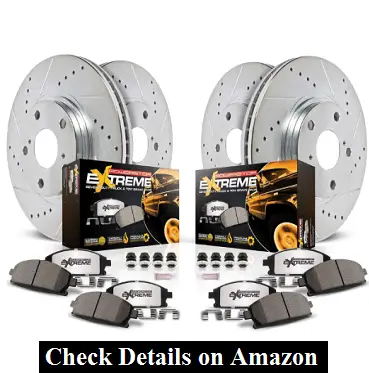 Highlighted Features:
The Z36 brake pad is made of dust-resistant carbon-fiber formulation for a dust-free brake pad use experience.

This braking kit is long-lasting as it is fitted with great looking Silver Zinc Dichromate plating that prevents corrosion and rust.

The pad is safe to use. It has rounded slots on the rotor surface that wipes away debris and gas.

The double-layered high temp rubberized shims on the brake pads cancel any noise to provide for comfortable, silent braking.
Do you operate a tow/hall truck or are you an offroad enthusiast looking for a reliable braking system? The Power Stop Z36 is the best brake rotor kit. The Z36 is designed with the knowledge that adding a significant load on a truck when hauling or towing, and vehicles with larger wheels require a steadfast stock brake operational system.
This super braking kit is made of components for better brake toque with the increase in wheel diameter and load. It comes with an extreme truck & tow brake pad for quick halts. Besides, it includes drilled & slotted rotors to reduce the heat emitted when braking.
The rotors of the Z36 are cast using the high tolerance G300 metallurgy and drill holes for rotor cooling. It also provides for dust and noise-free operations.
This brake system improves the overall braking system allowing you to use your track in the trickiest of conditions like hilly terrains and for heavy loads.

Power Stop K6268-36 Z36 Brake Video Review
---
2. Power Stop K2164 Front and Rear Z23 Evolution Ceramic Sport Brake Kit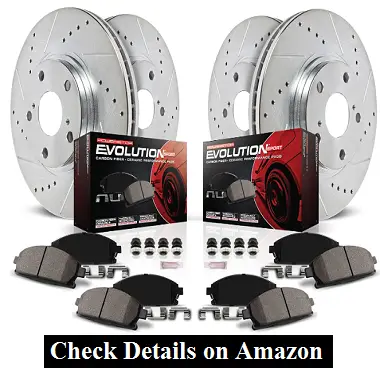 Highlighted Features:
Thermal scorched surface pads and premium rubberized shims for noise-free braking experience.
The braking system is made using top-notch Tru-Cast technology that allows for precision, aligned drill holes, balanced rotors. It also has a clear contact path and clips of the right size to provide you a superior braking system for various conditions of vehicle use.
The kit comes with pre-matched components making it easy to install.
Corrosion and rust-resistant powder-coated backing plates for durability.
What do you look for in a braking pad upgrade? Is it high performance? Or is it reliability? Whichever you wish for, the Power stop Z23 provides it all. The braking system upgrade comes with a reliable and robust braking power for daily use. It also provides a better noise and dust cancellation from your regular stock brake system.
Some of the components that allow for better performance in the Z23 are the upgraded hardware, carbon-fiber ceramic brake pads, and high-performance lubricant. The carbon fiber reinforcements on the pads provide the needed strength and power when braking.
The Power Stop Z23 is great for a range of driving experiences. Whether you are a reserved daily driver or an open road commuter, it will provide you the needed value and quality. It provides for a more pad bite without much dust or noise.
Related Post: Top Rated Fluid Evacuator Review

Power Stop Brakes Review for Z23 ( Review & Unboxing)
---
3. Power Stop K2164-36 Z36 Front and Rear – Best Brake Rotors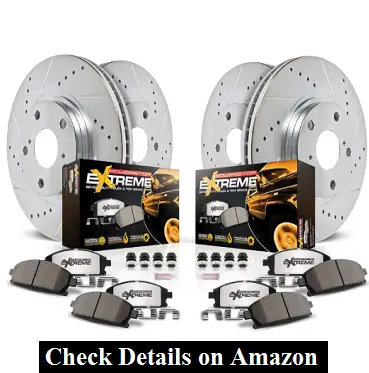 Highlighted Features:
The k2164- Z36 includes a dust-free formulation on the power stop carbon-fiber pads for dust and noise-free braking

The kit allows you to operate your truck even in extreme conditions due to the drilled and slotted rotors that allow for maximum brakes cooling

It is made of premium stainless steel shims and Silver Zinc plating for improved braking and durability
Now that you already know that operating a large truck with that hauls/lifts heavyweight and in tricky conditions requires new wheels and tires of larger diameters. It is also just right that you match the bigger diameter wheels with an equally reliable brake system for your safety and of the vehicle and goods in transit. That is where the K2164-36 Z36 Truck & Tow Performance brake kit upgrade comes in.
To improve the stock braking in your vehicle, Z36 is designed with perfectly matched, high-quality components for a torque brake needed in the wide load or diameters. It also comes with drilled & slotted rotors for heat reduction and extra stopping power for quicker halter.
To ensure a dependable braking experience, this Z36 brake kit comes with upgraded stainless steel hardware, high-temperature lubricant and new pin brushings for a revolutionary brake system.
The kits are available for Front & Rear Axle, Front Axle, and Rear Axle.

Related Post: High-Quality Remote Car Starter with iPhone App Review
---
4. Power Stop KC1683 Z23 Evolution Sport Brake Kit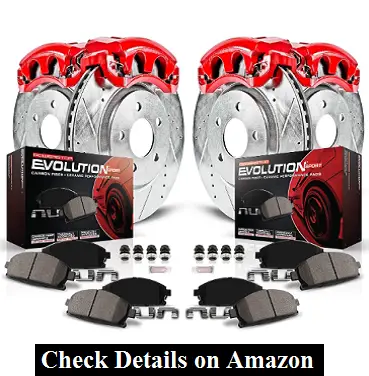 Highlighted Features:
It comes with an easy-to-clean powder coating that helps to protect against corrosion and rust to ensure durability. It also provides excellent visual effects on a vehicle

The KC1683 is fitted with all the components; bleed screws, pins and other steel hardware where applicable for easy installation and reliable performance.

The power stop rotors are drilled, slotted, and platted with precision to ensure smooth and dependable performance and easy maintenance.

This kit guarantees fast and easy braking system performance.
Are you looking to upgrade your tock braking system to improve the power of daily drive? Or do you want to increase your vehicle's braking experience? Or both?
Well, the Power Stop KC1683 Z23 is the best solution.
This brake kit provides all you need in a braking system. It comes with a Carbon-fiber ceramic formula for an excellent dust-free braking performance. You don't have to worry about the heating braking system due to the drilled and slotted rotors. Noise is also not a concern as the premium rubberized shins eliminate it all.
Investing in this kit is money well spent as you are assured of durability provided for by the zinc plating on the rotors and stainless hardware build.
The inclusion of the red-coated calipers on this kit provides an advantage over the stock braking system as it is lubricated to absorb a lot of pressure for a faster halt. It also looks great for the aesthetic effects on the vehicle.
Related Post: Top Rated Recovery Boards Review

Power Stop Brakes Review for Z23 Evolution Brake Pads 
---
5. Auto specialty (KOE5828) Daily Driver OE Brake Kit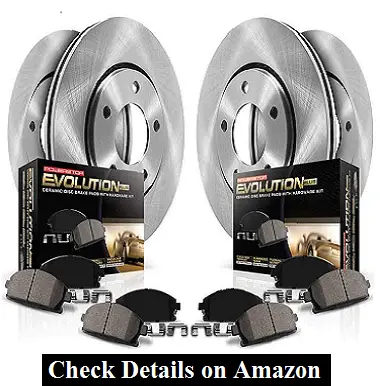 Highlighted Features:
The brake kit is made of high-quality stock replacement that can fit all vehicles
All the hardware components are pre-aligned and set in place to ensure faster installation
It comes with a clean ride ceramic formula for dust resistance and brake pads for noise-free operations
KOE5828 should be a top consideration for anyone looking to upgrade their vehicles' brakes. This high-performance brake kit is made of high-quality evolution ceramic brake pads, replacement brake rotors, and stainless steel installation hardware to provide you the right performance. It comes preinstalled making it easy and fast to install. Besides, the kit is relatively affordable.
Produced by one of the most reputable manufacturing companies, KOE5828 guarantees safe, problem-free brake upgrade, with maximum reliability and performance.
The OE replacement rotors are well aligned and balanced using the Tru-Cast technology for the direct and precise replacement of the vehicle equipment. They are made with the highest industry standards for trouble-free operations.

---
Power Stop Brake Kit Buying Guide 2021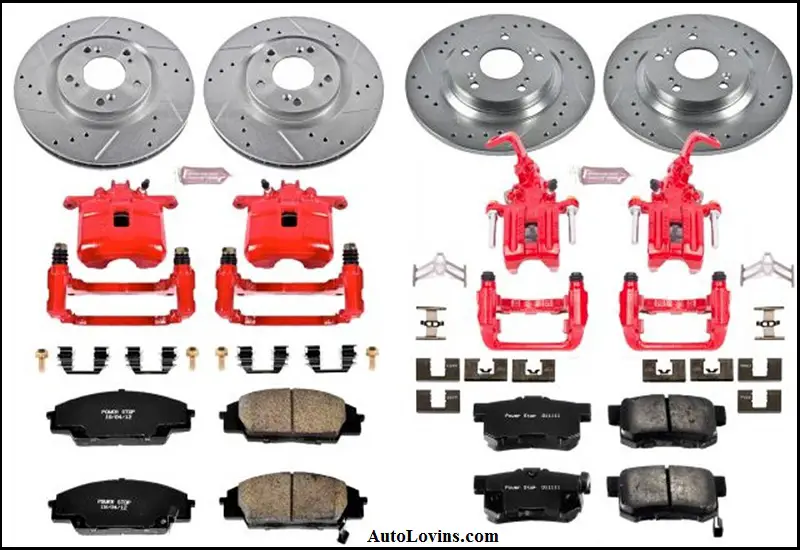 While going to buy the best brake rotor, you need to keep some things in your mind. As quality brake kits ensure safety, you'll have to be careful at the time of selecting one. Let's know which things to consider while buying brake rotors.
The brand is a good fact when you are buying brake kits. There are a few brands that offer significantly developed brake kits than others. So, the goodwill of the brand is important. When you search for some popular brake kit brands, you'll see PowerStop in the top few of the list. There are some other great brands like Max Brakes, Power Sport, R1 Concepts, etc.
The brake rotor material is something that you can't ignore. Though all the brake kits come with rotors that are made of strong and sturdy materials like cast iron, iron, aluminum, carbon, etc., there are some differences too. You'll have to study and find out which one supports your purpose best.
Brake pad material is similarly important. Pads come in different types including ceramic, carbon-fiber ceramic, low-metallic, semi-metallic, etc. Each has its strong points that you can't ignore. All you need to know is whether it serves your purpose or not. Carbon-fiber ceramic ones serve better.
Anti-corrosion Protection
Normally the friction areas of the brake rotors remain safe from corrosion and rust. But the remaining area is not safe, and rust can attack any time. As a result, the rotor becomes weak and breaks easily. If you want to be safe, you'll have to maintain those regularly. But a rotor with anti-corrosion protection won't demand much maintenance. So, I prefer choosing rotors with anti-corrosion protection. I think you prefer that too.
Brake rotors come with different patterns. Some are plain, some have drilled holes, some rotors have slots, and some have both. Before buying, you'll have to know the purposes of those patterns.
Plain rotors are regular replacement of OE rotors. Drilled holes keep the rotor cool. As a result, drilled rotors are better for a driving situation that needs extreme braking applications. Slots keep the surface dust away from the rotor and allow the pad to stop the rotors quickly. Know more about the patterns and choose one that supports your purpose.
Complete Set, Pair or Separate
Brake rotor kits come in different types of offerings. You'll see the complete set of four, or a pair for front or rear side, or sometimes a single kit. Depending on your needs, you'll have to choose. If you are looking for upgrading only the rear brake kits, you won't have to choose a complete set.
But I have a recommendation. Try to change the axel pairs at the same time. For example- change both of the front brakes or both of the rear brakes at the same time. It may seem costly, but it keeps the rotors and axle safe and wear-free.
These are the most common things that you need to think of before buying brake kits. Besides, you should look at the price, user recommendations, ease of installation, etc.
---
How to Install Power Stop Brake Kit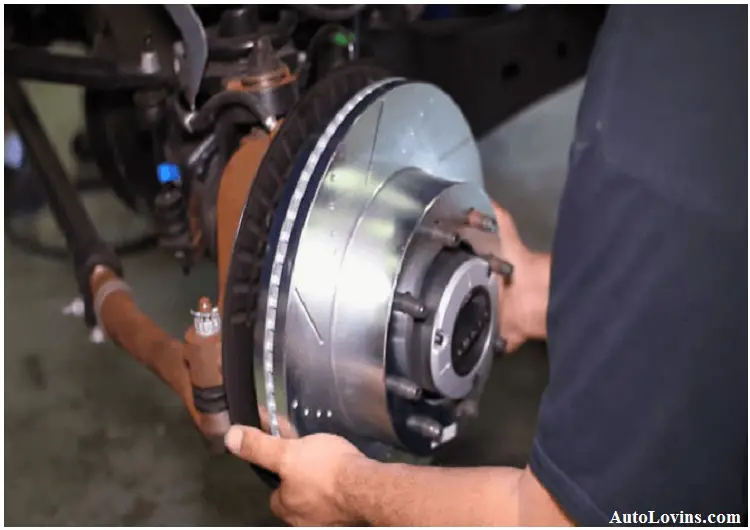 Most car owners dread taking up maintenances routines like changing brakes. Most avoid it for the lack of knowledge, and others find it quite taxing. Installing a power brake kit is not as hard as it might seem, and mastering it will help you save some cash.
Here is the step by step guide to help you install the power stop brake kit from start to finish.
Assemble the Necessary Tools
Installing a power stop brake kit requires preparation that involves assembling the necessary tools you will use during the process. While some are essential tools that you already have in your toolbox (it wise to keep one), others might be costly to purchase. It is a worthy investment, though, as you will get to use these tools for future projects. Some of the tools are:
Floor Jack – Most car owners know of the typical jack used for lifting tires. For power stop brake installation, you will need a floor jack that can raise more than half of the weight of the car.
Jack stand – You need a jack stand to keep the vehicle suspended once it's raised on air.
Brake tool – This is the tool that sets the new brake caliper piston into position. It is safer to use compared to other methods of adjusting the caliper piston.
Brake grease – The grease is used as a lubricant between the calipers and the pads.
User manual – Every brake kit comes with a user manual to use during installation. You can always refer to the manual whenever you are in doubt or if it's the first time you are going through the process. When you miss one, you can always check online for a copy from the manufacturer.
Have a checklist to ensure that every tool is available before starting the process. You are free to begin the process once you have the tools.
Get the wheels off the ground
Park the car and ensure you block the rear wheels to prevent it from rolling when jacked up. Loosen up the lug nuts on the wheels until they lose resistance but don't fully let them out. Use the jack to raise the car and apply the jack stand for support on a flat surface.
You can now remove the lug nuts and the wheels one at a time. Take caution in case of faulty jack stand by placing the wheel below the front center of the car.
Assess the state of the component
You should first assess the brake components to determine the extent of the work you have. Check the state of the caliper, pads and rotor. Proceed to remove the bolts holding the calipers together to remove it out from the rotor. Using a coat hanger, place the caliper inside the wheel to avoid breakage, and then remove brake pads and the remaining bolts from the caliper. Clean any dust or rust inside the rails where the caliper contacts the pads.
Use a mallet to loosen the rotor then remove it and measure its thickness.
Review the hardware and replace all the worn-out ones to reduce cases of poor brake performance and noise. Clean the contact points between the hardware sides and the caliper rails using a wire brush to avoid rusting and corrosion.
Use a mild soap and wipe to clean the rotor and sandpaper for finishing remove all debris.
Lubricate the edges of the brake pad using then mount the new rotor and the caliper bracket to the spindle knuckle. Make sure you lubricate the right points to avoid braking noise later on.
Once the caliper is in place, you can reinstall the brake pads making sure it is pressed on the back to allow space for rotor movements. Align the bolt holes over the caliper bracket and piston.
Once the rotor, calipers, and caliper blades are in line and fasten, you are free to bleed the brakes to remove all the air and the space taken up by fluids.
Proceed to replace the wheels and the bolts and return the car to the ground. Tighten up the bolts with the wheels on the ground.
Power Stop Brake Installation Guide (Practical Video)
---
Frequently Asked Questions About Power Stop Brake
Can I use OE Equipment to come in my car with PowerStop products?
Yes, you can. Power Stop has made all its brakes and other parts keeping similarity with OE specifications. As a result, when you are using Power Stop products with your OE equipment in the car, these won't create any hassle for you.
Power Stop has actual OE replacements of different vehicles too. Those work great. So, don't worry about using Power Stop products with OE equipment. Just make sure that you are choosing the right one.
Does the brake kits from Power Stop offer conversion on rotors size?
No, power Stop brake kits don't offer converted rotor size.
For the ease of installation and using, Power Stop offers brakes that come in the exact size of the OEM rotors that come with the vehicle. Not only the rotors but also other components come following the exact size of OEM components. This ensures safety too.
Why do you make better brakes for tow trucks?
Not only Power Stop but also all other brake manufacturers suggest and manufacture better brakes for tow trucks. The reason is- weight. Tow trucks need to pull extra weight, and sometimes the extra weight is huge. It needs better braking capability to handle the extra weight. Besides, larger wheel combination needs more weight handling capacity. That's why it is better to use upgraded braking kits in the tow trucks.
Should I use Power Stop Z26 for a daily driver?
Using the Z26 kit for a daily driver is not mandatory. Z26 is designed and manufactured for muscle cars. If you don't use any muscle car, this is not a must.
However, you can use the Z17 evolution coated brake kit if you want the exact performance as your OE rotors. But if you are searching for an upgrade, choose Power Stop Z23. This kit is the upgraded kit for daily drivers in which the rotors are both drilled and slotted. It will be good for you.
---
Final Words
A reliable braking system is essential for all vehicles. Whether you are operating a personal everyday utility car or a commercial truck and on whichever environment, having an unfailing power stop brake is the best way to ensure your safety. By reading this power stop brakes review, you can quickly settle for the best Powerstop brake kit and proceed to install successfully.
Have a nice journey!
Related Post: