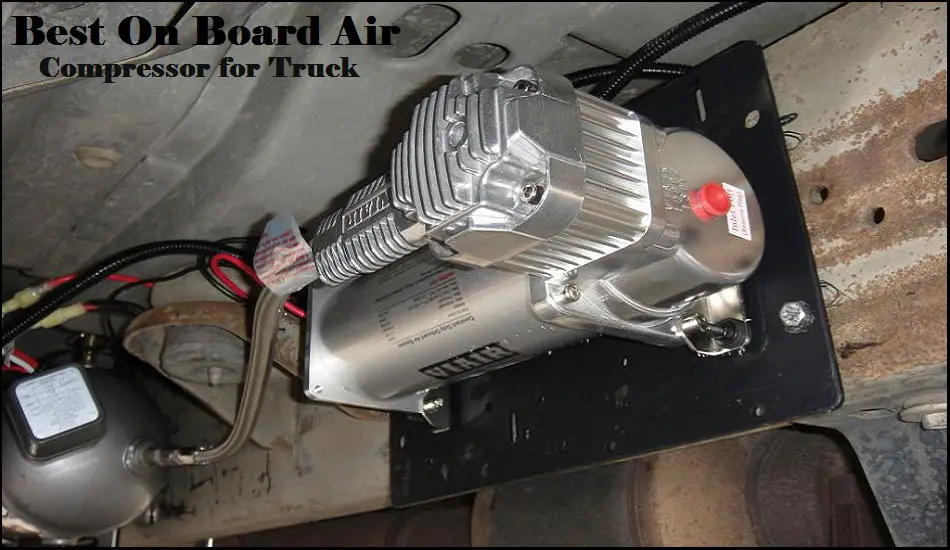 An onboard air compressor is a must. It helps you when you're stuck somewhere with deflated tires. It also supports you when you need to blow the air horn. It can help you with inflating your camping gears too.
So, you can see that by having the best onboard air compressor for a truck installed in your vehicle, you can get a lot of benefits. Now when you're ready to invest some bucks in something like this, a question comes- which one is the best?
I know you're stuck in this stage and now don't know which one to pick. For you, I've made a list of the top 5 heavy duty best air compressors suitable for trucks which can meet your need. I've picked the compressors in this list from my study and experience with these. So, I hope anything from this list will be a good pick for you.
I've also added a buying guide and some frequently asked questions related to this. So, let's don't waste time in the intro and check out the compressors which I think can be good options to meet your need.
Top 5 Best On Board Air Compressor for Truck Review 2021
1. ARB CKMA12 Air Compressor High Output On-Board 12V Air Compressor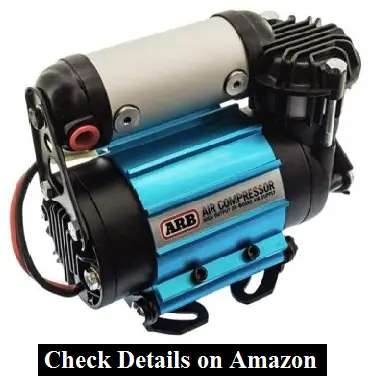 Among the onboard air compressors, this one from ARB is something that is praised by almost all professionals and users. It can also be used as a portable air compressor without installing it in your vehicle. It is constructed as lightweight and strong in order to deliver excellent performance to the users.
It can provide pressure of up to 175 PSI which is good enough for activating air locker or inflating tires and camping gears. Coming with an over-pressure safety valve, it ensures safe operation. Safety and protection are also ensured by the heavy-duty maxi-fuse. Again, the motor comes with internal thermal protection to be secured from extreme temperature damage. So, overall, this is a safe air powerhouse under your hoods.
The entire air compressor is made of high-grade engineering materials which are also lightweight. As a result, it is very light yet strong from the core. It is sealed properly to stay safe from moisture and dust. The piston seal is made of Teflon-impregnated carbon fiber to ensure performance and durability.
To reduce friction and keep it stable, the cylinder bore is hand-anodized. The mounting brackets are also anodized to disperse the motor heat. The brackets also allow you to reposition the air compressor at 180 degrees if you feel the necessity.
Overall, this is a great onboard air compressor that is also easy to install. It is quiet and compact enough to fit in tight spaces under your hood. It is fast enough to inflate up to four 35" to 37" tires in a particular duty cycle. Do you need more?
Comes with a lot of safety features

Compact and lightweight yet strong and fast

Doesn't make a huge sound

Made to be durable

Can also be used as a portable air compressor
The alligator clips are a bit small

---
2. VIAIR Constant Duty Onboard Air System – Best Air Compressor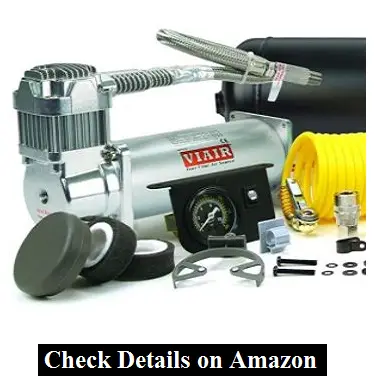 VIAIR has offered this Onboard Air System that comes with everything you need in a system that can inflate tires. You won't have to buy a single thing separately. It is designed and manufactured to be mounted on your vehicle and do what it is supposed to do. Let's know more about the system.
This Onboard Air System has a 450C compressor, an air tank of 2.5-gallon capacity, and all other necessary components to install it and make the system work properly. So, as soon as you receive the package, you can install it without any further delay.
With a maximum working pressure of 150 PSI, where you'll get a 100% duty cycle at the pressure of 100 PSI, this system is designed to inflate tires with up to 37-inch diameters. As it comes with the capability of providing uninterrupted service for at least 1 hour, you'll have enough time to inflate all your tires together. It is so quiet that you won't be disappointed if you're looking for something that doesn't make a huge noise.
There is a long air hose that can reach to all your tires. You'll also find a pressure gauge coming with an on/off switch. With all the necessary components, it comes with an owner's manual that includes everything you need to know about it, the installation process too. So, you won't struggle while installing the system in your vehicle.
Everything that needs in an air compressor system

Big enough to support inflating tires of up to 37 inch diameter

Compact enough to fit in the vehicle

Installing is easy as it comes with manual

Quiet comparing to a lot others

---
3. VIAIR 20185 Dual Stealth Black 485C Onboard Air System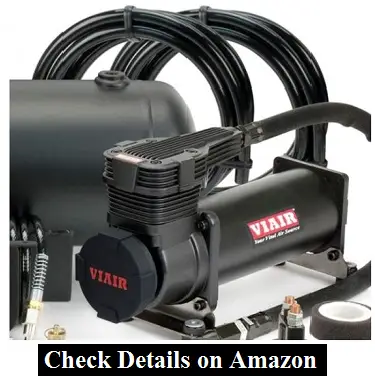 This is another Onboard Air System from VIAIR that I personally love. It comes to ensure better performance than the previous one discussed before. Let's know what's more it can offer you.
This air system comes with 2 pieces of 485C VIAIR air compressors. A 2.5-gallon air tank is also included in this system. To make the task of inflation easier, it comes with a digital inflation gun. The illuminated gauge kit helps you to check the pressure at night too. So, having one of these kits installed in your vehicle will allow you to get rid of tire deflation at any time.
There is a pressure regulator that allows you to control the pressure from 0 to 220 PSI. You'll get a 100% duty cycle from it at 200 PSI. So, comparing to the previous one from VIAIR, it'll inflate your tires more quickly.
I love the remote air filter system of it, which allows you to remove the air filters and store those on a dry location. Thus, your air compressor will be safe from contaminants that stay put on the air filter because of the weather condition.
It comes with all the components that you'll need to install the whole system. Depending on the model of your vehicle, the components may vary. But, you'll find the most commons in the package. Installing it won't be a hassle at all.
Comes with 2 air compressors

Supports tire inflating and other air related tasks

Comes with huge capacity

Can inflate quicker than most other onboard air systems

Removable air filters

Viair Heavy Duty Onboard Air System Video Review
---
4. Wolo (860-C) Air Rage Heavy-Duty Compressor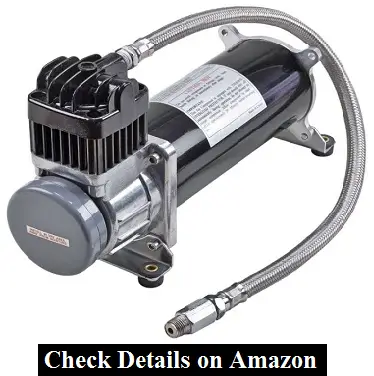 If you're looking for only a compressor that can adjust itself with your onboard air system, this air compressor from Wolo can be a good pick. It is designed to be a replacement air compressor for medium-large applications. So, as an onboard air compressor, it'll help you a lot.
The 3.5 CFM pump helps you to carry out the task quickly and efficiently. So, if you're in a hurry, it won't disappoint you. It has a 12 Volt heavy-duty and permanent magnet motor that works precisely to deliver the expected performance. To reduce vibration, it comes with strong rubber bushing which is mounted into the base.
The cylinder and the head of this pump come with a cooling fan that ensures a 100% duty cycle even in long tasks. It ensures a maximum of 120 PSI air pressure.
There is an extra-long feeder hose made of stainless steel. It helps you to get access no matter how and where you install the compressor. Besides, it also ensures durability. The metal mesh air filter and quality brass fitting also add value in durability.
It comes with an installation instruction, mounting hardware, and an air filter. If you face any problem with installation, check the instruction and follow them properly.
Strong enough for performing different tasks

Strong and durable

Oil-free and heavy-duty permanent magnet motor

5 CFM strong and durable pump

Cooling fan included design
Could be a bit more durable

---
5. Air Lift 25980 88204 Set of Wireless One Single Path On-Board Air Compressor System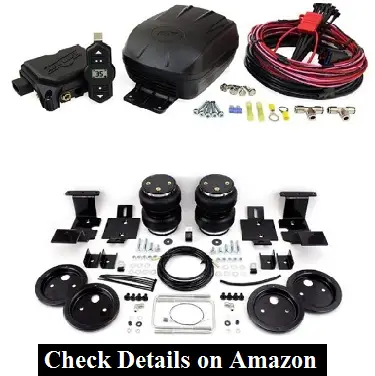 If you own 2007-2019 GMC Sierra 1500 RWD/4WD or 2007-2019 Chevrolet Silverado 1500 RWD/4WD and are in need of an onboard air compressor system, this one may catch your interest. This is a wireless type air compressor system that allows you to get your vehicle lifted properly.
It comes with a wireless remote that allows you to have the comfort of controlling it from a distance. Also, you'll find a mobile app that also allows you to have this comfort. The mobile app allows you to save three programmable memory settings for quick lifting too.
With this device installed in your truck, you can lift up to 5000 lbs. Both air springs in this system are deflated/inflated equally. So, there is no scope for losing the balance. When the bags are empty, they are safe from damage because there is a jounce bumper inside the bags. If you are someone who wants to get the most benefit out of lifting the truck to ensure riding comfort, buying this won't disappoint you.
As this is a wireless air compressor system, you won't have to pull airlines to the cab. So, installing it is not a big deal- I must say. The instruction manual comes with a package that can show you the way. Also, you'll find the mounting brackets and other hardware included in the package.
Can be controlled with mobile app

Capacity of lifting up to 5000 lbs

Installation is easy

Bags come with damage protection

Value for the money
Can't be used for other applications like inflating tires or activating air lockers

---
Best Onboard Air Compressor for Truck Buying Guide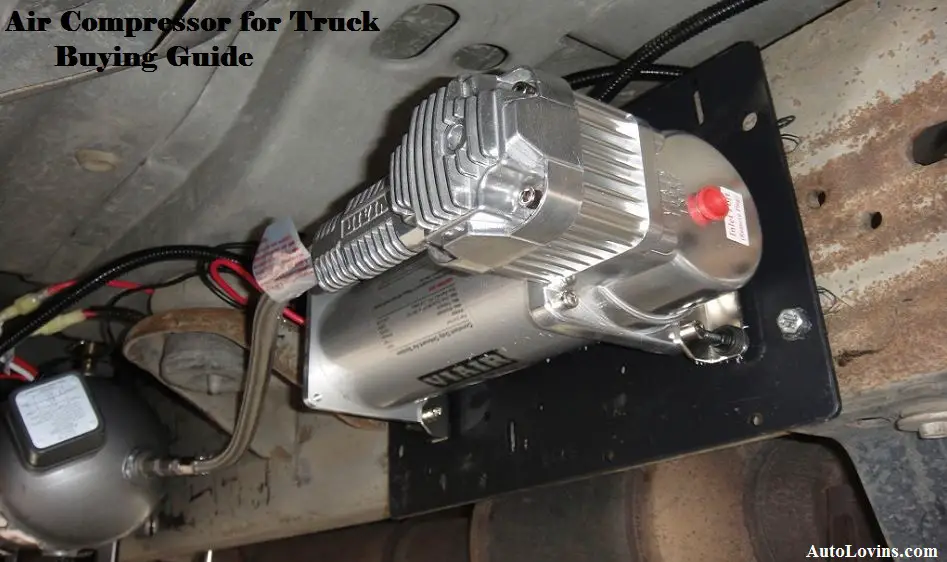 Air compressors are of different types and sizes. When you'll search for an air compressor, you need to ensure that it fits your vehicle and fulfills your need. So, if you're looking for Heavy Duty Onboard Air Compressor, you need to keep a few things in mind. Check the buying guide below to know those.
Different types of air compressors are made for different types of tasks. Some are made to activate air lockers, some are to inflate tires, and some are for both. Also, there are some air compressors that are made for lifting the vehicle. So, while selecting one, you need to make sure that the tool meets your requirements. Buying a lifting air compressor when you need one for inflating tires won't help you.
Capability of the Compressor
It is important to make sure that the air compressor can meet your requirements efficiently. If you're buying one for inflating tires, make sure that it can inflate all your tires within the shortest possible time. The PSI rating, tank size, etc. matters when you're measuring the capability. If you're looking for one to lift your vehicle, make sure that it can lift the weight you generally carry in your truck.
When you're buying top-rated off-road air compressors, you need to make sure that the size is compact enough to fit in the space allocated in your vehicle. This type of air compressor comes with a fitting chart that includes the vehicle models it'll fit in. You need to check it before selecting to buy.
Installing an onboard air compressor in your truck will add some weight. So, while picking an air compressor for on board installation, make sure that it is as light as possible so that your truck can handle the weight easily.
With an onboard air compressor installed in your truck, you'll ride a long way. So, you need to make sure that the compressor is strong enough to withstand your driving conditions. It needs to be strong, durable, and perfectly mounted. The mounting options should be convenient as well as strong so that it stays in its place.
An onboard air compressor needs some effort to install. So, while picking one, you should check for the one that has a comparatively easy installation process. This may help you to save some bucks. However, don't compromise with other things to get an easy-to-install tool.
You also need to consider the price, user experience, noise level, sealing, etc. to find a perfect onboard air compressor for your truck.
---
 FAQ's About Top Rated Off-Road Air Compressors
Can I install my portable air compressor as on-board one?
All portable air compressors are not suitable for delivering onboard performance. Those are not weight-optimized, and installable onboard. There are more problems associated with it. So, you can't use your portable air compressor as an onboard one. But some onboard air compressors come with the scope of using both as a portable type as well as onboard type.
Does it matter where I install my onboard air compressor?
It doesn't actually. Depending on space and scope availability, you can install the onboard air compressor anywhere. Some trucks come with a specific space for it. However, while choosing the place, make sure that you're installing it somewhere which is less prone to shakes.
Is it important to buy a perfectly sealed air compressor?
The onboard air compressor is exposed to a lot of outside elements. So, if you want to make it long-lasting, you need to buy a properly sealed one. If it is not sealed properly, dust, dirt, or other particles can enter inside and make the situation completely hazardous.
How to Install Heavy Duty Air Compressor on Truck
---
Final Verdict
My job is to suggest to you some of the bests I've faced and your job is to pick one that matches your expectation. So, now it is time for you to select one. The best onboard air compressor for the truck I've suggested here are some of the best-performing ones according to my experience. So, picking one from this list won't dissatisfy you at all.
The suggestion is mine, the decision is yours. No matter which one you pick up, just make sure that it is fit for delivering what you expect from an onboard air compressor.