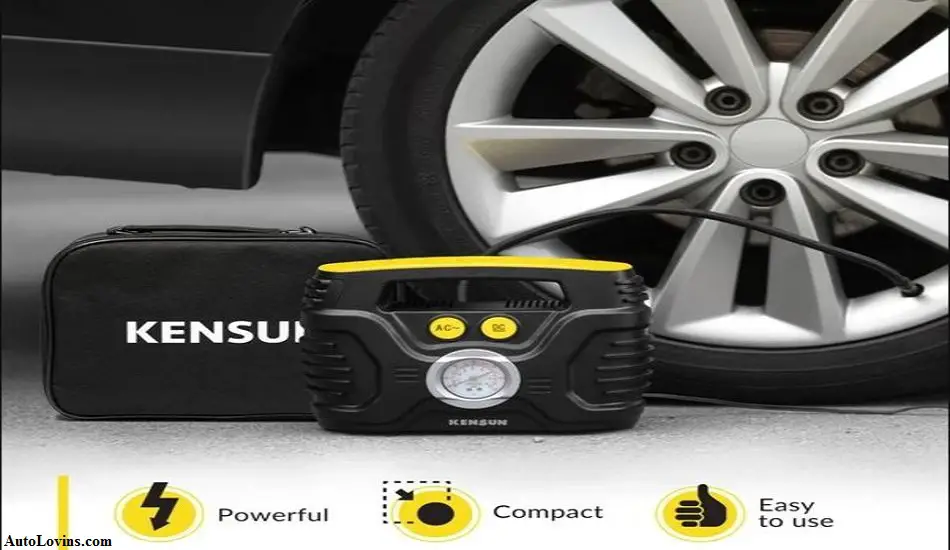 A portable air compressor pump can be a great company for you. Starting from inflating your outdoor swimming pool to beach ball- you can use it to inflate any inflatables if you have the right nozzle.
But probably the most important use of it is inflating a car tire. Portable compressor pumps are easy to carry and store. So, people keep one while driving for a long journey, even in small road trips too. Also, it is very useful for home garage owners too.
Among the best portable air compressors available in the market, you'll find a few from Kensun. Kensun is a comparatively new company in this race, but in spite of being new, it has already made a name as a dependable one. It mainly focuses on producing lights and accessories. Kensun air compressors are compact and lightweight, yet filled with a handful of useful features.
Here in this article, I'm going to talk about a few portable best air compressors from Kensun. Coming under one of the most dependable names in this industry, these are some reliable tools at the time of your need. Go through my Kensun portable air compressor reviews. Maybe you'll get that one that you are looking for.
---
Kensun Portable Air Compressor Reviews 2021 [New Update]
1. Kensun Portable Air Compressor Pump for Car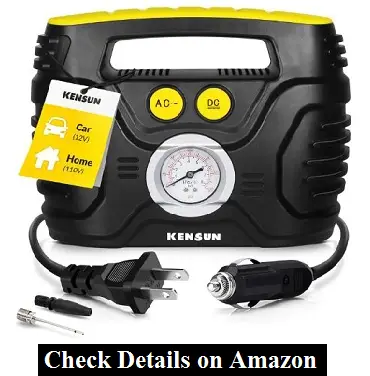 When you are looking for an air compressor pump for your car, this high-quality and powerful yet compact compressor from Kensun should be your first choice. It comes with a handful of features which will blow your mind.
It has two solid metal motors. The motors have made it super powerful so that it can get the job done very easily and quickly. It can be powered by both AC (110V) and DC (12V) connection. So, no matter you are at home or stuck at the middle of the road, it will always be there to help you. Don't worry about carrying it in the car. The compact size allows it to fit in minimum space. So, you can leave it at any corner of the vehicle's trunk.
This is a multi-purpose air compressor pump from Kensun. Besides inflating your car tire, you can use it to inflate tires of bike, sedan and mid-size SUVs. Also, ball and other inflators can be inflated with the help of this. Adaptors for inflating ball and other inflators are also included in the package.
The air hose and accessories are screw-on types. This feature ensures stable connection while inflating. There is a classic bright pressure gauge to help you with the reading. It can measure up to 100 PSI. It is large enough to read easily and packed with unit conversion (KPA/PSI/Bar).
It has separate storage for air hose, power cords and other accessories. For easy carrying, it comes with a strong built-in handle. You'll also find a carrying bag comes with to ensure protection from dirt. The bag too has a handle for carrying support.
Two different motors for different power source

Screw-on hose

Easy to carry

---
2. Kensun AC/DC Digital Tire Inflator for Car – (All-Rounder)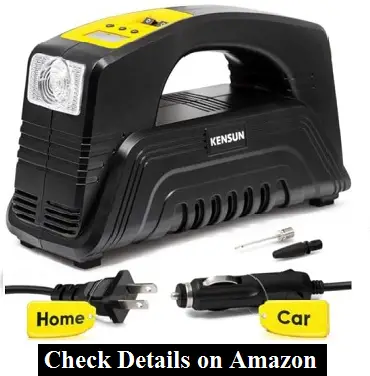 From Kensun, another best tire inflator for car is this one. Being packed with a wide range of user-friendly and important feature, this can be your perfect companion at the time of inflating your car tires.
Inside the inflator, there is a powerful 120W solid metal motor. This motor allows you to get the tire inflated quickly by pumping at a speed of 30 liters per minute. It can take power from both 110v home connection as well as 12V cigarette lighter plug of the car. So, home or road, no matter where you are, you are getting its support.
This programmable air compressor allows you to set the expected pressure before starting. When the expected pressure is reached, it will automatically shut of inflating. As a result, your tire remains safe from overpressure.
To help you performing the whole process, it comes with large and bright LCD display with unit conversion (PSI/KPA/Bar) and control buttons. The LCD display comes with a backlight so that you can see the reading properly even at night. For night operations, another helpful feature is the bright LED light. For carrying ease, it comes with a comfortable handle too.
Besides car tires, tires of other vehicles like cycle, bike, mid-size SUVs and different inflatables can be inflated with the help of it. The good thing is- it comes with accessory nozzles for those too. There is an accessory storage in it where you can keep the nozzles safe. There is also storage for air hose and power cord.
However, if you are thinking of the storage of the compressor itself, don't worry. It is compact enough to fit in a corner of the trunk or driver's cabin. To keep it safe from dust and dirt, you'll get a zipped carrying bag.
Powerful 120W solid metal motor

LCD display with backlight

Auto shut-off feature
Bottom storing of the cables is a bit annoying, especially in mud

---
3. Kensun AC/DC Power Supply Portable Air Compressor Pump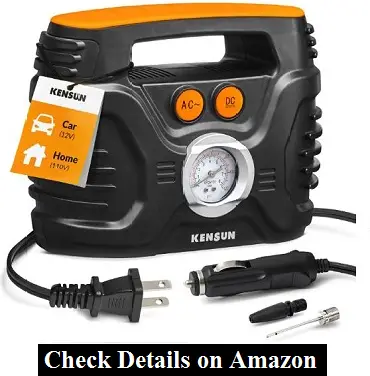 This lightweight and compact air compressor pump is perfect for using in your garage as well as in the middle of the road. To help you with tire inflating anywhere, it supports both 120V home outlet as well as 12V car cigarette lighter outlet. Thus this portable air compressor makes tire inflating easy, at home or at anywhere.
To ensure convenience and ease while working, it comes with long air hose as well as power cord. The black woven air hose is 31.4 inch long. The DC cable is 9 ft. 2 inch long while the AC cable is 9 ft. 10 inch long. To minimize air loss to zero, the hose comes with screw-on type lock. The visible analogue pressure gauge also ensures convenience by showing accurate result.
Besides inflating car tire, it ensures easy inflation of tires of bike, cycle, mid-size SUVs etc. Also, other inflatables can be inflated too with the help of this. Additional nozzles for those inflatables (needle and extension nozzle) also come with the compressor.
Don't worry about losing those nozzles. You'll find storage for these on the body of it. There is storage for air hose as well as power cords too. As a result, you can store the compressor without creating a mess. Storing it doesn't require a huge space. It is not so big in size. So, it can take rest in a corner of the car truck or on the shelf of your garage.
You won't have to get any hassle while carrying it. The handle is pretty comfortable for your grip. You'll get a carrying bag with it. The bag has a comfortable handle also.
Looks strong and compact

Lightweight

Easy and convenient storage

Video Review for Kensun Air Compressor
---
4. Kensun Multi-Use Best Tire Inflator Portable Car Air Compressor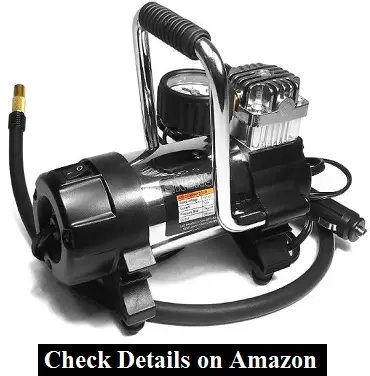 From Kensun, this is a 12V DC air compressor which you can use with the help of the cigarette lighter plug of your car. If you are looking for some kind of compressor to inflate your car tire while in the road, it can be a good choice for you.
The advantage of this top-rated tire inflator is it can be used for a wide range of tasks. From bike tires to heavy-duty car tires, name it and it will do that for you easily. Also, you can inflate other inflatables with the help of this, just like the other compressors from Kensun. You'll get three different nozzles with the package.
The ultra-quite motor helps this inflator to handle the heavy tasks easily. When it gets the power from the source, it ensures pumping at around 25L per minute. Thus it does its job at super speed. To reach the tires easily, it comes with a 9 ft. 10-inch power cord and 2 ft. 7.5 inch air hose.
The easy to read pressure gauge shows you the pressure in two different units- PSI and BAR. It can measure up to 100 PSI and 7 BAR. To prevent mess while working, it comes with rubber feet. These reduce vibration as much as possible and keep it stable and working.
Only 4 lbs. weight has made it lightweight. Thus, using it has become super convenient. The strong and easy-grip handle increases the convenience. For easy storing inside the vehicle, it comes in a compact size. With the package, you'll get a carry bag also.
Rugged construction

Rubber feet

Quiet motor
No storing option for cords

---
5. Kensun 12V DC Portable Air Compressor Pump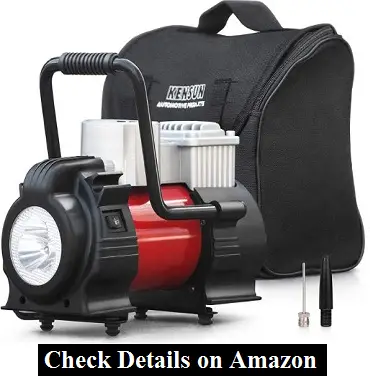 This is another one from Kensun that is specially made for getting powered through the vehicle engine. This 12V DC compressor is designed to get power from the cigarette lighter plug. It is a rugged yet compact and lightweight best tire inflator that you'll love.
It comes with a 150W solid metal motor inside. The motor completes around 4200 cycles per minute and thus pumps around 35L/min rate. As a result, it can inflate different range of vehicle tire as well as any other inflatables at super speed. For ensuring comfortable inflating tasks, it comes with adapter nozzles as well as built-in storage for those.
To make sure that your tire doesn't over-inflate, it comes with the feature of auto shut-off. With the help of the digital pressure gauge with LED display and three convenient buttons, you can set your desired pressure. When the desired pressure is reached, it will automatically stop inflating. The display shows air pressure in three different units- PSI, KPA and BAR.
For convenient night operation, the display comes with bright digits. You'll find a bright LED work light at the front side which also helps you at night-time inflating tasks. For ensuring convenience in working, it comes with four rubber legs. These legs prevent vibration and ensure a quieter environment as well as stable performance. Carrying comfort is ensured by strongly built convenient handle.
The combined length of the power cord as well as the air hose allows you to reach the rear wheels easily. The power cord is around 3 m long. The hose is also enough long. You'll see a special slot of storing the hose safely when it is not in use.
As it comes in a compact size, keeping it at any corner of the vehicle is not a problem. A durable carrying bag comes with it. So, you can easily keep it away from dust and dirt.
Comes with LED work light

Automatic shut-off

Rubber feet keeps it in place
Sometimes it goes over the set pressure, maybe 1-2 PSI

---
6. Kensun Programmable Portable Air Compressor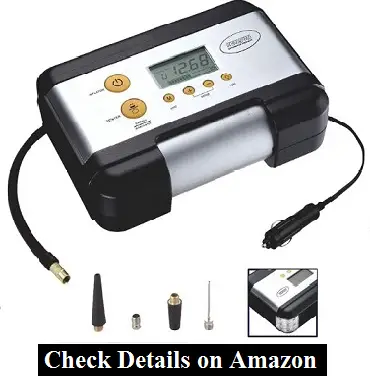 Maximum power is a minimal size box- this is all Kensun offers you through this portable and compact air compressor. So, don't get fooled at the first look. It can do way more you'll think when you'll see this first.
The best thing about this compressor is- it is not just a compressor. It comes with the ability of testing the car battery as well as alternator. So, you can check the battery health status and actual cold cracking capacity.  Also, connecting to the cigarette lighter plug, you can check the situation of alternator.
This air compressor gets powered through the cigarette lighter plug and inflates your vehicle tire at a maximum of 35 litres per minute speed. With the help of the 10 ft. 4 inch clack woven hose, it can easily send the air to the rear wheels.
Besides wheels, it can inflate other inflatables too. For this purpose, it comes with 3 different nozzles. There is a built-in nozzle storing space too. The storing capacity for hose and wire is also available.
For ensuring convenience, it comes with a digital pressure gauge with an LCD display. The display comes with a soft backlight which ensures visibility at night. It also has a LED light that makes the workplace enlighten so that you can do your task easily. You'll find 6 buttons to control all the operations that can be done by it. With the help of these, you can adjust your desired pressure and let this do its work. After reaching the desired pressure, it'll automatically stop inflating.
The anti-vibrant feet keep it stable while working. Thus, after setting the expected pressure, you'll get a total hand-free inflation. A convenient carry bag comes with it. You can put it in the bag and keep it at any corner of the vehicle. It'll take only a small space and won't bother you.
Battery and alternator testing feature

Automatic shut off

Setting desired pressure

Kensun AC / DC Portable Air Compressor Unboxing
---
Final Verdict
Getting a Kensun AC DC air compressor pump in your car means you have a friend with you who can help you with unwanted situations like flat tire. Coming with some awful features, these are something that vehicle owners look for. So, you can give a try too.
In that case, I hope my Kensun portable air compressor review will help you to pick the right one for you. If you face any confusion, feel free to comment.