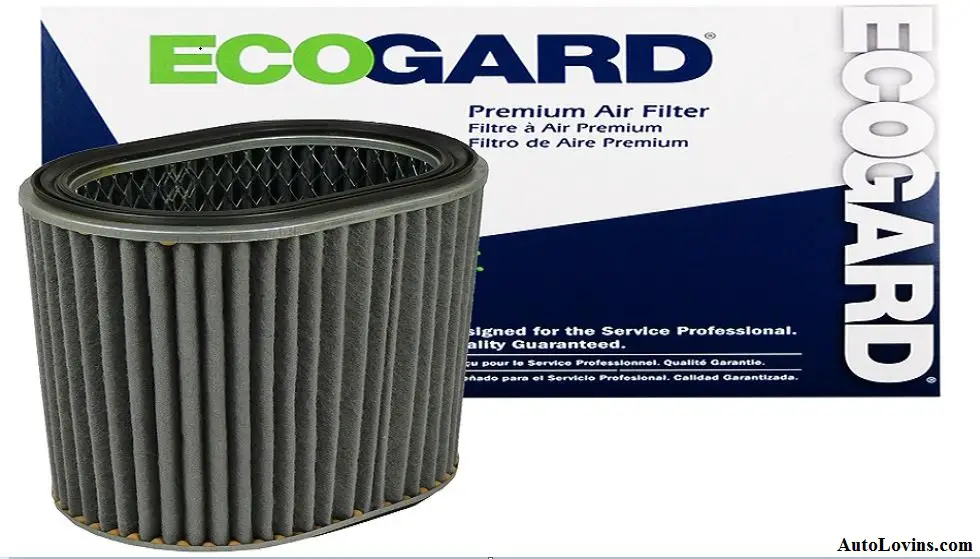 In today's vehicles, one of the most replaced parts is the engine air filter. For the engine to function properly, there's no substitute for the air filter.
Why? Because your car engine needs a lot of air to breathe and to function properly. That's why that little box that looks like a cheap accordion is actually a really important thing to consider.
Now, you might think that wait, this sounds too convenient. But honestly, it's not.
You definitely need the best air filter that you can buy from the market which will keep your car engine at its best shape.
That's why we have decided to present this Ecogard air filter review to help you find the best-suited air filter for your vehicle to keep it in shape.
Without further ado, let's get started with the reviews!
Top 5 Ecogard Air Filter Reviews 2021 [Updated List]
1. EcoGard XA10304 Engine Air Filter
The name says what's the product compatible with. You can use this premium quality EcoGard XA10304 air filter on Jeep Cherokee 2.4L 2014-2019 model and Jeep Cherokee 3.2 L 2014 to 2018 model. So, it's a really hard found product.
Now, why not a universal engine filter, why a specific one starts this review.
It's because jeep Cherokee is one of the most widely used off-road vehicles. And when it comes to off-road vehicles, the air filter can get a lot dirty and wear off pretty quickly and might need a quick change. For that matter, air filters don't really last for a long time.
In that sense, this one is meant to last for quite a long time considering on what terrain the vehicle is supposed to run.
Features:
Long term support: jeep Cherokee is a heavy-duty vehicle. And on that specific model, this air filter can provide up to 12,000miles. That's a really long time considering how much interaction this filter has to do on an off-road vehicle. But it's best for the job and does it astoundingly.
Easy installation: most of the air filters might need a bit of professional support when it comes to changing them. But this one comes from the factory with an easy-to-install fitness.
Replacement: can be used as a replacement air filter for 52022378 AB, CHRYSLER 52022378 AA, WIX WA10096, and FRAM CA11877.
Long life span

Gives astounding support

Easy to install

Versatile fit

Can be used as a replacement air filter for Chrysler

Good fit for the price
Not compatible with all same class vehicles

---
2. ECOGARD XA10424 Premium Engine Air Filter
Now if you own a Honda fit that needs a filter change, this is the best option that the internet can provide to you.
No matter the model. If it's between 2015 to 2019 and has a 1.5L engine, this is the air filter you're looking for.
If you know your car parts, you would know for air filters EcoGard is the name you can trust. Of all products that work with air filtration of the engine, EcoGard is the default suggestion given by most of the professionals. Let us take you through to features to learn more.
Features:
Maxed out miles: The best part about installing an EcoGard to your vehicle is that it gives very long support. 12,000 miles is almost a lot more than usual to ask for. If you're using your car on a daily basis and drive about 1000 miles every month, which truly seems a lot more than usual, only then the filter would last 12 months, if not used as frequently as told, it's going to last even longer.
Replacement: It's an ideal fit for the Honda Fit models between 2015-2019 but still you can use this filter as a replacement for REPLACES HONDA 17220-5R0-008, WIX WA10212. So, a great bargain.
Installation: just like any other EcoGard air filter, it's factory fit for extremely easy installation. It doesn't take much time for any professional to clean and change the air filters of your car because it's easy to change.
Service is elongated

Replaces another engine air filter

A fully functional daily use can make it last for a year

Installation is really easy

The price limit is in range for everyone.
There are different versions of the same product for different year models

---
3. ECOGARD XA10483 Premium Engine Air Filter
One of the best Honda made SUVs is the HRV. It's really a great SUV to buy with the price range it has to offer. It's a really popular vehicle. For this popular A quality vehicle, there's a premium quality air filter from EcoGard. It's the XA10483 premium which is specially designed for the Honda HRV 2016 to 2019 models.
HRV is a really tough vehicle, people prefer both terrain and off-roading with this vehicle. That's why it must need a really powerful and premium quality air filter that can keep the engine breathing no matter how much dirt or particles try and enter the engine.
Features:
Equal to Honda's original part: no matter how great an air filter is but most of them aren't the same as the original one that came from the manufacturer itself. But this one has been tested by Honda OE and has been certified to be nearly the same as the original one used in Honda HRV.
Maximum time: a part of any vehicle is important. But we don't really have the time to keep changing them every time one starts wearing out. That's why as car owners we prefer parts that will last longer than others. Believe you me, this one particularly is promised to last over a year if the vehicle is used on a regular basis. This is really impressive considering that an air filter is the most regularly changed part of an engine.
Easy installation: just like any other EcoGard product, this one is also factory fit for easy installation. So, you can easily install this on the loved SUV
Best suited for Honda HRV 2016-2019

Tested by Honda OE

Long term support

Almost equal to Honda's original air filter

Replaces with engines too

Suitable price
Have to choose the year model wisely

---
4. ECOGARD XA6165 Air Filter
One air filter that's compatible with Dodge Grand Caravan 2011-2017, Chrysler Town & Country 2011-2016, Volkswagen Routan 2011-2014, and Ram C/V 2012-2015.
That's just too much to ask for. Car owners who have these vehicles mostly rely on the EcoGard XA6165 Air Filter. This proves its potential among all other competitors available in the market.
If you ask the given car owners about this product, they would say either they are using it or they'll use it next.
Related Post: Kensun Portable Air Compressor Review 
Features:
Limitless use: 12,000 miles or a year is a lot to get and ask from an air filter. This means your air filter will last about a year or so. Most air filters usually wear off at 6,000 to 9,000 miles. This filter on the other hand, just like any other EcoGard product gives 12,000 miles of mileage.
Versatile specialization: when we hear the word special it bounds us to believe that a product might just be compatible with one type. But this one is a specialized OE product. The best part is that it's specialized in 4 different companies. This makes it a hard bargain to reject
Installation: it's really easy to install in the given cars. Usually, these models that are mentioned above require a hefty bit of work on the engine. But honestly, when you're dealing with air filters it's the easiest part and moreover, it's easier when you're dealing with EcoGard.
Best quality

Versatile compatibility

Specialized like OE

Easy to install

Price is steep
No specific warranty information

---
5. Ecogard XA10004 Premium Engine Air Filter
Now for a high-end SUV that everyone adores, the Acura RDX, one of the best in class vehicles ever produced by Acura. Acura RDX has a 3.5L engine that breathes a lot when moving in rough terrain.
So, you need a proper air filter that helps the card engine to breathe as much as possible.
The best option is the EcoGard XA10004 premium. It's technically an OE of Acura. In function, making and materials, it's just like their own equipment used in the RDX.
Features:
Compatibility: Acura RDX is probably one vehicle that has gone through a lot of change. Among models every year, this car has improved drastically both internally and externally. Still, EcoGard has managed to keep its air filter just like Acura OE. Making it absolutely state of the art and best quality. This product is compatible with 2013-2018 Acura RDX, of course with year based modifications.
Long term: 12,000 miles is a long time if you ask anyone. Most air filters are never this heavy-duty. Air filters are bound to deplete in a very short time span. But EcoGard has managed to keep their air filters top-notch for the longest period of time. Absolutely remarkable from the manufacturer's end.
Factory fit: If you ask about one thing that is common among all EcoGard air filters, it will be that they are all factory fit for easy installation on any type of vehicle that you're looking for and found a compatible product. That's how convenient they are.
Long-lasting

Easy installation

Best compatible for 5 models

Tested and proven same as Acura RDX OE

Best in the class price range

How to Install EcoGard Air Filter (Video Review)
---
Final Words
So, in this EcoGard air filter review, we have added some of the best available EcoGard air filters you can buy right away for the SUV you drive.
These SUVs are the most commonly driven ones in the world.
So, I'm sure you'll find the best compatible one for your vehicle. All these products are different from each other regarding the models. But one thing that's common among them is the EcoGard integrity, service, and quality.
You can buy now and have no regrets.
---
Related Post: