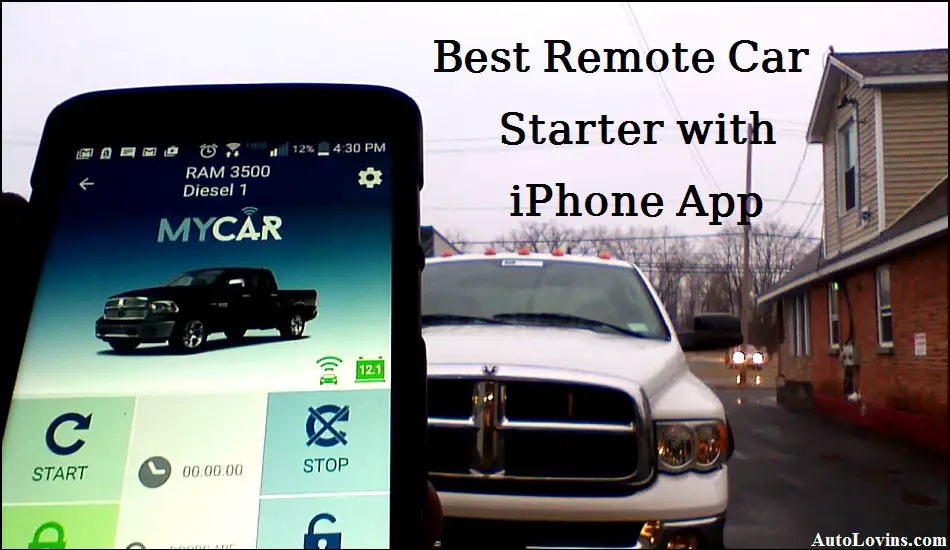 The safety of your vehicle is always important. Also, for convenient use, you may think of getting some control over the vehicle even if you are not inside. Remote car starters are the combination of these two. Though the name only says that these are only car starters, actually these are much more than that.
Car starters come with a handful of safety features too. These features ensure that your vehicle is safe from thieves. For more convenience, you may look for the best remote car starter with iPhone app or Android app. Well, there are some like those too. So, don't worry.
Here in this article, I've talked about a few car starters that I found great to use and ensure safety at the best. Some of these are smartphone compatible, some are not. If you are in need of a car starter, don't miss these out. From these, I'm sure that you'll find something that you were looking for.
Best Remote Car Starter with iPhone App or Android App or not: Choose yours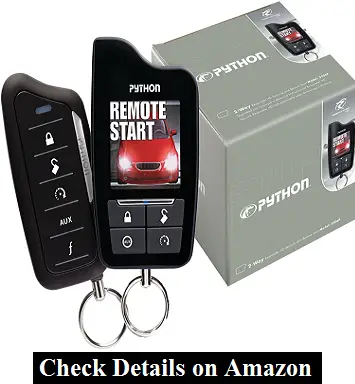 To ensure the security of your car and bring some comfort in using it, this remote car starter system is one of the bests so far. Coming from Directed Electronics Inc., it offers some really wonderful feature to blow your mind.
If comes with a Digital SST (Spread Spectrum Technology) which can cover almost a mile. It uses multiple frequency transmission and digital frequency hopping to make sure that the signal goes through even if the frequency is blocked somewhere. Due to local conditions, the range varies. The Neo Revenger Soft-Chirp 6-Tone siren makes sure you can hear it.
With the help of the Multi-car option, you can control 2 cars by only one of this. The SuperCode technology allows a wide range of features that are not available in other car starters. It comes with a colorful interface that has made it easy to use.
This car control has a mobile app for itself. As a result, if you have it installed in your car and the app in your mobile phone, you can get access to the functions through you mobile phone. It helps you in locking or unlocking, trunk release, activating defroster, controlling windows and many more.
Related post: 5 Best Tonneau Cover for Chevy Colorado Reviews
Pros
About 1 mile range in open place

Multi-vehicle control

Access to a lot of features

SuperCode technology
Cons
A beginner can't install it alone

---
2. Avital Remote Start System (4103LX)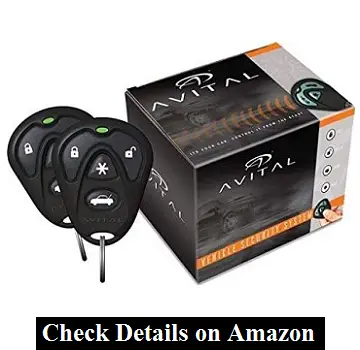 Coming from Avital, this is one of the smallest sized remote car starter kit available in the market. As a result, it ensures convenience in using. Though it is small, it is packed with some important features that enhance your user experience a lot.
Remote start feature of the vehicle allows you to start the engine even if you are not inside the car. Other control features are locking, unlocking and trunk releasing. If it feels any threat, the panic mode will start running. It flashes the parking lights and sound alarm, if you keep the alarm on.
A great feature of this system is the Valet take-over. When it is on, it keeps the car running even if the key have been removed from the vehicle. The system is packed with Virtual TachTM that needs no tach wire in most installation. An A-to-D converter continuously samples the voltage to get the job of tach wire done.
If you buy the package, you'll get two remotes with dedicated AUX outputs. Superhet receiver is integrated into the system to make sure that you get a great range of controlling. Overall speaking, this small yet full-with-feature remote car starter is something that you'll love to have.
Related Post: Top Rated Automotive Touch Up Paint Review
Pros
Valet take-over

Virtual TachTM Technology

Superhet receiver

Packed with important features
Cons
Tough to install if you are a beginner
Avital 4103 Remote Start Review

---
3. Clifford IntelliGuard 770 4 Channel Security system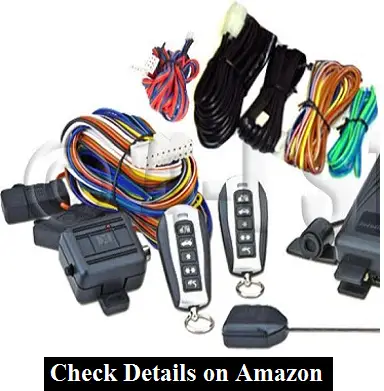 This one is a great car starter kit from Clifford. It wraps your vehicle with protection with the help of a lot of features that everyone wants. Being backed up with the major vehicle security step called G5, this one is always there to protect you. G5 glass break sensor will immediately warn you if anyone tries to break in.
It includes a safety feature called BlackJaxTM 5 Anti-Carjacking system that keeps the carjacker away. The optional keyless entry allows you to leave the key behind at home. To make sure that you can hear the siren, it comes with Medallion2 programmable tone speaker siren.
Among other features, you'll find Remotely Adjustable Dual-Zone OmniSensor, 4-channel security system, Dual-point Smart Secure Immobilization and many more features you can't think of. These features have turned this as one of the bests.
The best thing about this remote car starter is its Anti-Code Grabbing technology. This technology doesn't pass the same code twice. As a result, thieves can't use radio scanner device anymore that they use to steal the cars with alarm systems.
The 5 buttons remote control allows you to get access to all the features easily. You'll get 2 remote controls with the package. It allows distributing the control power.
Related Post: Hydrosilex Ceramic Coating Review
Pros
A handful of features

A lot of protective measures

Anti-Code Grabbing technology

Two remote control to be used by two different person
Cons
Doesn't allow you to connect with any phone app

---
4. Viper 5706V 2-Way Car Security with Remote Start System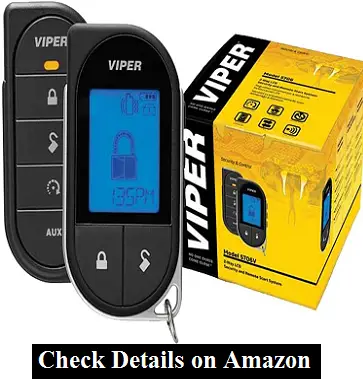 Viper remote start system is something that you can depend on. Having this installed in your car, you'll get a huge control in your hand even if you not inside the car. Also, the security features integrated in it makes sure that your car remains safe from the thieves.
If you get this system for your vehicle, you'll find a 2-way LC3 remote with SST technology which has a range of one mile (in open place). Also, there is an additional 1-way long range remote too. The LC3 remote has a liquid-crystal display that shows text and icons. With 5 buttons, the remote allows you to access 24 different functions of both of the cars you control.
It comes with a handful of features and specifications that have made it one of the bests in the market. The D2D serial data port, Virtual Tach system, Valet switching etc. have increased the functionality and made it super easy to use.
SuperCode technology is used in this system which focuses on software-based system signal encryption replacing hardware-based one. As a result, your vehicle remains safer from the thieves. It is SmartStart compatible. So, you can start, locate and control your car with the help of your smartphone from virtually anywhere.
Pros
Packed with a lot of features

SmartStart compatible

2-way LC3 remote control

SuperCode software-based system
Cons
Requires someone professional to install

Viper Remote Car starter Video Review
---
5. Avital 5305L Security System with 2-Way LCD Display Remote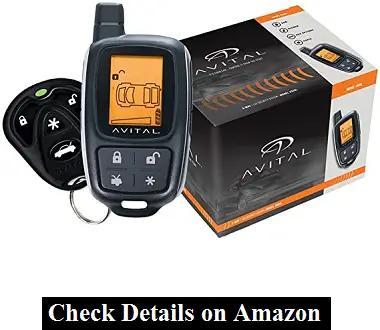 From Avital, this is another remote car starter kit with security system that can help you with your vehicle's security. It comes with some awesome technologies for keeping your car secured when you are not around.
The fault-proof starter interrupt system saves the car from hot-wiring that car thieves use to steal cars. The anti-false alarm technology integrated helps you to keep the car neighborhood-friendly by reducing the amount of false alarms. A two-stage sensor called dual-zone impact sensor detects impact on the vehicle and let you know either by small chirps or siren.
The new XR+ Extreme Range superhet receiver with improved sensitivity is used in this device to ensure better usability and result. Also, there is an A-to-D converter is used for sampling the voltage of the vehicle continuously. This cuts the need for installing a tachometer wire connection.
It comes with D2D data port that helps you to connect your Avital remote security system to any other interface using a D2D cable. It comes with a 2-way 4-button LCD remote control with backlit, tone and vibe modes and zone ID. A 1-way four-button companion remote is also included.
Related Post: Best Duramax Fuel Filter Review
Pros
Neighbourhood-friendly

XR+ Extreme Range Superhet receiver

Safety from Hot-wiring

A-to-D converter to cut the need of tachometer
Cons
Sometimes the response to the remote is a bit slow

---
Best Remote Car Starter with iPhone App Buying Guide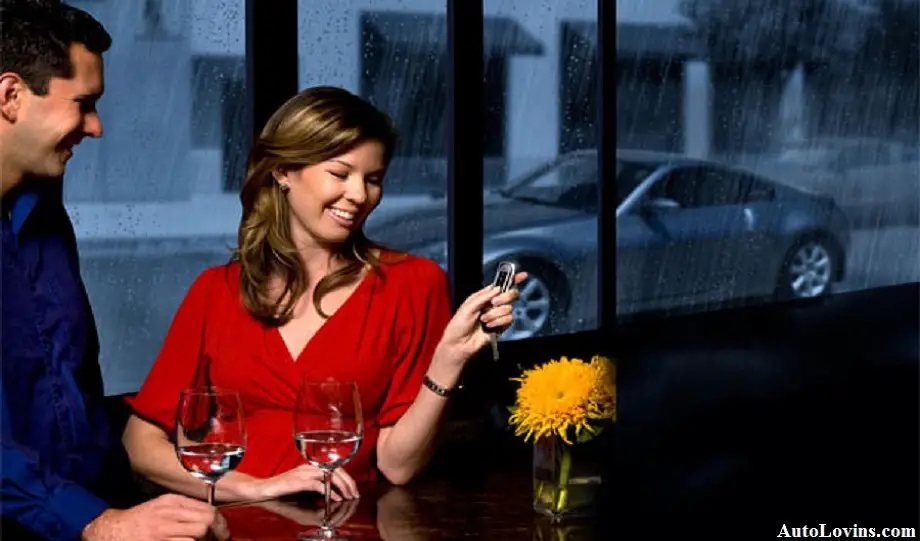 The remote car starter is an expensive and long-term investment. So, you need to be extra careful when you are buying one for your vehicle. There are some things you need to keep your eyes on. Let me help you with the features that you'll have to focus on while buying a remote car starter.
This is something on which you must take a careful look. Look for the features that the product is offering. As safety and convenience is the case here, don't miss must-have features as well as added benefits.
Some features add real comfort in use. For example- the best remote car starter with iPhone app is more comfortable than the best one from the regulars. Try to grab these added features. These are not must but seem great to have.
Your vehicle is something that you don't want to lose. So, make sure that you are selecting the car starter that comes with a handful of safety measures. Thieves have invented many ways to steal your car. So, your system should have enough protection to keep the vehicle safe.
Range matters because we live in areas where you'll see too many barriers. Because of the barriers, the range decreases a lot. So, while choosing one, make sure that you buy something that offers a good range.
Some remote car starter systems need professional installation, where others can be installed easily.  If you don't want to spend some more bucks, get one that is easy to install. But, don't make this as the most important criterion. Spend some more if you have to, but get one that is more secure. Otherwise, you may lose both.
When safety is the matter, the name of the manufacturer also matters. Try to pick one from renowned manufacturer. That'll help you to feel safer. Most renowned manufacturers have R&D section which regularly works to bring up new safety ideas. So, when you are buying from a renowned manufacturer, you are buying trusted protection.
How to Use Remote Car Starter (Video Review)
---
Frequently Asked Questions (FAQ) About Remote Car Starter 
Does using a remote start system void my vehicle warranty?
Answer: No, installing a remote car starter system doesn't void your vehicle's warranty as you are installing it for safety of your vehicle. The systems are developed in such a way so that these can easily cope up with your vehicle's electric system. As a result, if properly installed, it doesn't do any harm of your car. So, your car's warranty doesn't become void.
However, always try to get professional help while installing a remote car system. If you are a beginner, it'll be a bit complex for you in most cases. Taking help from a professional will cost a few more bucks, but it worth it. If you think of installing by yourself, study a lot first.
Is it mandatory to get a remote car starter kit with Android Apps or iOS?
Answer: No, it is not. Choosing a car starter system that enables you to use it with a smartphone app is totally your choice. If you don't have a smartphone-compatible remote car starter system, it won't matter a lot, in my opinion. But if you think that it'll add some convenient in your use, you can go for it. You'll find some of this type available in the market.
Does the range of the car starter matter?
Answer: Yes, it matters. A long-range means you can control it from a long distance. So, it is better to choose one that offers longer range. Also, the range told by the manufacturers tested in open space where there is not a barrier. In our real life, we have so many barriers around us. Because of the structures around us, the range automatically drops up to 80%. That's why getting one that offers longer range is important. However, this is not the only priority. Check for other features too.
---
Final Verdict
I think you've gone through the article well and now you know what to do. Actually, it is not always mandatory to get the best remote car starter with iPhone app or Android app as you'll have 1 or 2 remote controls with the package. However, this is totally your choice.
I've showed you both types, now it is your job to pick up the one that you find the most convenient and most secure. I hope you can pick one from my list. If you have anything else in your suggestion, let us know.
Related Post: High-Quality Car Cover for Extreme Sun Protection