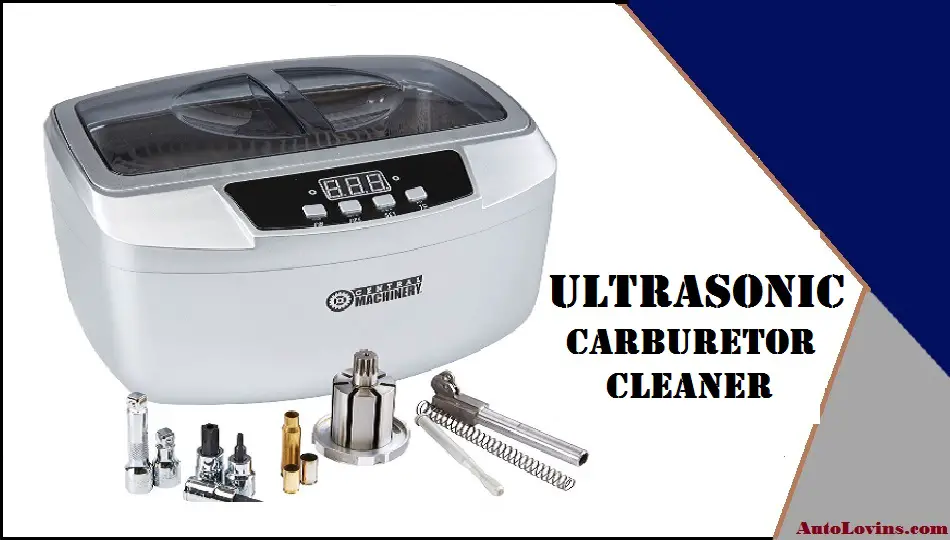 Carburetor is the most important part of your engine. It is called the heart of automotive engine. So, keeping it clean and clear is something that is a must. But as it is made of many small parts, it is very tough to clean it manually.
When cleaning carburetor is a problematic and troublesome work, there should be a solution to this. Picking up an ultrasonic cleaner can help you in this matter. You know that and that's why you are in search of the best ultrasonic carburetor cleaner, I know. No worries! You are here where I'm going to share the names of some of the bests I've seen, researched and used.
So, worry no more. Just stay with me and keep reading. I'll take you through some of the best ultrasonic cleaner for carburetor in the market. I hope you'll find the best one for you from those. To help you more in this matter, I've added a buying guide too.
Top 7 Best Ultrasonic Carburetor Cleaners in the Market
1. H&B Luxuries Industrial Grade Digital Heated Ultrasonic Cleaner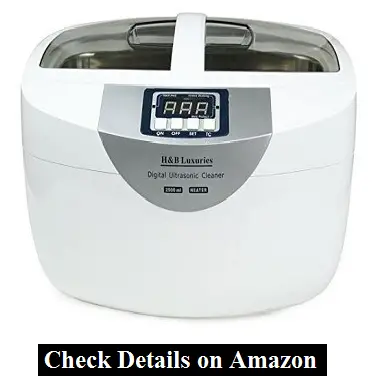 This quality ultrasonic cleaner can be a perfect tool if you want to clean your vehicle's carburetor easily. This 3.15 inch deep tank has a maximum capacity of 2.1L which is pretty good for cleaning the carburetors. It comes in a strong and quality plastic basket that comes with better drop-proof and water-proof ability than metal. The whole thing weighs just 5.5 lbs which seems very comfortable to me.
To make the cleaning better, the transducer is made to be strong. As a result, the ultrasonic cleaner becomes more powerful. 35 KHz frequency and 160 watt cleaning power has made this tool an absolute fast and efficient cleaner.
With the help of temperature controller, you can choose various temperatures up to 65 degree Celsius. The time controller allows you to choose different time bindings up to 45 minutes. It comes with 5 different working cycle options- 90 seconds, 180 seconds, 280 seconds, 380 seconds and 480 seconds. To get the perfect output, you can choose anyone from these.
To ensure comfortable use and safety, it comes with different features. The industry IC keeps it stable in unstable voltage. The circuit protector keeps the circuit safe to last for a long time. There is a radiator fan that keeps every part protected after a long use.
Drop-proof and water-proof quality plastic case

Strong ultrasonic frequency

Comes with many safety features

Can be used for a long time
Working cycle could be a bit longer

---
2. VEVOR 3L Stainless Steel Professional Ultrasonic Cleaner with Heater Timer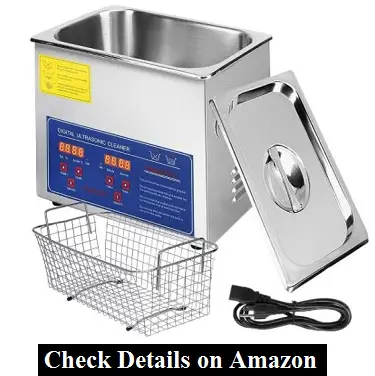 If you are not a fan of ultrasonic cleaner with plastic basket, you can check this awesome stainless steel cleaner made for professional use. It comes with extra deep tank and 3L capacity for cleaning operations. This has made this an awesome carburetor cleaner. The stainless steel cover has made it durable and strong enough for regular use.
It comes with strong cleaning power. To make this possible, there are strong transducers inside. These produce 120 watt ultrasonic power. The cleaning frequency is 40 KHz which is great to make the cleaning process faster without damaging anything.
The heating temperature is adjustable up to 80 degree Celsius. Choose anything you want depending on the use. The digital control panel also allows adjusting the heating timer according to your need. From 1 minute to 30 minutes, you can pick up different heating duration.
It comes with all necessary accessories. There is a stainless steel lid comes with it which doesn't allow the water to radiate heat outside. To keep it stable on the surface, there are no-slip rubber pads under it. All necessary instruction is written on the label of the outside box. So, you can be careful every time you use it.
Compact yet very powerful

Ensures a great cleaning frequency

Comes with a large capacity

Very easy to use
Take a bit time to heat up

---
3. iSonic P4810 Commercial Ultrasonic Cleaner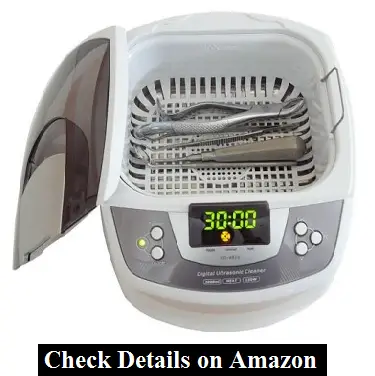 This commercial grade ultrasonic cleaner can be another good option for you if you are looking for a quiet cleaner. The 3 inch deep stainless steel tank with 2L capacity has made this a compact yet perfect cleaner for carburetors. It comes in a white plastic basket that keeps the noise low to make it suitable for home use.
A 60 watt stack transducer is used to make the cleaning capacity great. It produces ultrasonic frequency of 35 KHz and 160 watt power. The tank is almost square shaped. As a result, the ultrasonic energy is distributed inside the tank uniformly so that the cleaning becomes effective.
It allows you to choose the cleaning time of any duration between 1 minute and 30 minutes. Also you can choose the heat. It allows you to pick different heating options up to 60 degree Celsius. With the help of easy-to-operate buttons, it is really easy to choose your desired heat and time settings and get the result you want.
To make sure that overheating doesn't affect your carburetor, it comes with overheat protector which prevents overheating. There is a cooling fan that keeps different parts of the cleaner cool after each cleaning operation. Even in long operations, it works to keep everything cool.
Related Post: Top 10 Best HEI Distributor for 350 Chevy Reviews 
Perfect if you want quiet operation

Keeps the heat in control with the overheat protector

Made with stack transducer in it

Ensures value for your money
For long use, may be it doesn't perform as expected

---
4. CO-Z 3L Professional Ultrasonic Cleaner with Digital Timer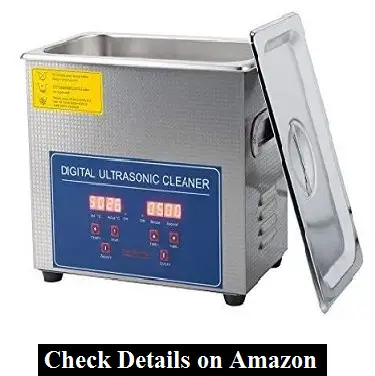 For cleaning your vehicle's carburetor effectively, this professional ultrasonic cleaner can be something you can think about. Coming with 2 industrial grade and super powered 60 watt ultrasonic transducers, this tool will clean your carburetor perfectly. It comes with 3.9 inch depth and 3L capacity that has made it one of the best ultrasonic carburetor cleaners for small carburetors. If you are fond of stainless steel cleaners, you can check this out.
It comes with different pre-set duration selecting options from 1 minute to 30 minutes. Also, you can choose the temperature to heat the water. To get the best out of it, choosing between 68 degree and140 degree Fahrenheit is recommended.
With the help of 2 ultrasonic transducers, this tool produces 120 watt ultrasonic power and 40 KHz frequency to clean your carburetor. The extra thick tank wall is made of 0.4-inch stainless steel which makes it really sturdy and durable. As a result, this is a perfect tool for commercial and professional cleaning operations.
Safety is a concern while working with this type of tool. It comes with dual fuse protection to make sure that any burn-out won't happen. Four non-skid rubber pads are there under to tool to make sure that it stands perfectly on the surface. Overall this is a strong and durable machine to have for using as a professional carburetor cleaner.
Related Post: Top 5 Best Lockers for Jeep JK Review 
Comes with 2 ultrasonic transducers

Produces a great amount of frequency

Extra-thick tank wall

Dual fuse protection
Produces high pitched loud sound

CO-Z 3L Professional Ultrasonic Cleaner Video Review
---
5. Mophorn Time 2L Industrial Commercial Ultrasonic Cleaner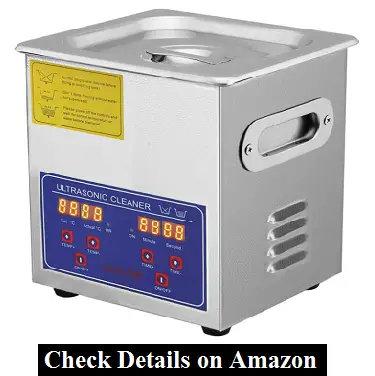 If you are looking for something which is a bit smaller than the previous ones I've talked about, you can check this out. It comes with 2L capacity but a great cleaning ability. Coming with all necessary features and outstanding specifications, this is something you don't want to miss.
This ultrasonic cleaner comes with a 60 watt ultrasonic transducer that produces 40 KHz frequency while cleaning. It allows you to choose the session duration from 1 minute to 30 minutes. With the help of temperature setting buttons, you can choose any temperature between 20 degree and 80 degree Celsius.
This tool is introduced for making ultrasonic cleaning easy. There is a stainless steel cleaning basket with it that helps to clean small objects that need less friction. To keep the tool clean, there are cooling holes. Besides, the carrying handle makes it easy to move. You can't deny the importance of the rubber pads under it that keep it stable while working.
Just like other ultrasonic cleaners out there, it can clean many more things besides vehicle carburetor. Quality steel is used to make this strong and durable. This user-friendly and efficient ultrasonic cleaner can be a good choice for you.
Related Post: Range Active Fuel Management Disable Device Reviews
Comes with user-friendly features

Produces strong frequency

Strong and durable

Easy to use
Takes long time to heat up

---
6. CO-Z 6L Professional Ultrasonic Cleaner with Digital Timer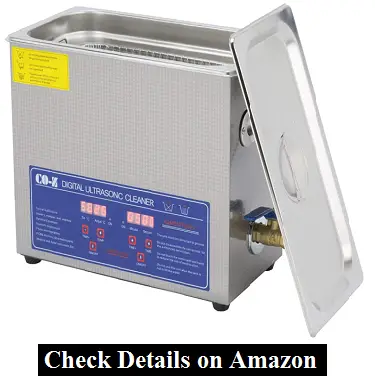 If you are looking for a bigger ultrasonic cleaner for cleaning your vehicle's carburetor, this 6Lultrasonic cleaner from CO-Z may satisfy your need. Being made of quality stainless steel, this is a strong and high quality carburetor cleaner that you'll love. It is made to be durable and serve you for a long time.
I've already said that it comes with 6L capacity. The tank is 5.9 inch deep which allows you bigger space for cleaning many more things. To cover this large area and clean efficiently, it comes with 3 industrial-grade60 watt ultrasonic transducers. Total 180 watt ultrasonic power allows it to raise the heating power up to 200 watt.
This ultrasonic cleaner allows you to pick any cleaning duration between 1 minutes and 30 minutes. There are various temperature setting options to select too. From 68 degree to 140 degree Fahrenheit, you can choose any temperature option.
This ultrasonic cleaner comes with different latest technologies that have made it the ultimate performer in cleaning and other related tasks. Coming with some user-friendly features like handle and durable non-slip pads, this ultrasonic cleaner is a great item that you can buy.
Related Post: Top 5 Sensen Shocks Review
Large tank allows industrial and commercial use

180 watt ultrasonic power ensures efficient cleaning

Made to be easy and comfortable to use

Can clean a variety of items
Produces high noise that is disgusting sometimes

---
7. Kendal Commercial Grade 9 Liters 540 Watts HEATED ULTRASONIC CLEANER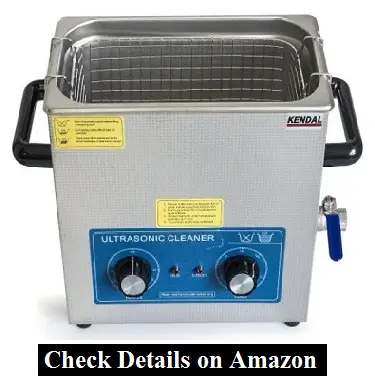 For cleaning carburetor, this 9L ultrasonic cleaner can be a bit big but it is an effective one as a carburetor cleaner. Coming from Kendal, this cleaner works great to clean the carburetor and different other things.
To cover the large area of 9L, this cleaner comes with 4 strengthened transducers which ensure 240-watt ultrasonic power. These transducers create an ultrasonic frequency as high as 42 KHz. This huge ultrasonic power cleans anything perfectly and makes it like new one.
There is a 300 watt heater in this machine. This allows you to have different heating level. Starting from 20 degree Celsius, you can raise the heat up to 80 degree Celsius. But the timer option comes with a bit weakness. It allows you to choose maximum 20 minutes cleaning duration. I've seen most of these cleaners allow up to 30 minutes.
The whole machine is made of durable stainless steel that has made it strong and long-lasting. It comes with a flow control valve to drain the water easily. For user comfort, it comes with durable and strong carrying handle. There are rubber step-pads under it to keep it steadily standing, especially when cleaning operation is going on.
Manufactured to perform commercial use

4 transducers produce high ultrasonic frequency

Durable construction for long time use

Huge capacity for allowing different sized carburetor
Time setting allows highest 20 minutes of cleaning period each time

Top Rated Ultrasonic Cleaner for Carburetor Review
---
How to Pick the Best Ultrasonic Carburetor Cleaner
When I understood the need of an ultrasonic carburetor cleaner, I thought, "Okay, I'm going to buy one". But then came the real struggle- picking up the best one for me. Buying anything is real struggle nowadays because you'll find too many options. I've faced the same situation and I was clueless.
After that, many years have passed and now I know some of the best carburetor cleaners out there. From my experience, I'm going to share a few things that are important while picking up the best ultrasonic cleaner for carburetors for home or for professional use.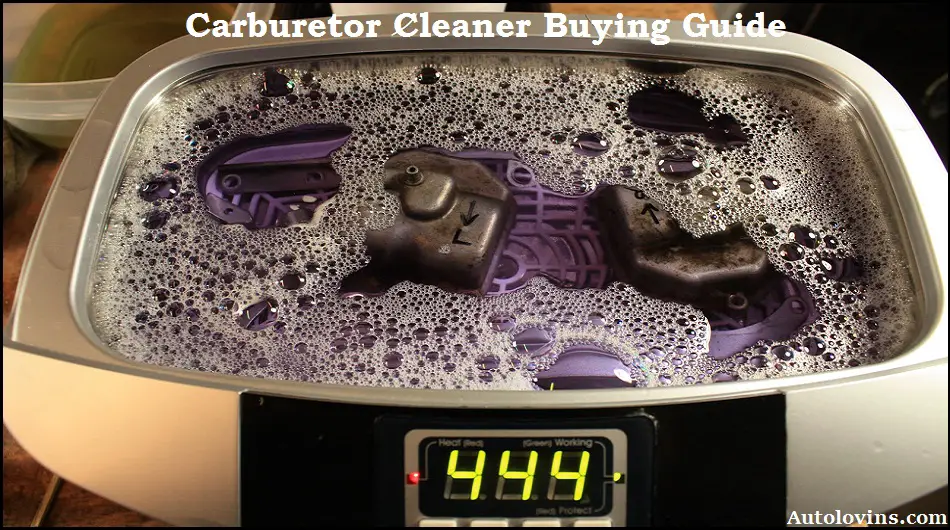 This is the most important thing you should look for while picking up an ultrasonic cleaner. As you are using it for cleaning your carburetor, you need to make sure that it fits in the tank. Measure the dimension of the carburetor and compare the tank size with it. If the tank size is bigger than your carburetor, it is okay to keep that in your list.
I recommend picking up an ultrasonic cleaner with built-in heating system. Hot water ensures better transportation of the ultrasonic energy. If your cleaner doesn't have a heating system, you'll have to fill and refill with hot water time and again. Built-in heating system saves you from this extra work.
For cleaning carburetor, the ideal frequency is 35 KHz to 40 KHz. Buying cleaners with more frequency won't matter a lot but do not go for the cleaners with frequency less than 35 KHz. It may not ensure a good cleaning as you expect.
While buying an ultrasonic carburetor cleaner, make sure that it is made of strong material. This is a good amount of investment and that's why you need to make sure that you can use that for a long time. So, quality material and durability matters.
Ultrasonic cleaners work with a powerful mechanism that may affect badly if any accident happens. So, I always recommend buying cleaners that come with at least basic safety features. Check the safety features the cleaner comes with. Select the one that offers some important safety measures.
You are buying an ultrasonic cleaner for cleaning carburetors. But you can use that for cleaning many other things. So, why having it only for carburetors? Buy a cleaner that allows you to adjust the temperature and cleaning duration so that you can use that for different cleaning operations.
Degassing is a function that removes air from the liquid after changing the cleaning solution. This makes cleaning system more effective, especially cleaning carburetors. So, looking for a carburetor cleaner with a degassing system won't be a bad thing.
There are many more factors including warranty, display system, price and so on, but I've talked about the most important factors. I hope these'll help you to pick up the best one for you.
---
FAQs about Ultrasonic Carburetor Cleaner
Do I have to use a specific solvent or cleaning liquid for ultrasonic cleaners?
Yes, you have to use specific cleaning liquid when you are cleaning something using ultrasonic carburetor cleaner. There are cleaning liquids which are designed for using in ultrasonic cleaners. If you use a regular cleaning solution instead of a specific one, many things may be happen including health hazard and damage to the tank.
Do I have to use a basket while cleaning my carburetor?
The answer is- yes. I recommend using a basket because directly putting the carburetor on the surface inside may damage the electronics inside. It also hampers ultrasonic energy generation. So, if you want a good cleaning result and want the cleaner to be durable, using a basket is recommended. Although using a basket also reduce the cleaning effectiveness but that is not significant.
Is leaving the fluid inside the tank for using next time okay?
It is okay to leave the cleaning fluid inside the tank because you can use it many times. Until it is visibly too much contaminated, you can use it. So, leave it inside the tank. But if you don't use the machine regularly and there is a gap of several days between two sessions, keep the fluid in a bottle instead of leaving it inside. Leaving the fluid inside for so long may leave marks in the tank. Rusting may also happen.
---
Final Verdict
In this article, I've tried to help you from my researches and experiences with ultrasonic cleaners. Now I'm leaving the task of choosing the best ultrasonic carburetor cleaner on you. If you ask me to pick one, I'll go for the H&B ultrasonic cleaner for small carburetors. However, your personal choice can be a different one depending on many things.
The cleaners I've talked about are liked by many people around the world. So, picking up one from these won't be a bad decision. Take some time, set your priorities and select the one that is best for your task.