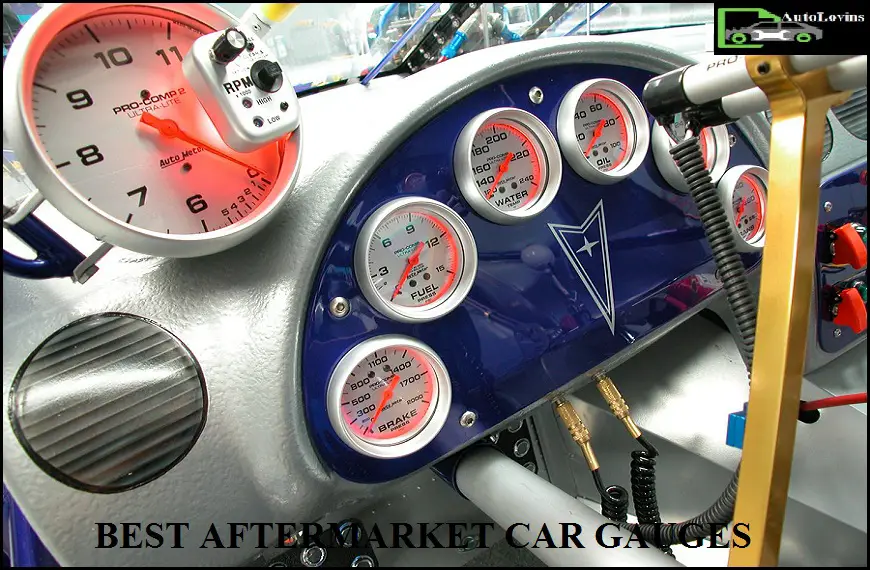 When you are driving, you should know the condition of your vehicle engine. We all know that car gauges help us in this matter. But sometimes, built-in gauges may give an inaccurate reading. Also, you may not find the built-in gauge for all the readings. In that case, we have to go for aftermarket car gauges.
There is another reason behind buying aftermarket car gauges. If you change the decoration of the interior of your vehicle, the built-in gauge may not match to the new design. In that case, the digital automotive gauge can have your back. From a wide range of gauges with different interface and design, you can choose one accordingly.
But when you are going to buy the best aftermarket car gauges for your vehicle, the design or the performance is not the only thing to focus on. Also, it is very difficult to find out the best one of all the available gauges.
Don't worry. We've got your back. If you are searching for a digital car gauge for your vehicle, continue reading. We've listed five best automotive car gauges for you and reviewed those. So, you can easily pick one up from the list.
Top 5 Best Aftermarket Car Gauges Reviews 2021 [New Update] 
1. Equus 8200 2″ Volt Triple Gauge Kit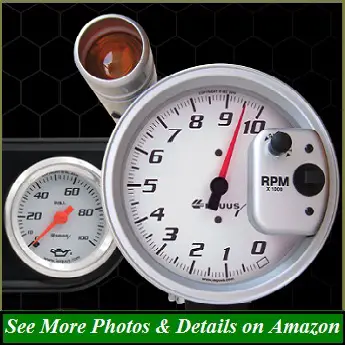 If you are in love with mechanical gauges, this triple gauge kit from Equus is for you. It ensures accurate and real-time reads. The triple gauge kit comes with dial mechanical instruments for measuring water temperature, oil pressure, and battery voltage.
The water temperature dial measures 130° to 280° F (60° to 140° C) with a sweep of 270°. The oil pressure measuring gauge also comes with a similar 270° sweep and measures from 0 to 100 PSI (0 to 70 kPa). On the other hand, the voltmeter measures from 8 to 18 volts with a sweep of 90°.
The kit is durable and easy to install. You'll find a great mounting panel that comes with the kit. It is equipped with durable backlights to help you while driving at night. The light covers come in four different colors- Blue, Red, Green and Yellow. The bezels of the gauge are made of aluminum for lightweight and durability. The satin silver color of the bezels looks great on a black panel.
It fits to most of the vehicles available in the world. Necessary hardware and equipment come with the package. So, you won't have to buy additional things to install in on your dashboard.
The twist-on-ring mount has made it easy to install and use. There are two ways to connect the gauges. You can simply clamp it to any spark plug wire. It eliminates the need to buy expensive DIS adapters. Also, you can connect it directly to a single source, such as the negative side of an ignition coil.
Related Post: Best Active Fuel Management Disabler Device Review
Technical Details: 
Brand: Equus

Item Weight: 1.38 pounds

Product Dimensions: 3.5 x 8 x 8.5 inches
Things We've Liked
The mounting panel is strong

The gage kit is lightweight

Super easy to install

Four colored backlights give you space to choose

Fits almost all the vehicles

Two different methods to connect
Things We haven't Liked
The water temperature gauge doesn't work as expected sometimes

---
2. Bosch SP0F000042 Style Line 2″ Mechanical Vacuum/Boost Gauge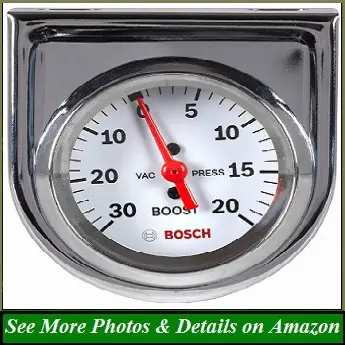 This lightweight and good-to-look gauge comes with a vacuum scale and an oil pressure measuring scale. If you are searching for something like this, I think this is one of the best options available for you in the market. So, you can give it a try.
It comes with a 0 to 30 in, Hg Vacuum scale and 0 to 20 PSI pressure meter. The dial covers a 270-degree sweep in total. For easy reading in the dark, there is a 12-volt internal backlighting system. Altogether, the gauge is really lightweight, only 0.5 lbs.
This mechanical gauge comes with a standard 2" white dial which can be installed in any 2-1/16" opening for gauges. However, it comes with a chrome mounting panel for a single installation. You can remove the panel anytime you want. The chrome bezel gives it a standard look.
This gauge is also easy to install. You'll find all the necessary mounting hardware included in the package. Also, there are 72" high-temperature nylon tubing and 1/8" and ¼" NPT thread fittings. You'll find the installation guide on the official website of Bosch Performance. You can check that if you face problems while installing.
Technical Details: 
Brand: Actron

Item Weight: 5.6 ounces

Product Dimensions: 7.5 x 4.7 x 3.5 inches
Things We've Liked
Removable mounting panel

Lightweight

Installation guide is available

High-temperature tubing is provided

A standard size and look

Can be installed both separately and with other meters in a mounting board
Things We haven't Liked
Only applicable for 12" negative ground systems

---
3. Bosch SP0F000046 Style Line 2″ Triple Gauge Kit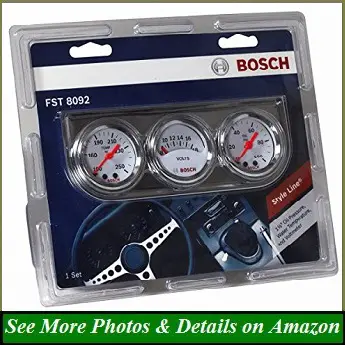 For Bosch Performance, a great combination of gauges is this car gauge kit. The kit comes with oil/water temperature gauge, mechanical oil pressure gauge and electrical voltmeter.  If you are a big fan of performance, I suggest you buy this kit.
The temperature measurement gauge can read 100° to 250° F (40° to 125° C) with a dial sweep of 270 degrees. The voltmeter is able to read 8 to 18 volts with a 90-degree sweep. And the last, oil pressure gauge reads 0 to 100 PSI with a sweep of 270 degrees.
This kit ensures a standard look with its satin silver color. The color is ensured by the chrome bezels of the gauges and chrome housing. The standard 2" white dials set in the silver housing looks great. The housing is removable, so you can use 2-1/16" black housings to match to the interior of your vehicle.
The chrome housing can occupy any standard 2" gauge in its 2-1/16" openings. So, you can change any of the gauges if you want. There is a 12-volt internal backlight integrated to the gauges. As a result, getting the readings right at night is not tough.
The gauge kit comes with mounting hardware. It also includes 72" high-temperature nylon tubing and ¼" and 1/8" NPT thread fittings. So, you don't have to pay a huge effort to install it in your car. To help you, Bosch Performance has a general mounting instruction on its official website. Also, there you'll find instruction manuals for the voltmeter, temperature gauge, and oil pressure gauge separately. Check those if you want to use the gauges safely for a long time.
Technical Details: 
Brand: Bosch

Item Weight: 1.5 pounds

Product Dimensions: 9 x 6.7 x 3.8 inches
Things We've Liked
The chrome finish of the body and panel

Looks great in almost all types of interior

Comes with everything needed to install

Installation guide and instruction manuals are available

Changing the housing or any gauge is easy
Things We haven't Liked
Only applicable for 12" negative ground systems

---
4. MOTOR METER RACING 6 Gauge Set Classic Instruments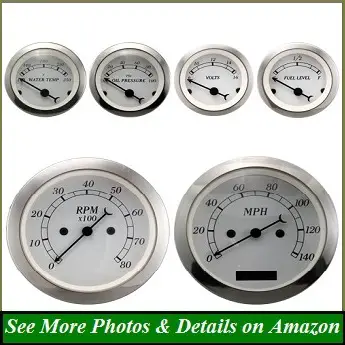 If you are into classical things, this set of 6 gauges will be a good pick for you. The set includes a speedometer, a tachometer, a volt gauge, a fuel level gauge, a water/oil temperature gauge and an oil pressure gauge. All are built strong and sturdy to support you for a long time. By being a product made in Taiwan, it doesn't compromise the quality.
The speedometer and the tachometer are larger than the remaining four. Those come in a standard 3-3/8" (85 mm) size and can be set in any standard 3-3/4" (95 mm) opening. The remaining four gauges come with standard 2" dial which sits properly in standard 2-1/16" opening.  
The gauges are designed to sit on your dashboard. The black dial with stainless steel silver bezel gives it a classic look. You can choose a full black dial too. The housing that comes with the kit is made of durable plastic. Integrated light allows you to check the readings easily at night.
The gauge set requires any 1 to 9 cylinder gas-powered engine. You can set the number of cylinders on the back. For the speedometer, the required cable thread size is 5/8" x 18". To work perfectly, the gauge set needs a 12-volt negative ground system.
Installing this gauge set in your car dashboard is not a difficult task. You'll find a user manual provided with the kit. It'll help you to set it perfectly. You'll find a U-bracket kit for installing the gauges. So, buying this kit won't require buying the hardware needed.
Technical Details: 
Brand: MOTOR METER RACING

Item Weight: 4.41 pounds

Product Dimensions: 15.8 x 6.7 x 8.3 inches

Model: Classic Series
Things We've Liked
6 piece gauge kit covers almost everything

Classic look

Fit for almost all interiors

Easy to install and easy to use

Designed for in-dash
Things We haven't Liked
The plastic housing is not preferred by all

---
5. GlowShift Tinted 7 Color 100 PSI Oil Pressure Gauge Kit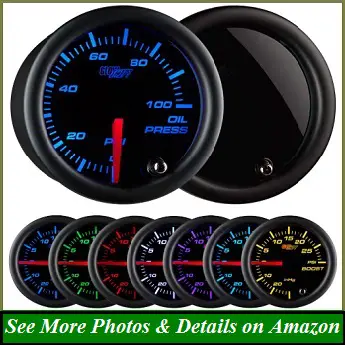 If you are looking for color variations in your car gauge to bring a customized look in your dashboard, this one from GlowShift will allow you to have that look. This oil pressure gauge offers seven different colors to glow. Depending on your choice and vehicle interior, you can pick any color among the seven colors. The tinted lens of the gauge brings an elegant look with a full blackout looking when it is off.
Besides offering seven different colors, this oil pressure gauge kit offers two different color cycle modes. For comfortable driving at night, it comes with a nighttime dimming feature, which keeps the light 30% lower at night. But for this, you'll have to connect it to the headlight switch. It ensures better visibility. Besides the readings, the dial is also illuminated for better visibility while driving.
It reads the oil pressure within the range of 0 to 100 PSI. A 1/8-27 NPT electric pressure sensor helps the gauge to read the pressure. You can install it easily with the help of GlowShift's T-switch Adapter or Sandwich Adapter. The dial sweep of this gauge is 270°. It comes with Stepper Motor Technology that ensures that the readings are smooth and accurate.
The 2-1/16" gauge is very easy to install in any standard housing. It comes with an installation guide and mounting hardware. You'll also find 1/8-27 NPT sensor, 2' power harness, and 9' sensor harness included in the kit.
Technical Details: 
Brand: GlowShift

Item Weight: 12 ounces

Product Dimensions: 7 x 4.9 x 3.1 inches
Things We've Liked
Tinted glass interface

Dimming opportunity

Switching between a lot of color options

Stepper motor technology

Easy to install
Things We haven't Liked
Making is a bit poor. So, you'll have to install and use it carefully.

---
Things to Consider Before Buying Aftermarket Car Gauges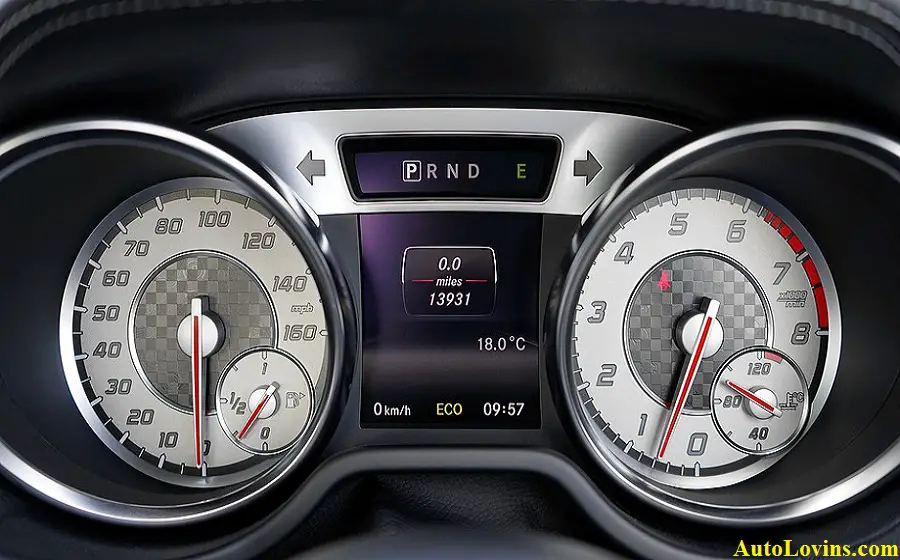 Choosing the best digital automotive gauge is not something very simple. But it is not that difficult too. All you need to do is doing some research on the available car gauges depending on some criteria. Those are given below.
Visibility is the most important thing while buying a car gauge. If the readings are not visible while you are sitting on the driving seat, it'll be tough for you to make decisions.
For increased visibility, you'll have to focus on the colors first. The colors of the interface, dial and bezel have an impact on visibility. Try to choose gauges that come with visible color contrast.
When you are buying aftermarket gauges, size matters. If you are buying it for your racing car, I think you need to go for the large ones. Cause those are easy to read, and you won't have to pay huge attention to read the gauge while driving. But if you can read small gauges easily, you can go for those.
Size also matters because gauges take place on your dashboard. Buying small gauges will help you to save space for other accessories and dashboard customization.
The gauge you are going to buy should be easy to install. In most cases, a gauge kit comes with mounting hardware. As a result, you won't have to buy those separately.
But in some cases, this doesn't happen. So, before choosing a gauge kit, make sure that it is easy to install and comes with all necessary hardware. Also, the installation guide will help you to do the task quickly with fewer difficulties.
The gauges should be maintained regularly too. So, focus on buying high-quality gauges that need low maintenance. This will save your time and energy. It also saves your bucks in the long run.
Cheap gauges are cheap-made too. As a result, those may break while you are installing or checking for problems.
Getting an accurate reading is the most important thing that you want from your vehicle gauges. So, try me make sure that the gauge you're choosing will show the accurate reading.
There is little scope to check accuracy. In that case, you'll have to depend mostly on the user reviews. Check the reviews. Take suggestions from your friends who have bought aftermarket car gauges. Do some deep research for this.
Though aftermarket gauges don't make you spend a lot, you need to focus on the cost. Normally, you'll get the best gauges within 100 USD. While checking for a gauge, look at the prices too. If you focus on price and benefits carefully, you'll end up buying something that offers better benefits within a low-cost range.
Costly products are not always the best. So, don't focus on only the gauges that come at high price ranges.
Buying anything for your vehicle needs extra attention because those are directly related to your safety and your vehicle's overall health. So, don't hurry. Check available products, take suggestions from friends, and do some researches. If you invest your time, you'll be able to pick the best one.
---
Differences Between Mechanical Gauge and Electric Gauge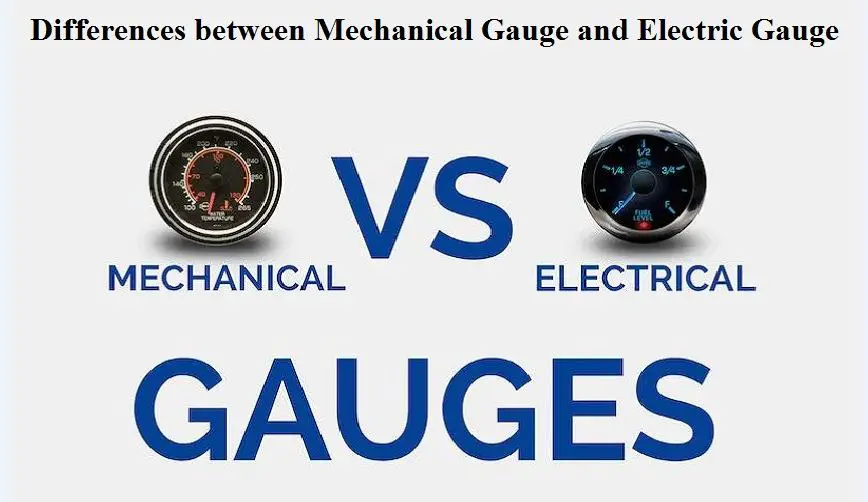 There are mainly two different types of gauges available in the market- mechanical gauges and electrical gauges. Both are for showing readings, but there are huge differences between these two. Let's know about those.
1. Mechanical gauge
Mechanical gauge is the traditional way of getting the reading. It contains pipes to the source through which the fluids flow. Pipes give trustworthy readings. That's why many people still like mechanical gauges.
However, mechanical gauge needs high attention of the owner. If you use mechanical gauges, you'll have to maintain those regularly and check for leaks or other problems. Also, using a mechanical gauge needs much space behind your dash as the tubes have to be connected to respective gauges.
2. Electric Gauge
Electric gauge is a comparatively new technology in the world of taking readings. In the case of an electrical gauge, you won't see pipes. Instead of pipes, electric wires supply currents to the gauges to show the reading.
Electric gauge doesn't need regular focus on maintenance. Thus it saves your time. Also, leaks are not frequent here. And if a leak happens, it is comparatively easy to get rid of it. If you install an electric gauge, it doesn't need a huge space because wires are thin.
---
Frequently Asked Questions (FAQ) About Car Gauge
Mechanical gauge or electric gauge- which one should I buy?
Well, there is no exact answer to your question. It totally depends on you. There are many differences between these two. Depending on your preference, need, and ability to maintain things- it varies.
So, we are not giving a specific answer to this question. To get the answer, know details about both types of gauges. After this, you'll get the answer.
Which gauges are must to use?
The answer to this query depends on the purpose for which you drive the vehicle. There are so many gauges around you. Some of those are – boost, EGT, oil pressure, clock, oil temperature, coolant temperature, voltage, air/fuel ratio, speed meter, tachometer, etc.
There are more. Normally speed meter, oil pressure gauge, fuel temperature gauge and air/fuel ration are used. But if you want more, you can go for those. Before that, know about the gauges properly. This will help you to pick the right gauges for your vehicle.
Which one should I use- gallery plug or sandwich adapter?
Both gallery plugs and sandwich adapter are good and do their work properly. So, using any one of these two is completely fine. But there is a small difference between these two.
In the end, most of the people use a sandwich adapter as it is very convenient to use. So, for this question, the most preferred answer is the sandwich adapter.
---
How to Install After Market Car Guage
---
Final Verdict
Before making a quick buying decision, gathering information is mandatory. We've gathered information of many aftermarket automotive gauges, used some of those, talked to the users, and finally made our list of five best aftermarket car gauges for your vehicle. So, you can depend on the products we've talked about. I hope you'll be able to find the one that meets your demand.
If you've used any of these before, let us know your experience. Don't forget to suggest the one that you like to see on the list. Don't forget to use the comment section if you have any questions about aftermarket car gauges.
---
Related Post: