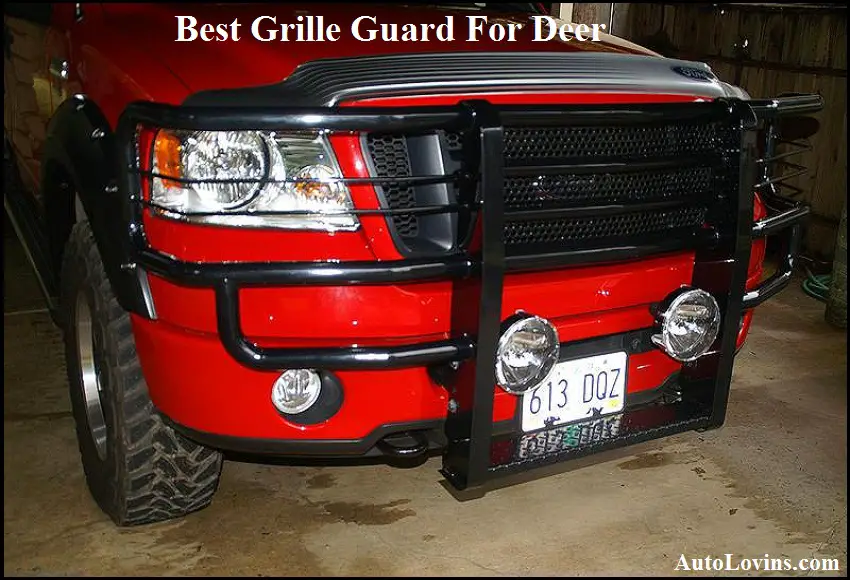 The best grille guard for deer is one of the essential vehicle accessories, especially if you often drive off-road. Not only does the grille guard protect the front of your car in case of a low-impact accident. But it prevents obstacles or animals from rolling over the hood and damaging the windshield.
Today, we are going to focus on the top-rated grille guards, including their features, pros, and cons. We will also focus on what to consider when buying a grille guard and the FAQs.
Editor's Best Choice! 

 Top 6 Best Grille Guard for Deer Reviews in 2021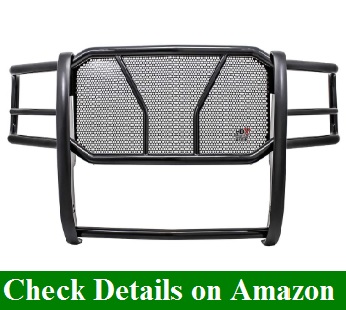 Behold, the Westin 57-2505 HDX Black Grille Guard, the extreme truck gear with rugged good looks. This heavy-duty grille guard is a masterpiece. If you want the perfect blend of style and safety, the Westin Black Grille Guard is best for you.
Take the fully welded 1-piece grille guard. It features full wrap-around wings made of a heavy-duty 2-inch diameter tube. The guard offers maximum protection to the vital parts of your truck. They include the radiator and headlights.
The uprights have an extra-wide rubber. In fact, the manufacturer fitted 1/8-inch-thick and 2 ¾ inch wide uprights giving the grille guard and your car a solid clean look. Another feature beneficial to you is the full punch plate grille.
It offers an additional layer of protection to your vehicle's grille. As such, you will be safe from any impact in an accident. When it comes to styling, it has a black powder coat finish. This gives the grille guard and your vehicle a sleek and clean look.
Specification: 
Brand: Westin
Item Weight: 133 pounds
Exterior: Black
Pros
Made of heavy-duty a 2-inch diameter tube for maximum protection

Has a sleek and clean look

Full punch plate grille protects your vehicle

Made of steel which is corrosion resistant

Best for full-size trucks and SUVs
Cons
Heavy because it's made of steel

Westin HDX Grille Guard Review & Installation Guide
---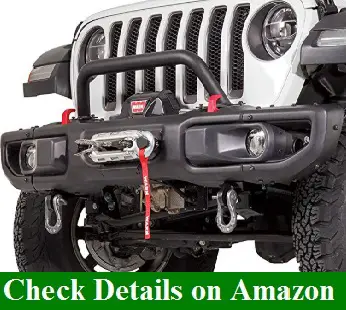 If you drive a Jeep Wrangler, you have probably heard about the WARN brand and their fantastic product lineup. Well, if you haven't, WARN industries manufactures off-road vehicle accessories. Based in Clackamas, Oregon, the company makes high-quality products with solid construction.
One of its best products designed for a Jeep Wrangler is the WARN Grille Guard. As the perfect replacement for the factory front bumper, it offers increased protection thanks to the sturdy 2-inch tube. Designed for functionality rather than fancy styling, the guard adds a rugged style to your Jeep Rubicon.
For protection against corrosion, the manufacturer has powder coated the grille guard. From its powder-coated finish to the 2-inch tube, you can tell it's optimized for safety and functionality.
Related Post: Best Lockers for Your Jeep JK Review
Specification: 
Brand: WARN
Item Weight: 11.16 pounds
Cover Include: Grille guard tube
Pros
Easy to install

Durable and strong

Corrosion-resistant

Adds a rugged style to your Jeep Rubicon

Offers increased front-end protection
Cons
A little pricey than other models

Partially blocks the factory tow hooks

---
3. AUTOSAVER88 Bull Bar Front Bumper Grille Guard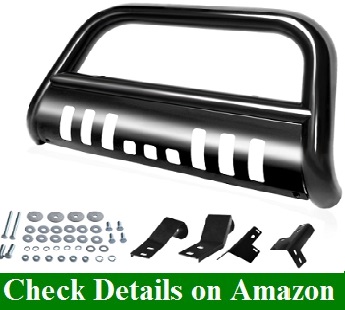 If you want a front bumper grille designed for a 2004 to 2020 Ford F150 truck, look no further than the AUTOSAVER88 Bull Bar. As advertised, it features a special e-coating and black powder coating finish. The first impression you get is a clean look with a smooth appearance.
The black powder coating and special e-coating make it rust-resistant. This gives you a nice reassuring feeling that it will last longer and keep your safe. Apart from the special e-coating, the push guard has a 3-inch heavy-duty tubing frame. It offers the best in strength and durability.
It also features pre-drilled holes which allow you to install additional lighting and an anti-rust skid plate. This gives your vehicle a new look and added protection.
Specification: 
Brand: AUTOSAVER88
Item Weight: 25.3 pounds
Exterior: Smooth
Pros
Easy to install

Easy to accessorize

Mounting hardware and instructions included

Has special e-coating that rust resistant

Outstanding design
Cons
It does not offer protection to your headlights.

---
4. Tyger Auto TG-GD6T60037 Front Bumper Guard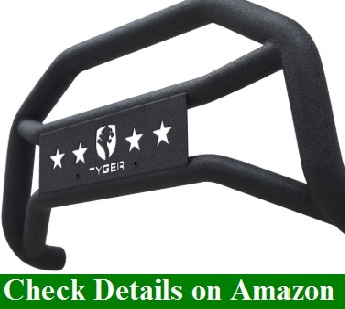 Next up is the Tyger Auto TG-GD6T60037 Front Bumper Guard. Top marks to the production team at Tyger for the heavy-duty 2.5-inch marine grade stainless steel tubing frame. Available in the mirror-polished finish, not only does it give your truck a sleek, clean look. It's rust-resistant assuring you of durability.
Designed for 2007 to 2020 Toyota Tundra, the production team has pre-welded a light mount channel on the guard. This is perfect for installing LED lights. The additional lighting comes in handy during night driving. For your license plate, the bumper guard has two pre-drilled mounting holes.
As such, you can relocate your license plate if needed. But, is it easy to install? Yes, it's easy to install (easy bolt-on installation). What's more, it comes with a Tyger Limited lifetime warranty against defects on materials and workmanship.
Related Post: Click Here to Read Sway Control Kit Review
Specification: 
Brand: Tyger Auto
Item Weight: 26 pounds
Product Dimension: 42 x 21 x 10 inches
Pros
Easy bolt-on installation

Has pre-drilled holes for relocating the license plate

Bold, handsome design

Made of heavy-duty 2.5-inch stainless steel tubing

Made in the US
Cons
Once equipped, you have to remove the tow hooks

---
5. Tyger Auto TG-GD6T60028 Front Bumper Guard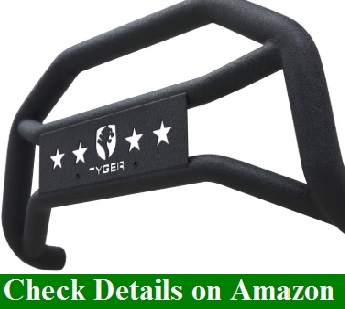 According to our research and user feedback, this Tyger Auto Bumper Guard is worth every penny. The US design patented Tyger Guard kit has one bumper guard and mounting hardware.
One great thing about this grille guard is that it offers maximum protection and durability. How? It's made of a heavy-duty 2.5-inch tubing frame that adds an extra layer of protection. Not only will you be safe, but the grill guard protects the vital parts of your vehicle – radiator and grille.
If you are all about aesthetics, you will be glad to learn that the grill guard has a durable e-coating textured black finish. This improves the visual appeal of your vehicle. But that is not all. The special e-coating is rust-resistant assuring you of a sturdy structure.
For added safety, the grille guard has a pre-welded light mount channel. This allows you to install LED lights. The grille guard also has two pre-drilled holes for your license plate relocation.
Specification: 
Brand: Tyger Auto
Item Weight: 33 pounds
Product Dimension: 42 x 21 x 10 inches
Pros
Easy to install

Has a durable e-coating for rust resistance

Comes with Tyger no hassle a 5-year warranty

Made of heavy-duty a 2.5-inch tubing frame for your safety

Fits 2005 to 2020 Toyota Tacoma
Cons
Minor cutting needed in 2016 and up models

---
6. AUTOSAVER88 Tube Brush Push – Heavy Duty Brush Guard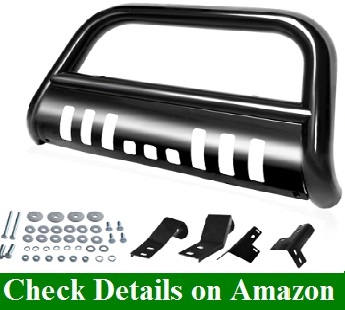 If you own a 2005 to 2015 Toyota Tacoma, you should consider buying the AUTOSAVER88 Tube Brush Push Grille Guard. This stylish and glossy bull bar has a 3-inch heavy-duty tubing frame. Best in strength and durability, its seamlessly welded providing you with a smooth appearance.
When it comes to aesthetics, you will surely love the black powder coating. Together with the special e-coating, they protect the grille guard from corrosion and gives your car a stylish look. One thing to note is that the grille guard has pre-drilled holes.
Now, you can add LED lights and ensure your safety and that of your passengers while driving at night. 100% bolt-on installation, you don't have to drill or cut anything. Using common tools, you can install the grille guard in your garage in minutes.
Specification: 
Brand: AUTOSAVER88
Item Weight: 27.5 pounds
Outside Design: Pre-drilled holes
Pros
Aesthetically pleasing

Rust resistant

Stylish

Has an outstanding design

Fits 2005 to 2015 Toyota Tacoma
Cons
Extra set of hands needed when bolting the bull bar onto frame brackets

---
Things to Consider When Buying Best Bull Bars and Grille Guards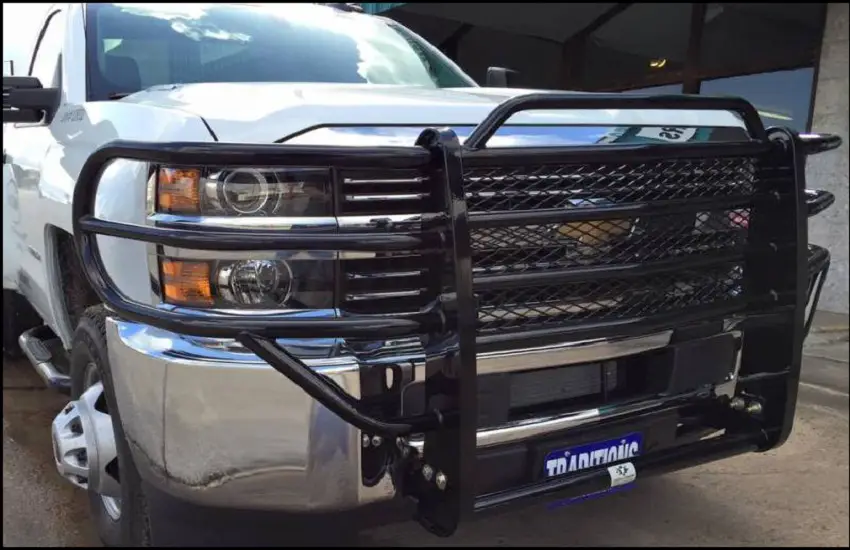 Before buying the heavy-duty grille guard for your truck or SUV, there are a few things to consider. The reason why you should consider these factors is because you want to buy a durable grille guard. Not only should it fit perfectly on your vehicle, but it should be stylish and functional.
The most popular materials used in the manufacture of grille guards are aluminum and steel. Steel is much stronger than aluminum. The former is also denser than the latter. In case of impact with obstacles, steel grille guards are more resilient.
They also suffer less damage compared to aluminum grille guards. The reason for this is that aluminum has a lower tensile strength than steel. The good news is, both materials have corrosion-resistant properties. But aluminum loses its luster while steel continues to shine for longer.
Grille guards are a great way of protecting your vehicle while enhancing your truck's appearance. When shopping for a grille guard for your vehicle, consider durability and strength. Grille guards come in various diameters for tubing bolted to heavy uprights.
If you buy a grille guard with the 2.5 to 3 inches diameter of the steel tubing, it will protect the radiator and the front of the car. If you buy a full front-end grille guard, it will cover your headlights too.
Grille guards are a relatively affordable investment perfect for drivers who frequently travel to a job site or travel on back roads. In the event of a low impact crash, the guard takes the majority of the impact.
While durability and strength are significant factors to consider, you should consider airflow too. Make sure the grille guard doesn't stop airflow from where it needs to go – radiator, intercooler, air conditioning condenser and cooler.
If the grille guard leaves no room for proper airflow, you will have overheating problems.
There are different configurations designed for various purposes. The first grille guard is the full front end. As the name suggests, it covers the grille and headlights. Its typically made from 2 heavy-duty uprights. It also offers protection running horizontally over the headlights and grille.
Center grille guards cover a little lower in comparison to full front-end grille guards. But they cover the radiator and provide a place for installing lights. What you need to know is that these guards do not offer protection to the vehicle's headlights.
Like the Center grille guards, the sports bars and nudge bars do not offer protection to your headlights. But they are best for low-speed impacts. Other styles you should check out include tail light guards, skid plates, bumper guards and tail light guards.
The grille guard for deer should be stylish, beautiful and corrosion-resistant. When it comes to finishing, you have glossy, black powder, stainless steel, and chrome. When buying a grille guard, choose one that matches the color of your car.
Alternatively, you can go with a combination you desire. Keep in mind; it should be compatible with your vehicle.

---
How To Install a Grille/Heavy Duty Brush Guard On A Vehicle
---
Frequently Asked Questions about Grille Guards
Are grille guards legal in all US states?
Answer: While grille guards provide protection in case of impact with obstacles, they are legal in most parts of the US. Fitting bull bars not compatible with the law is illegal. It's wise to check the state and federal directives on steel and aluminum bull bars before installation.
What is the point of a grille guard?
Answer: Grille guards offer protection to your truck's front grille, headlights and bumper. This is against collision with large animals. They also offer protection in case the driver plows through the bush in off-road driving. Or, in low-speed parking lot accidents.
Do grille guards increase safety?
Answer: Grille guards help to change the way impact energy gets transferred to the vehicle's structure. They are also useful in reducing cosmetic damage to your vehicle. What you need to know is that they add weight to the front of the vehicle leading to increased front tire wear.
Do grille guards affect airbags?
Answer: If you install a grille guard not compatible with your vehicle or not approved by the carmaker, they could affect the airbags. It can cause the airbags to deploy too early, or too late. Either way, it's bad news for the driver and passengers. Always ensure you are using grille guards approved by the manufacturer of the car.
Will grille guards work with my vehicle's front proximity sensors?
Answer: If you buy a compatible grille guard, your proximity sensors should continue working fine.
---
Final Thoughts
As professionals, we have tried as much as possible to compile an unbiased review of the best grille guards for deer. Seeing that the selected guards have distinct features. We are confident that you will choose a grille guard that offers added protection and safety.
We hope you found our review informative. Wishing you good luck as you find for the best grille guard brands.