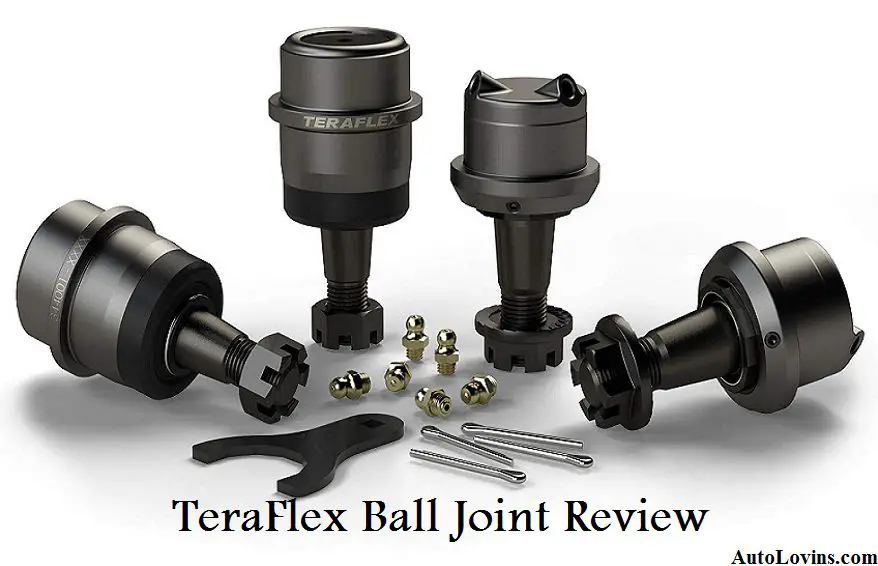 The spherical bearing that works as the connector between the control arms and steering knuckles is called ball joint. It works great to ensure a comparatively smooth ride on uneven roads. It allows the wheels to move freely up to a certain degree to avoid the shakes of uneven roads.
So, if you use a set of good ball joints in your car, you'll get a comfortable ride. On the other hand, using cheap and poorly constructed joints will give you uncomfortable rides. That's why you need to choose the best ball joint among many kits offered to the market.
TeraFlexis a dependable name in case of the ball joint and many other car parts. Through R&D, it offers a ball joint kit that ensures comfortable rides for a long time. With a handful of necessary features, the kit is amazing. Let me give a TeraFlex Ball Joint review on this specific kit.
Top 2 TeraFlex Ball Joint Reviews 2021 [New Update]
1. TeraFlex 3442002 JK/JKU HD Dana 30/44 Upper & Lower Ball Joint Kit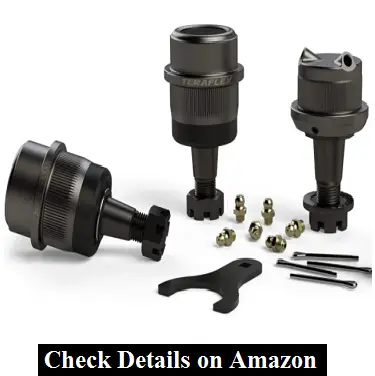 If you are looking for ball joints that can take the pressure of increased load caused by oversized tires and offset wheels, TeraFlex 3442002 HD Ball Joint Kit is probably the one that can help you most. This kit is compatible with JK or JKU Wrangler with Dana 30/44 axle.
The ball joint kit comes with two upper and two lower ball joints. Uppers and lowers are a bit different from each other, as these two types have two slightly different tasks. The upper ball joints come with an awfully strong sintered wear bushing. It helps the joints to tolerate a huge amount of side load when needed.
For durability, strength, and lightweight, TeraFlex has used heat-treated 4140 Chromoly (a formula of steel that contains chromium and molybdenum) to prepare the ball. On the other hand, 1045 carbon steel is used to prepare the housing to ensure that it becomes strong, wear-resistant and precisely-made.
To keep the upper ball joints free from rust, and added Magnesium Phosphate coating is used. Both of the upper ball joints come with factory-style toothed flange nut and grease fitting.
Compared to the upper ball joints, lower joints face more fore and aft pressure. As a result, the lower ones should be stronger. TeraFlexhas made their lower ball joints stronger with a few added features and specifications.
Like the upper ball joints, the balls of lower joints are manufactured from 4140 Chromoly. Similarly, a Magnesium Phosphate coating saves these joints from rust and corrosion. For easy installing, the factory-style toothed flanged castle nuts are there.
The socket/housing comes with a hard alloy tool steel slotted wear plate to ensure that the extra pressure can't wear the housing. To make sure that the ball joint works well, TeraFlexprovides large balls, around 30 mm, in the lower ball joints.
These ball joints are manufactured to be easy-to-install and easy-to-maintain. The pre-load adjustability ensures almost effortless adjustment. You'll see the adjustable ball stud retaining ring which ensures easy pre-load adjustments without disassembling the axle. You can perform pre-load adjustments with the help of simple hand tools.
The end caps are also adjustable and come with two zerk fittings. As a result, you'll get the greasing access without removing axle shaft, even in case of axles with larger RCV shafts. There are grease channels in the wear plates which allow getting smooth and wear-free performance for a long time through regular greasing.
There are low-profile single lip dust seals which prevent contaminant to enter and eliminate dust particles and old grease. Thus, the seals allow the ball joints to work smoother and faster. The dual helical grease grooves do the similar task- eliminating the spent grease from the housing so that it works properly.
The ball joint kit comes with everything you need to install the kit to your JK/JKU Wrangler.
Related Post: Top Rated Cold Air Intake Review & Buying Guide
Strength and Durability

Premium Quality Build-material

Adjustable End Caps

Low-profile Single Lip Dust Seals

Slotted Wear Plate
The Jerks are too Close to the Body of the Ball Joint

---
2. TeraFlex 3442022 JK/JKU HD Dana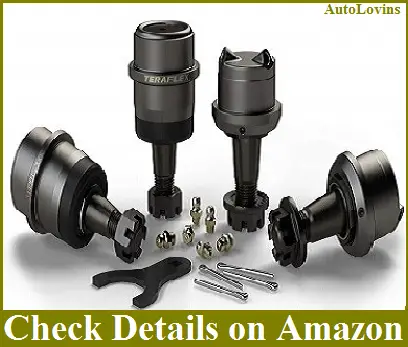 TeraFlex has another model of the same ball joint which is TeraFlex 3442022. In this kit, the joints come with loose press fit in the inner knuckle. It aids in repeated ball joint replacement. Besides, if you previously installed joints with knurls, this one is recommended for you.
All other features and specifications are similar to the previously discussed TeraFlex 3442002. As a result, you'll get the same great performance.
Related Post: Best Duramax Engine Fuel Filter Review

---
Why Choose TeraFlex Ball Joint?
While many people think of stopping after developing something, TeraFlex looks for improvement. Through research and development, it has brought some great changes in their ball joints. As a result, you'll always get a good performance from the TeraFlex ball joints comparing to the ball joints from others.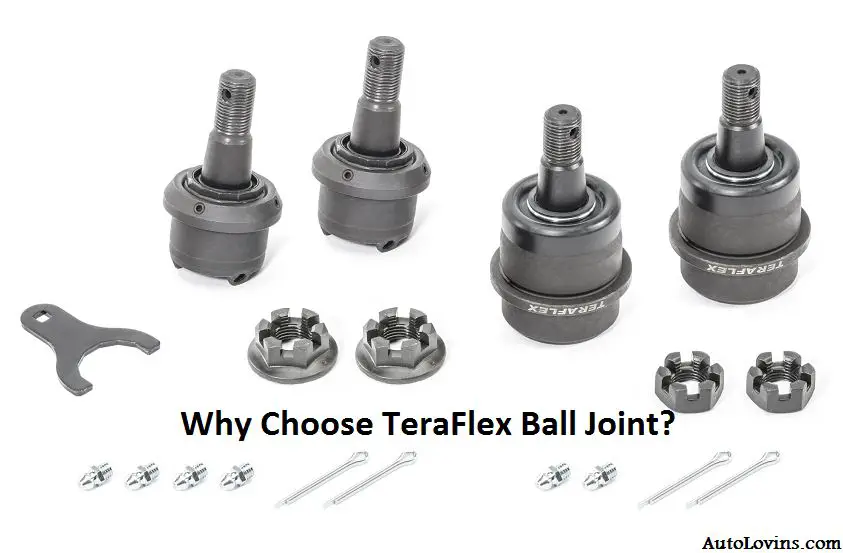 The first thing is TeraFlex has made lubing easy by adding the easily accessible grease ports. Besides, it has also made adjustments easy by moving the adjustment collar to the bottom. Besides, with the help of the given spanner wrench, you can perform necessary adjustments by loosening three screws only.
Related Post: Best Trailer Sway Control Kit Reviews
The ball joints from TeraFlex are designed to handle extra pressure and weight as much as possible. That's why these come with some features like free-stud movement, slotted wear plates and so on. To keep the joints working for a long time, the lip seals prevent outside contaminations from entering. Besides, the seals push out the used grease and make room for the fresh grease.
In a word, TeraFlex offers ball joints which are easy-to-install, easy-to-maintain, performance booster, safe, and durable. That's why you should choose these.
---
How to Install TeraFlex Ball Joint
---
FAQ About TeraFlex Ball Joint 2021
What are the tools I need to install the joints?
A spanner wrench comes with the joint kit. You can use that to install the joints. But, to install the joints, you'll have to detach wheels and a wide part of the front axle. In that case, you'll have to have many other tools in your garage. Watch the given video carefully, and you'll know the name of the tools you'll need.
The ball joints are designed for which models of JK/JKU Wrangler?
The ball joint kit is designed to be compatible with 2007 to 2018models of JK/JKU. Besides, according to TeraFlex, the clearance on the top of the ball joint is increased so that it can be compatible with the later models of JK/JKU without modifications.
However, that doesn't say that it has stopped R&D for later models. If something good comes as a result of R&D, TeraFlex will obviously offer that to the market.
Are the joints of the kit rebuildable?
No, you can't rebuild these easily. If you try, maybe you'll be able to do that, but you'll have to take too much hassle.
But these joints allow you to adjust the preload. Maybe that will help you to some extent.
---
Final Verdict
Coming with a handful of features and advantages, this kit ensures a great riding experience. Through this TeraFlex Ball Joint review, we've tried to explain everything about the kit. Some members of our team use this kit as they've found it works well. That's why, in the case of ball joints, it is the first one of our preference list. We hope you'll also get an enjoyable experience.
If you are already using it, let us know about your experience in the comment section.
---
Related Post: